Centrifuges
State of Laboratory Technology 2017 - Vol. 6 No. 9
- Page #34
Article Category:
Centrifuges are in high use in clinical laboratories and enjoy strong satisfaction rankings, with 89% giving their devices a rank of excellent or good. Given the robust and sophisticated nature of today's centrifuges, just 37% plan to acquire new technology in the near future. However, there is a wide range of vendors providing this technology, making this a lively market for advanced automation with cutting-edge capabilities.
To read the full article, please log in or register.
Current Issue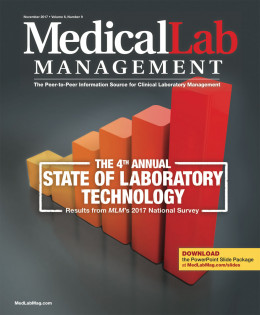 Subscribe to our Email Newsletters!
In The Loop!
Digital Edition
Special Announcements