Optimizing Test Utilization Via Collaboration
State of Laboratory Technology 2017 - Vol. 6 No. 9
- Page #56
Efforts to achieve proper clinical test utilization have been integral to the now decades-long paradox of seeking constant improvement to laboratory service while simultaneously lowering costs. Some approaches focus on reducing overutilization or simply reducing overall test volumes and substituting cheaper tests from the charge schedule as a proxy for lowering costs. These methods tend to be reactive and do not address the real issues at hand.
To read the full article, please log in or register.
Current Issue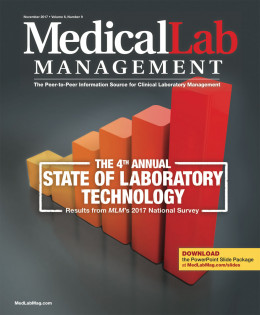 Subscribe to our Email Newsletters!
In The Loop!
Digital Edition
Special Announcements