Maintain Strong Lab Leadership in 2018
January-February 2018 - Vol. 7 No. 1
- Page #1
Without question, 2017 made for an interesting year. While uncertainty continues to swirl regarding regulations, laboratory leadership is being called upon to remain a harbor in the tempest. (For an excellent take on the reality of PAMA, see Jane Hermansen's article on page 4).
No matter the specific quantification, all health care practitioners are aware of the vital role played by laboratory diagnostics in patient care, regardless of whether that role is properly acknowledged. And while in an ideal world, the powers that be would actively seek information on the needs of the laboratory, more often than not, laboratory directors must assert themselves when it comes to both gaining the proper recognition of the laboratory's contribution, and to making known the ongoing needs of the lab.
In looking ahead to 2018, we are excited about a whole new range of topics and ideas that we expect to investigate this year. In looking back to this time last year, we had plans to cover breaking methodologies such as those afforded by liquid biopsies (a topic we covered in our June issue) and next-generation sequencing, which is the topic of our cover story in this issue (see page 8). With tantalizing concepts such as CRISPR-Cas9 and STAT DNA testing now whetting our appetites for the next great breakthrough, we hope to continue covering the most applicable topics to the needs of medical laboratory management.
As the saying goes, control what you can control. Undoubtedly, 2018 will hold unexpected challenges and thus, preparation is key. Making every effort to ensure your operation is as safe, efficient, compliant, and financially viable is the ideal role of the laboratory director, and that will continue to be the case, no matter what changes are to come.
At MedicalLab Management, we very much look forward to the upcoming year and in sharing your stories of overcoming challenges and remaining steadfast. As many of you know, CLMA's KnowledgeLab takes place in Long Beach, California, this May 6 – 9. We look forward to seeing you there and continuing to support your clinical laboratory operations.
With best regards,
David McCormick
Managing Editor
davidm@ridgewoodmedia.com
Like what you've read? Please log in or create a free account to enjoy more of what www.medlabmag.com has to offer.
Current Issue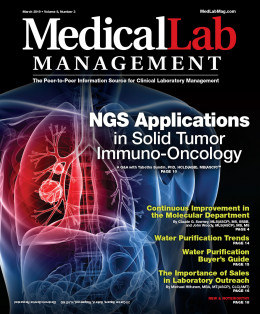 Subscribe to our Email Newsletters!
In The Loop!
Digital Edition
Special Announcements