Refrigeration in the ED
January-February 2018 - Vol. 7 No. 1
- Page #2
Article Category:
The value of medical-grade refrigeration equipment in clinical settings is well documented with vital applicability in the laboratory, blood bank, and pharmacy, among others. Devices engineered specifically for storing and maintaining blood products, reagents, and patient samples can have a significantly positive impact on operations by ensuring the conditions necessary for viability remain intact at all times. Further, as these devices have grown in sophistication, they have incorporated data producing software and multifaceted alarming systems.
All of these developments are valuable to laboratory, blood bank, and facility operations, given the many challenges to the efficient and expeditious provision of life-saving refrigerated products (markedly, blood products) in the hospital setting.
Analyze Your Process for Inefficiencies
Facilities of all sizes have unique layouts that may not be conducive to fast and efficient transport of materials, particularly emergency materials. The emergency department may be located floors, buildings, or even city blocks away from the blood bank or other materials storage sites. While mature delivery processes may be in place to requisition, acquire, and return blood products for the ED, they are inherently slow in terms of emergency time, and thus, are susceptible to workarounds and waste.
As with most data driven process improvement initiatives, it is helpful to precisely define the current processes, for example, for providing emergent release group O red blood cells to the ED; that is, create a bulleted list of actions and a map indicating possible obstacles. Determine the average time required from order entry to delivery and the rate at which blood products are being ordered and then either cancelled during delivery or left unused. While properly stored and monitored blood products can be returned to the blood bank and reutilized, the process involves a waste of staff time, at the very least. If the product is also compromised and must be wasted, then the cost is much greater.
The latter scenario tends to be the result of a common workaround wherein an ED clinician orders blood in advance of an emergency patient actually arriving in the facility in order for the product to be readily available. The obvious drawback to this process is the condition changes that can take place in the interim. Given the number of variables involved, waste is all too often a by-product.
Determine the Best Course of Action
There are numerous products on the market that enable safe transport of blood products from medical-grade refrigeration devices to clinical settings far and wide. Depending on the distance and time between storage and clinical-use settings, maintaining a robust courier and transportation process may be the best-case scenario.
However, another option may be to bring refrigeration to the ED setting. Medical-grade refrigeration is available in several sizes, including small, undercounter cabinets intended for cramped or busy areas. Acquiring and installing a small refrigerator specifically for emergent release blood storage in the ED is a start, but in order to be safe, effective, and compliant, its use and management must be well controlled and documented.
Take Advantage of Existing Systems
Clearly, blood products must be as safely and securely stored in any environment as they are in the blood bank. This requires controlled access and product traceability. Fortunately, the lab and blood bank may be able to take advantage of existing asset tracking systems the facility has in place for other clinical departments, such as pharmacy. Similarly, commercial and homegrown options are available to monitor and provide refrigerator access.
Given the invaluable nature of blood products in the clinical setting, every available measure should be taken to ensure products are properly stored, accessed, used, and accounted for. A detailed policy and procedure should outline the functionality of the ED refrigerator, its intended use, who is allowed access it, how products should be accounted for, how the unit should be cleaned and maintained, and how products should cycle through it.
Conclusion
Exercising control over the storage and utilization of blood products is a primary function of the clinical blood bank, but that control does not need to be confined within the walls of the blood bank. As with any process, determine the course of action that best fits your facility and workflow. Blood bank transportation and courier systems can work perfectly well, but placing medical-grade refrigeration within the emergency department may reap significant time, product, and financial savings.
---
David McCormick is managing editor of MedicalLab Management.
Like what you've read? Please log in or create a free account to enjoy more of what www.medlabmag.com has to offer.
WHERE TO FIND: Refrigeration/Freezers
Current Issue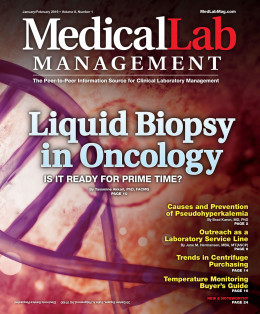 Subscribe to our Email Newsletters!
In The Loop!
Digital Edition
Special Announcements