KnowledgeLab 2018
January-February 2018 - Vol. 7 No. 1
- Page #23
Sunday, May 6
8:00 a.m. - 4:00 p.m. Pre-Conference Workshop*
DLM Exam Preparatory
Jennifer Dawson, MHA, LSSBB, CPHQ, DLM(ASCP)SLS, QLC, QIHC; Anthony Kurec, MS, H(ASCP)DLM; Sarina Rodriques, FACHE, MSH, CLS, MT(ASCP)DLM
8:00 a.m. - 4:00 p.m. Pre-Conference Workshop*
Developing an Outward Mindset
Dave Moss, Arbinger Senior Consultant
1:00 p.m. - 4:30 p.m. Pre-Conference Workshop*
Essentials of Financial Management: Communicating the Value of the Laboratory
Rodney W. Forsman, Assistant Professor Emeritus of Laboratory Medicine and Pathology - College of Medicine, Mayo Clinic
5:00 p.m. - 6:00 p.m. Opening General Session
The Accountable Leader's Guide to Change
Sam Silverstein
6:00 p.m. - 8:00 p.m. Opening Reception
Monday, May 7
7:00 a.m. - 7:45 a.m. Breakfast Session
8:00 a.m. - 9:00 a.m. General Session
The Science of Success
Catherine Sanderson, PhD
9:15 a.m. - 9:45 a.m. Short Topic Sessions
10:00 a.m. - 2:00 p.m. Exhibit Hall Open
10:00 a.m. - 11:30 a.m. Bite-Sized Learning
General Poster Presentations
11:45 a.m. - 1:45 p.m. Bite-Sized Learning
Vendor Presentations
2:15 p.m. - 3:15 p.m. Breakout Sessions
3:30 p.m. - 4:30 p.m. Breakout Sessions
4:45 p.m. - 5:45 p.m. Sunset Soirée
Tuesday, May 8
7:00 a.m. - 7:45 a.m. Breakfast Session
8:00 a.m. - 9:00 a.m. Breakout Sessions
9:15 a.m. - 9:45 a.m. Short Topic Sessions
10:00 a.m. - 1:00 p.m. Exhibit Hall Open
10:00 a.m. - 11:00 a.m. Bite-Sized Learning
ICE Poster Presentations
11:15 a.m. - 1:00 p.m. Bite-Sized Learning
Vendor Presentations
1:15 p.m. - 2:45 p.m. Featured Session
3:00 p.m. - 3:30 p.m. Short Topic Sessions
3:45 p.m. - 4:45 p.m. Breakout Sessions
5:00 p.m. - 5:30 p.m. Short Topic Sessions
5:45 p.m. - 6:15 p.m. CLMA Business Meeting
Wednesday, May 9
7:00 a.m. - 7:45 a.m. Breakfast Session
8:00 a.m. - 9:00 a.m. Breakout Sessions
9:15 a.m. - 10:15 a.m. Breakout Sessions
10:30 a.m. - 11:30 a.m. Closing General Session
Trials and Tribulations: Expedited Development of an Invasive Fungal Infection Clinical Practice Guideline
Debra L. Malone, MD, Med, FACS, Col USAF, MC
Note: Schedule of Events is subject to change.
*Pre-Conference Workshops are not included with registration and require an additional fee.
The Accountable Leader's Guide to Change
Sam Silverstein
Sunday, May 6 | 5:00 p.m. - 6:00 p.m.

The ability to initiate change in an organization rises and falls on leadership. The Accountable Leader does not focus on changing what people do. Rather, they focus on changing the way their people think.
Whether a leader wants to innovate within an independent organization or drive change through an organizational merger, there are specific ways a leader can utilize accountability principles in order to successfully achieve their objectives. Sam Silverstein shows organizations how to create a culture that values active and thoughtful change.
This program focuses on the way a leader needs to think in order to inspire an environment where change is encouraged and embraced. Sam will share the critical thought processes necessary for leaders to drive positive, sustainable change throughout your organization.
The Science of Success
Dr. Catherine A. Sanderson
Monday, May 7 | 8:00 am. - 9:00 a.m.

Many people focus on the importance of cognitive intelligence in predicting academic and professional success. But, a growing amount of evidence suggests that other traits – including the ability to control impulses, manage adversity, find internal motivation, and build relationships – are essential to achieving the best outcomes in both personal and professional relationships. This talk will, therefore, focus on the importance of so-called emotional intelligence (or EQ) in predicting success, and provide specific strategies for increasing your own EQ.
Trials and Tribulations: Expedited Development of an Invasive Fungal Infection Clinical Practice Guideline
Debra L. Malone, MD, Med, FACS, Col USAF, MC
Wednesday, May 9 | 10:30 a.m. - 11:30 a.m.

In the summer and fall of 2009, a devastating infection began ravaging our wounded warriors at the level V MTFs. A life versus death race against time was on. The clinical and microbiological teams at the National Navy Medical Center embarked on an urgent quest to identify the offending infectious agents and develop effective treatment protocols. This presentation will chronicle this extraordinary effort.
Short Topic Sessions

Short topic sessions are 30-minute sessions that take place on Monday and Tuesday of KnowledgeLab. This year features over 20 sessions that will focus on trends and hot topics that are top of mind to laboratory managers, including:
• Standardization Across a Large Hospital Lab Network: Path to Peril or Road to Success?
• Approach to Reducing Specimen Labeling
• Creating Organizational Culture—Specifically a Culture of Fun
• Maximizing Laboratory Efficiencies Through Innovation and Design
• Lincoln's Leadership Secrets: Supercharge Your Laboratory Management Skills
• Implementing Data Standardization, Establishing a Best Practice Database, and Growing Lab Information
Pre-Conference Workshop Previews

DLM Exam Preparatory Course
Jennifer Dawson, MHA, LSSBB, CPHQ, DLM(ASCP)SLS, QLC, QIHC
Anthony Kurec, MS, H(ASCP)DLM
Sarina Rodriques, FACHE, MSH, CLS, MT(ASCP)DLM
Sunday, May 6 | 8:00 a.m. - 4:00 p.m.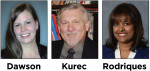 This full-day, pre-conference workshop provided by qualified faculty presenters serves as an intensive test-prep course addressing all four components of the ASCP Diplomate of Laboratory Management (DLM) Certification exam. Topics of review include financial management, operations management, personnel management, and quality management.
Developing an Outward Mindset
Dave Moss, Arbinger Senior Consultant
Sunday, May 6 | 8:00 a.m. - 4:00 p.m.

This interactive, full day workshop allows participants to thoroughly explore and internalize key concepts in discussions led by an Arbinger-certified facilitator. Participants will learn the difference between an inward mindset (a myopic focus on personal objectives) and an outward mindset (taking into account one's impact on others). They begin to discover the extent to which they have been working from an inward mindset and understand the implications of this mindset on their work and those around them. An understanding of the negative effects of an inward mindset awakens in participants a desire to adopt an outward mindset approach to their work.
Essentials of Financial Management: Communicating the Value of the Laboratory
Rodney W. Forsman, Assistant Professor Emeritus of Laboratory Medicine and Pathology - College of Medicine, Mayo Clinic
Sunday, May 6 | 1:00 p.m. - 4:30 p.m.

The ability to effectively communicate the financial contributions maade by the laboratory is an essential skill for laboratory management. If you don't have a seat at the table, you and/or your laboratory may instead be on the menu.
Laboratory managers must fully understand the opportunities and challenges, and be adept at translating knowledge into the vernacular of financial management and patient care benefits. The presentation will draw from more than 40 years of experience organized around the CLMA Body of Knowledge Financial Management competencies.
Note: Pre-Conference Workshops are not included with registration and require an additional fee.
Like what you've read? Please log in or create a free account to enjoy more of what www.medlabmag.com has to offer.
Current Issue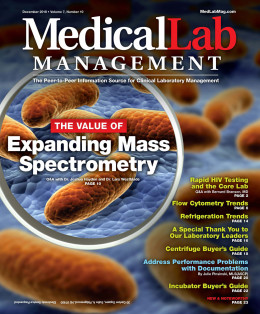 Subscribe to our Email Newsletters!
In The Loop!
Digital Edition
Special Announcements