Considerations for Implementing New POC Testing
March 2018 : Clinical Leadership & Management Review - Vol. 7 No. 2
- Page #26
Article Category:
Point-of-care testing (POCT) can deliver significant benefits to both patients and providers, and due to this, POCT has experienced rapid growth in recent years. While the end result of POCT can be quite positive, proper implementation and management can present challenges and requires vigilant oversight to ensure success. Regardless of whether the organization is new to POCT or has a fully functioning POCT department, implementing a new POC test requires careful planning. Test implementation can raise unique issues that may be unfamiliar to laboratory and hospital staff. These include consideration of federal and state regulations, relationships with regulatory and accreditation bodies, POC test management and technical performance, and overall fit with the organization.
Taking an administrative viewpoint, laboratory directors must focus on test justification and dispersion when considering a new POCT. Before approving an application to implement POCT, it is key that laboratory leadership consider the following issues.
Determine Necessity and Benefit
Requests for new POC tests typically originate from clinicians who desire more expedited results. Ideally, a rapid result enables physicians to provide a diagnosis or prescribe a treatment at the time of the patient encounter. This can reduce the time to therapy, increase adherence, and reduce the potential for errors in handling specimens. However, managers should exercise caution before instituting new POCT, as the benefits are highly dependent on the context in which the test will be implemented.
The potential benefits can be evaluated by identifying the key expected outcomes that will be affected by the test. These might include factors such as improvement in patient care (time to diagnosis, time to treatment), improvement in patient services (reduction in waiting time, fewer return visits), and provider satisfaction (turnaround time, improved patient adherence). Thus, the potential impact of a POCT can range from simple convenience to medical necessity. Furthermore, a test result can affect not only the care provided by physicians, but also the care provided by other health care personnel, such as pharmacists, social workers, and therapists. The potential impact on these stakeholders is often neglected when reviewing POCT for implementation, but it should be included in the evaluation process.
It is likewise prudent to identify and evaluate potential alternatives before committing to a new POCT method. A comparison against tests performed in the laboratory provides a good starting point. There also may be alternative POCT technology or workflow changes that could produce results in a better or more efficient manner for your specific operation. By comparing the outcomes associated with a particular test against the outcomes from tests performed in the central laboratory, the impact of faster results on care can be evaluated. Keep in mind that care decisions or patient workflow may not be affected by faster test results. For example, when care decisions depend on other tests, a POC test will not speed workflow. Also, if the visit time is significantly longer than the lab turnaround time, the lab can supply results in time to influence decisions.
When presented with a new or augmented POCT line, laboratory directors should not simply accept the beneficial claims at face value. It is appropriate to request documentation and supporting material from those requesting the test. Data from an internal review or a survey of potential stakeholders in the organization can be useful in determining the utility of the test. Reviewing results from other organizations already using the POC test under consideration also can be helpful. It is important for stakeholders to reach a consensus regarding the benefits of the proposed test and, if consensus cannot be reached, to understand the objections.
Establish Clear POCT Management
Management of POCT can be organized in different ways. Larger organizations now utilize numerous POC tests and benefit from forming a multi-disciplinary steering committee (eg, representatives from laboratory, patient care, purchasing, finance, quality assurance, infection control, information technology, etc) to manage POCT operations.1 In contrast, smaller facilities often employ relatively few POC tests and therefore benefit from an administrative liaison within the lab to make decisions and oversee all aspects of POCT. In either case, a single individual must be appointed to serve as head of oversight for POCT.
Successful POCT programs depend on the implementation and strength of a variety of integrated supporting processes. These include ordering and paying for materials in conjunction with the finance department, enlisting support from maintenance and IT staff to solve any logistical errors, and complying with quality and regulatory guidelines that govern training and educating staff as well as documentation processes. Ultimately, the laboratory director must provide support and program surveillance, and review and approve any new POCT.
Ensure Regulatory Compliance
The next step is to determine the regulatory requirements and develop compliance plans for new testing. POC tests are regulated by the Clinical Laboratory Improvement Amendments (CLIA), which requires the facility to have a CLIA license. CLIA has resources available online for this process.2 The lab director or designated manager must clarify the CLIA designation of the test (waived, moderately complex, or highly complex) and whether the CLIA license at the facility covers the test. If not, the manager needs to determine who at the facility can qualify for a license and is willing to accept the regulatory authority for the license. The person named as director on the CLIA license is responsible for compliance, and is therefore obligated to become adroit in all regulatory requirements related to POCT.
Accrediting agencies may have additional requirements regarding set-up, personnel qualifications, training, replacement policies, supplies, quality assurance, and documentation. These requirements can have a significant influence on the choice to adopt POCT and should be incorporated into the decision-making process. Quality control requirements also should be determined and considered. Further information on accreditation can be obtained from The Joint Commission and the College of American Pathologists (CAP).3,4 The costs associated with regulatory compliance can be significant and should be fully understood before adopting new POCT.
Purchasing Procedures
Vendor contracts often vary widely and can have a significant impact on finances and quality assurance. The contract should clearly describe customer support for supplies, instruments, supporting hardware, interface compatibility, and quality assurance measures (eg, refunds, returns, manufacturer-produced procedures, acceptable sensitivity specifications, etc). Required, vendor-specific maintenance should be included in contract discussions in order to comply with CLIA regulations. Of note, the organization should determine whether those who are championing new POCT requests have any financial or professional conflicts of interest, such as stock or other royalties, research funding, or educational grants. These scenarios are unlikely, but are worth reviewing in light of organizational policies. Ultimately, knowing the relationship expectations among the product vendor, lab employees, and the organization is essential to conducting an unbiased review of the organizational fit for a new POCT method.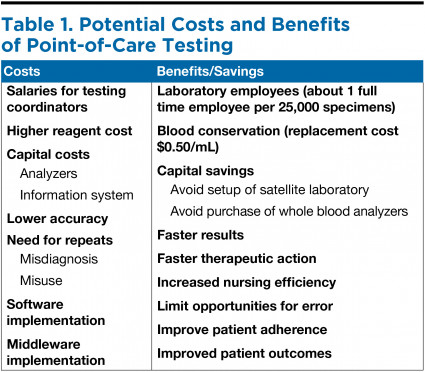 Information Technology Requirements
The POCT software, supporting programs, and interface should be evaluated to determine if the system is compatible with the organization's existing IT platform. Middleware systems often are necessary to manage the POCT interface with the hospital information system. Consider what IT support is already available and if the existing IT budget will accommodate the burden of the proposed POCT. It may be necessary to contract with the IT department for support of the POC device, or otherwise ensure the POC coordinator has access to adequate resources and training to handle any potential IT issues.
As Always: The Financial Impact
Making the decision to purchase POCT results from the balancing of costs against projected benefits. Traditional centralized testing done by clinical laboratory facilities is sometimes less expensive than POCT, which can be a major challenge to justify.5 As financial planning for POCT is generally based on the expected test volume, the laboratory director can use that volume forecast to project the total billing for the test, including any potential increase in prescriptions, referrals, and utilization, and then compare these to the costs of the POCT equipment, maintenance, competency, and supplies. Historically, POCT costs were not reliably collected, which resulted in lost laboratory revenues. Therefore, any new POCT should be integrated into the central laboratory billing system so that it will be appropriately billed as a laboratory test.
Be sure to factor in any other organizational effects, such as Medicare compliance incentives and penalties, and insurance reimbursement losses. Costs and benefits can vary by site, so a separate cost/benefit analysis should be prepared for each site as appropriate.6 Regardless of any administrative review, the POCT manager is responsible for preparing documentation supporting the benefits used in the analysis. A list of cost/benefit considerations is presented in TABLE 1, and there are several useful references available on conducting a cost/benefit analysis of POCT.7-9
Click here to see TABLE 2.

Post-Implementation Performance Review
Despite careful planning, the actual impact of POCT can differ from the initial expectations. Thus, it is important to review the performance of POCT after implementation. For example, a test may be requested by clinicians, yet rarely utilized after approval. Conversely, a test may be approved for a specific purpose and then misused by clinicians for unrelated or unapproved conditions. Unfortunately, organizations often fail to evaluate outcomes after POCT is adopted.
Clinicians will often make claims regarding the impact of POCT on patient outcomes to support the adoption of a new test, and although tracking patient outcomes can be difficult, this data is contributes to the decision process and should then be leveraged to verify that the POCT is providing the expected benefits. TABLE 2 outlines potential outcomes that can be measured when implementing POCT; outcomes can be evaluated by tracking the patients receiving POCT and determining the impact on specific items, such as referrals, prescriptions, or procedures. Compare reports of POCT outcomes with those from standard laboratory testing to measure over time whether POCT is increasing or decreasing the quality or quantity of patient outcomes.
Conclusion
The decision to adopt new POCT is a complex process that requires an assessment of the potential benefits, organizational requirements, and financial impact within a health care entity. It is vital to examine and address each of these key issues before implementing a new test. With adequate preparation and foresight, laboratory leadership can avoid unnecessary costs, obtain the full benefit of POCT, and achieve improved patient outcomes within the organization.
References
1. Main RI, Kiechle FL. Point-of-care testing: Administration Within a Health System. Lab Med. 2000;31(8):453-460.
2. Centers for Medicare and Medicaid Services. Clinical Laboratory Improvement Amendments. https://www.cms.gov/Regulations-and-Guidance/Legislation/CLIA Accessed: 2/12/2018
3. The Joint Commission. Eligibility for Hospital Accreditation. https://www.jointcommission.org/eligibility_hospital_accreditation/ Accessed: 2/12/2018
4. College of American Pathologists. Accreditation information and application. http://www.cap.org/web/home/lab/accreditation?_adf.ctrl-state=lggjd6zme_4&_afrLoop=321760573037137#! Accessed: 2/12/2018
5. Huckle D. Point-of-care diagnostics – Is this driven by supply or demand? Expert Opin Med Diagn. 2010;4(3):189-200.
6. Quinn AD, Dixon D, Meenan BJ. Barriers to hospital-based clinical adoption of point-of-care testing (POCT): A systematic narrative review. Crit Rev Clin Lab Sci. 2016;53(1):1-12.
7. Laurence CO, Moss JR, Briggs NE, Beilby JJ. The cost-effectiveness of point of care testing in a general practice setting: Results from a randomised controlled trial. BMC Health Serv Res. 2010;10:165.
8. Hortin GL. Does point-of-care testing save money or cost more? Lab Med. 2005;36(8):465-467.
9. St John A, Price CP. Economic evidence and point-of-care testing. Clin Biochem Rev. 2013;34(2):61-74.
---

Tyler Gledhill, BS, is a point-of-care coordinator for the University of Utah and is a master's degree candidate in Healthcare Administration at the University of Utah School of Business.

Robert L. Schmidt, MD, PhD, MBA, is an associate professor of pathology at the University of Utah School of Medicine. He is board certified in clinical pathology and clinical informatics, and his research and clinical activities focus on statistical and economic analysis in laboratory testing.
Brenda VanCleve, MT(ASCP), is ancillary test supervisor at Presbyterian/St. Luke's Medical Center and Rocky Mountain Hospital for Children in Denver, Colorado.
Sandra K. White, MS, is a senior research analyst at the Center for Effective Medical Testing, Department of Pathology, University of Utah Health Sciences Center.
Like what you've read? Please log in or create a free account to enjoy more of what www.medlabmag.com has to offer.
Current Issue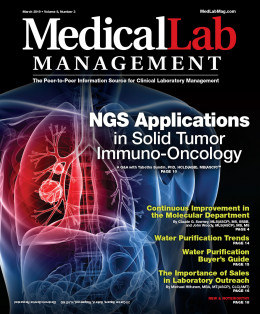 Subscribe to our Email Newsletters!
In The Loop!
Digital Edition
Special Announcements