The Confusion About Quality
April 2018 - Vol. 7 No. 3
- Page #8
Article Category:
Quality is a nebulous word. Undoubtedly everyone who works in the clinical laboratory agrees that quality is important, but what exactly does the word mean? How is quality defined, how is it measured, and what does the quality function entail? Complicating matters, the word is commonly conjoined in terms such as quality control, quality assurance, quality improvement, and quality management, which all too often are used interchangeably.
In our laboratory, we train all lab staff on our quality program and emphasize fundamental quality concepts during new staff onboarding training. As part of this process we ask all participants to define the concept of quality as it relates to the lab and invariably we get a different answer from each participant. This further demonstrates the obscurity around quality in the lab.
This haze around what constitutes quality in the laboratory often leads to confusion about the quality role. Therefore, it is important to clearly define the role of the quality department or function in the clinical laboratory (often referred to as the Quality Assurance [QA] or Quality Management [QM] department) and to help laboratory leaders optimize this important function.
Differentiating Technical Quality
Let us begin by exploring the activities for which the Quality Department is not responsible. Under the Clinical Laboratory Improvement Amendments (CLIA), among the duties the laboratory director must maintain direct oversight of and cannot delegate is to ensure that "testing systems in the laboratory provide quality services in all aspects of test performance, ie, the preanalytic, analytic, and postanalytic phases of testing and are appropriate for [the] patient population."1 However, the laboratory director may delegate certain responsibilities to ensure technical quality to a technical supervisor, as defined by CLIA including, but not limited to: Selection of appropriate test methodology, verifications and validations, enrollment in proficiency testing programs, establishing and maintaining a QC program, providing training and technical CE, competency assessments, and remediation of technical issues.2
Furthermore, the laboratory director or technical supervisor may delegate certain responsibilities to a general supervisor (another CLIA-defined role), who is responsible for day-to-day supervision over laboratory operations, and personnel performing testing and reporting of test results.3 Additional duties tend to include resolution of technical issues in accordance with policies and procedures established by the technical supervisor or lab director, and monitoring test analyses to ensure acceptable levels of analytic quality.3
General and technical supervisors must be formally designated as such by the laboratory director. Educational, experience, and other qualification requirements must be met in order to qualify as a technical or general supervisor (see SIDEBAR). Typically, the technical supervisor is accountable for establishing and directing a technical quality program for their lab section or department, while the general supervisor is responsible for implementing the program. While a technical or general supervisor also can wear the "quality assurance hat" in the laboratory, it cannot be assumed that the quality department will be able to fulfill these CLIA-defined technical roles and likewise, the people holding these highly technical CLIA defined roles should not be held accountable for the laboratory's quality function unless explicitly agreed upon.
The technical supervisor and general supervisor all focus on technical quality, as is their legal obligation under CLIA. The quality function, on the other hand, focuses on ensuring the laboratory complies with regulatory requirements in addition to establishing and maintaining the laboratory's Quality Management System (QMS), which requires a management sciences and business acumen.
Define the Quality Function
A common misconception holds that a quality department is a bureaucracy focused exclusively on documentation and "artifacts" to prove compliance. While meticulous record keeping is integral to demonstrating compliance, it should not be the primary focus of a quality department. Quality in the lab is not equivalent to the volume of documentation. Records are merely a piece of the QMS. The quality department does not perform every task related to quality. Each department and function in the laboratory, even ancillary departments, are involved in the overall quality of laboratory services. That said, it is critical to define what the quality department is responsible for and how all roles in the laboratory contribute to providing quality services.
Unlike the above mentioned CLIA-defined roles, the quality role is not well defined in the clinical lab industry. For this reason, assumptions often are made about the responsibilities of the quality department and its staff. Most organizations do assign the quality department responsibility of overseeing compliance with CLIA, accreditation agencies (eg, College of American Pathologists [CAP], The Joint Commission) and state licensure requirements, such as Florida or New York, as well as FDA (GxP), if applicable.
The quality department completes regulatory and accreditation applications, organizes and leads inspection/audit preparation activities, serves as the laboratory liaison with outside organizations, coordinates deficiency responses, and ensures renewals are completed in a timely manner as to not interrupt laboratory services. Often included in these responsibilities is oversight of systems designed to ensure compliance with requirements for competency assessment, internal auditing, proficiency testing, non-conforming event management, document control, continuing education, metric collection, management review, quality committees, and document and record review.
Some quality manager or director job descriptions end with the goal of complying with regulatory requirements. However, many quality departments establish and maintain a robust laboratory QMS. According to the International Organization for Standardization (ISO), a QMS is defined as "coordinated activities to direct and control an organization with regard to quality,"4 whereas CLSI describes a QMS as "a set of essential building blocks needed for a laboratory's work operations to fulfill stated quality objectives."5
The QMS should apply to the entire laboratory workflow, from draw (if the lab performs collection) or specimen receipt through results reporting. The CLSI document QMS01-A4 Quality Management System: A Model for Laboratory Services5 comprehensively describes the components of a QMS and can serve as a solid starting point for implementing a QMS. Furthermore, the quality function is often responsible for selecting and implementing data analytics and compliance software intended to support the laboratory's QMS, including modules for managing document control, internal audits, and non-conforming events. It is important to note that although the quality department is responsible for ensuring the laboratory is compliant with regulations and that it addresses all components in a QMS, the quality department cannot be held accountable for completing every quality related task (see FIGURE 1).
Intersection of Technical and Overall Quality
Quality is the responsibility of every laboratory staff member, and while the quality function has certain responsibilities for establishing and overseeing the quality program, it is up to each staff member to do their part. For example, the quality department sets up the document control system, establishes policies and procedures for its use, and trains staff before implementation and on an ongoing basis. Staff members are then responsible for compliance with this training and organizational policies and procedures. Likewise, the quality department should work with the technical departments to ensure they have established and are maintaining quality control programs in compliance with applicable regulations. The quality department can audit for this compliance, but ultimately, technical quality control is the responsibility of technical leadership (ie, lab director or technical/general supervisor).
Another example of this necessary collaboration involves nonconforming event (NCE) management. The quality department should establish a mechanism for NCE management, including reporting, triaging, investigation, remediation, and effectiveness checks, and again, write the policies and procedures that govern the program and train all relevant staff. Typically, the quality department also will serve as administrator of the NCE management system, reviewing all submitted information, assigning investigations and remediation, and tracking the timeliness of corrective and preventive actions, as well as reporting out on metrics such as number and breakdown of nonconforming events. However, such a system will not work without staff participation at every level. A quality management system will not be effective if it only exists in the quality manager's office. Therefore, the effectiveness of the NCE management system is dependent on staff participation, from reporting issues and suggesting remedial action to carrying out effectiveness checks.
Ultimately, it is helpful to distill the role of the quality department or function down to its essential duties: Laboratory quality professionals are typically responsible for regulatory and accreditation compliance, and for establishment, oversight, and management of the QMS. Lab quality professionals are the engine of the QMS.
Set the Quality Function Up for Success
Given the lack of a CLIA-defined or industry standard clinical laboratory quality professional job description, it is essential that laboratories clearly define, document, and articulate the role the quality department or function will play. This depends on a number of factors, including the size and complexity of the laboratory, as well as its quality objectives. Some labs will find it necessary to spread the quality workload across several FTEs, while others will find it manageable with just one quality professional. While not recommended, some labs may even decide to decentralize the quality function across technical or operational staff.
Ensure the Quality Function Is Well Defined
Regardless of the method of addressing the unavoidable tasks related to regulatory compliance, ensure all quality duties and priorities are documented and clearly conveyed. Do not assume technical or general supervisors with high level scientific degrees and certifications will also have regulatory and quality management knowledge, as well as the necessary leadership and soft skills. Just as cytology, immunology, and molecular biology are laboratory specialties, quality management and regulatory affairs also should be considered distinct specialties with their own sets of necessary competencies.
Do Not Make Assumptions
The quality function tends to be a catch-all for administrative tasks related to the lab, so do not assume that just because your last quality department handled a certain task, the current quality department will be aware of it. They may be accustomed to another department handling that task. Laboratories cannot afford to have licensure and accreditation matters slip through the cracks, thereby exposing the lab to consequences of noncompliance with CLIA and other regulatory and accrediting bodies.
Top-Down Support Is Critical
Accountability for quality responsibilities is key to successful participation and must be emphasized and incentivized by top leadership. Include quality responsibilities on job descriptions for all roles and evaluate adherence during performance reviews. If the quality department initiates a program that requires staff participation in order to be compliant, but it is not a management priority, the program is not likely to be successful. This will leave both lab staff and the quality department frustrated.
Be Sensitive to Quality Department Challenges
Quality improvements and initiatives involve organizational change management, which is often difficult to lead. Additionally, the quality function typically interacts with numerous positions in the organization and leads by influence, as the people they are leading do not report to them. This is a difficult position to lead from, yet quality professionals must remain enthusiastic and optimistic about their roles and initiatives.
Properly Position the Quality Function
Properly position your lab's quality leader on the organizational chart, commensurate with the responsibilities with which they are tasked. While leadership should not depend on a title, it is unreasonable to assume that the priority project of a low-level manager will be successful in a sea of projects and initiatives coming from higher ranking management. Further, the quality function "must be delegated the appropriate responsibility and authority to assure compliance to the quality system requirements."6 If quality is a key strategic area of focus for your organization, your quality leader should be at the same organizational level as other key leaders. Avoid conflicts of interest by positioning the quality leader to report to the highest level executive in the organization, such as the laboratory business unit head in a hospital or the CEO in a reference laboratory. Quality should never report to operations.
Paint Quality in a Positive Light
As a laboratory leader, do not allow your laboratory's quality function to either operate or be portrayed as bureaucratic and punitive. Partner with your quality program's leadership and staff for the betterment of quality and patient safety and encourage your staff to do the same.
Collaboration Is Critical
If you are a new laboratory quality leader or professional, begin by asking your colleagues what the biggest areas for improvement are instead of pointing out shortcomings. Aim to be seen as a partner for improvement; when laboratory staff combine their technical and front-line knowledge with the regulatory knowledge and quality management expertise of the quality staff, this leads to powerful interventions for patient safety and quality improvement.
Engage the Quality Function Early
Lab quality professionals should be engaged early in a project or initiative for input on regulatory compliance, patient safety, risk management, and assurance that quality is being considered. Inserting the quality leader as a signature line on documentation just before a deadline could hinder the operational timeline or expose the laboratory to potential regulatory and patient safety liabilities that otherwise could have been avoided. A quality professional who has been involved in the development or evaluation of a process from the inception will be more engaged and have a better understanding of the processes to offer the most helpful guidance both for regulatory compliance and for error avoidance.
Reward and Celebrate Success
Quality is often seen as extra work, despite its compulsory nature and myriad benefits. A little positive reinforcement can go a long way to keep employees participating and engaged, so be sure to celebrate milestones, such as the completion of a quality initiative or a successful inspection. Employee recognition for quality is a fun and successful way to positively reinforce participation in quality activities, including near miss reporting, accreditation preparation, and continuous improvement. In addition, have quality staff lead light-hearted staff activities such as monthly birthday celebrations or participation in Lab Week to help associate the quality department with fun activities, not just regulatory compliance.
Clear the Confusion
Quality may be a nebulous word, but it does not have to be a nebulous function in your laboratory. Providing appropriate and clear job descriptions and hiring qualified staff for your quality role(s) as well as CLIA-defined technical roles will help ensure a comprehensive quality program. Clearly communicate the intended core responsibilities of the quality department or function, including regulatory and accreditation compliance, and oversight of the QMS, while also emphasizing every staff member's responsibility and accountability for quality. Set your quality department up for success by selecting a qualified quality leader and staff, providing them with the tools, resources, and support they need to thrive, and champion a culture of quality.
References
Clinical Laboratory Improvement Amendments (CLIA). Laboratory Director Responsibility brochure. August, 2006. Accessed 3/8/2018.
www.cms.gov/Regulations-and-Guidance/Legislation/CLIA/Downloads/brochure7.pdf
Clinical Laboratory Improvement Amendments (CLIA). §493.1451
Standard: Technical supervisor responsibilities. Accessed 3/8/2018.
www.ecfr.gov/cgi-bin/text-idx?SID=1248e3189da5e5f936e55315402bc38b&node=pt42.5.493&rgn=div5#se42.5.493_11451
Clinical Laboratory Improvement Amendments (CLIA). §493.1463
Standard: General supervisor responsibilities. Accessed 3/8/2018.
www.ecfr.gov/cgi-bin/text-idx?SID=1248e3189da5e5f936e55315402bc38b&node=pt42.5.493&rgn=div5#se42.5.493_11451
ISO. Quality management systems – Fundamentals and vocabulary. ISO 900. Geneva, Switzerland: International Organization for Standardization; 2005.
CLSI. Quality Management System: A Model for Laboratory Services; Approved Guideline – Fourth Edition. CLSI document QMS01-A4. Wayne, PA: Clinical and Laboratory Standards Institute; 2011.
World Health Organization. Laboratory quality management system training toolkit. Accessed 3/21/2018. www.who.int/ihr/training/laboratory_quality/18_b_content_organization.pdf.
---

Jennifer Dawson, MHA, DLM(ASCP)SLS, FACHE, CPHQ, LSSBB QIHC, QLC, is senior director of quality for Human Longevity, Inc, in San Diego, California. She is a member of the CLSI Quality Management Systems Expert Panel, the Cardinal Health Laboratory Advisory Board, the ASCLS Patient Safety Committee and the AACC Management Sciences & Patient Safety Division Executive Committee.
May Oo, BS, LSSGB, is the quality management specialist for Human Longevity. A member of ASCLS, she has nearly a decade of experience in CLIA and CAP regulated clinical laboratories.
---
42 CFR §493.1449
Standard; Technical Supervisor Qualifications
42 CFR §493.1461
Standard; General supervisor qualifications
Like what you've read? Please log in or create a free account to enjoy more of what www.medlabmag.com has to offer.
Recent Popular Articles
Current Issue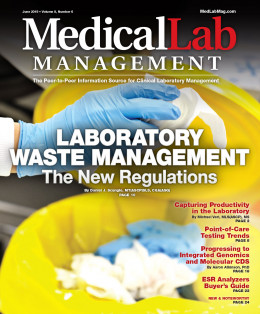 Subscribe to our Email Newsletters!
In The Loop!
Digital Edition
Special Announcements