Improve Patient ID and Specimen Labeling in the Ambulatory Clinic
April 2018 - Vol. 7 No. 3
- Page #24
Article Category:
The Washington Post announced in May of 2016 that medical errors had become the third leading cause of death in the United States.1 While this is a cumulative statistic, errors made in patient and specimen identification, labeling, and handling certainly can lead to diagnosis or treatment errors, as well as erosion of trust from providers, patients, and their families and inappropriate utilization of laboratory resources. Identification and labeling errors also require staff to spend time investigating and correcting errors, thereby negatively impacting the total cost of care.
There are relatively few published articles that focus on improving patient identification and specimen labeling in the ambulatory care setting. CAP Q-Probes and PubMed have published several reports from organizations that have designed improvement initiatives around patient identification, but these initiatives have been primarily based in hospitals.2-4 Furthermore, these improvement strategies have largely centered on positive patient identification technology utilizing bar coded patient identification (ID) bands. While some ambulatory clinic systems utilize bar coded patient ID bands, this technology is far from universal in the ambulatory care setting.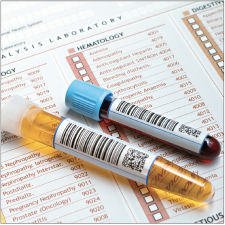 The Need for Change
HealthPartners, an integrated health care system that covers Minneapolis/St. Paul, St Cloud, and western Wisconsin, includes six hospitals, 22 urgent care locations, and 120 medical and dental clinics offering both primary and specialty care services. As a large health care system, we faced several challenges in implementing a comprehensive patient identification and specimen labeling process.
After several years of piloting various strategies via Plan-Do-Study-Act (PDSA) improvement projects, the labeling error rate remained static. We identified the prevailing beliefs that were contributing to the lack of sustainable change:
Calling the patient back for a recollection automatically makes the initial specimen irretrievable
The relationship between patient and health care professional is somehow diminished if patients are asked to confirm their identity at key touch points during the course of their visits
In response, we established a new program, dubbed 1-2-3 Identify Me. Past improvement strategies focused on catching and correcting identification and labeling errors after they had occurred, thereby removing accountability for proper patient identification and specimen labeling from the exam room workflow. This resulted in "normalizing deviation," a phenomenon whereby continually accepting a lower standard of performance leads to that lower standard becoming the new norm.5
The primary challenge we faced in addressing this was a lack of reliable data codifying errors in patient identification and labeling. The process for reporting and documenting such errors was manual and it was incumbent on staff to self-report or report on a colleague. This led to workarounds as staff was inclined to "just fix" the issue at hand rather than go through the reporting process.
A comprehensive review of our labeling and identification data prior to the implementation of the 1-2-3 Identify Me project, from 2008 through 2013, revealed that 65% of reported labeling events involved specimens collected in the exam room (the remaining 35% involved specimens collected in the laboratory). Of those events that originated in the exam room, 35% involved unlabeled specimens and 32% were labeled with the wrong patient name; this was particularly common with the collection of non-blood specimens, such as urine samples and swabs (see TABLE 1).
One Patient Per Day at Risk
Our 1-2-3 Identify Me team researched other organizations' efforts to improve patient identification and specimen labeling, and we found one particularly illustrative study evaluating laboratory performance on quality indicators that compared a manual process such as specimen labeling against airline baggage handling using the Six Sigma scale.4 Note that processes operating under six sigma quality are assumed to produce long-term defect levels below 3.4 defects per million opportunities (DPMO).6
The laboratory-based study4 showed that the airline industry demonstrates about 4,000 parts per million mishandled bags. The average American recognizes the quality of the airline baggage handling process. What would the average American think if they realized that health care professionals identify patients and label their specimens worse than airlines manage luggage?
After reviewing the data obtained by Q-Probes and other published studies, we examined our data, which showed a labeling error rate of 0.2 events per 1000 phlebotomies in 2016 (see FIGURE 1). This equates to approximately one patient per day at risk for either a misidentification or specimen labeling error in our health system. While the overall calculated percentage of errors appears low, the recognition that one patient every day was at risk for misidentification and/or a specimen labeling error created urgency for change.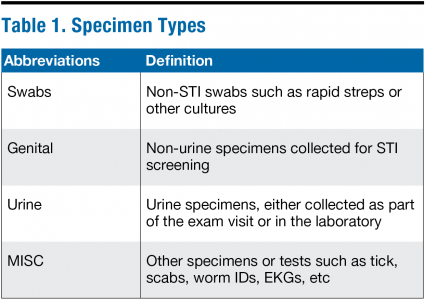 The 1-2-3 Identify Me Process
As errors cannot be solved in a vacuum, the laboratory recognized the need to collaborate with care teams to identify solutions, and in our case, the outpatient exam room became the focus. We needed to overcome the silo thinking that existed within nursing and laboratory services;7 our goal was to foster a care team relationship in order to make positive changes to the patient identification and specimen labeling processes.
To begin, HealthPartners charted a system-wide improvement project with the goal of positively identifying patients and ensuring all specimens collected in the exam room are labeled with the correct patient name. A multidisciplinary team participated in a 3-day design session to map out the processes for patient identification and specimen labeling in different areas and settings in the ambulatory clinic (eg, OB, routine visit, urgent care, etc). The team uncovered extensive variation across the different settings and even among staff in the same department. Some care team members responsible for performing certain functions in the process were unaware of existing policies and procedures around patient identification. Common comments included, "Well, this is how I do it."
A sub-group, led by a nurse-champion, created a process to incorporate into the rooming procedure. This new process is followed by nurses, certified medical assistants (CMAs), and providers, and is designed to cover both patient identification and the labeling of specimens collected in the exam room while the patient is still present.
For primary care visits, we created a list of reasons for the visit that commonly resulted in specimen collection. Once the patient is checked in at the front desk, the nurse/CMA reviews the pre-visit notes and if the reason for the visit is on the list, two visit labels are printed. Once the patient is roomed, the nurse/CMA brings the visit labels into the room, and as part of the rooming process, the nurse verifies patient identity using at least two unique identifiers, reviews the pre-printed visit labels, verifies the labels match the patient identity, and initials the labels to indicate the verification process has occurred.
When the provider or nurse collects the specimen in the exam room, the pre-printed, initialed labels are applied to the specimen in the presence of the patient. For unexpected specimen collections, labels are printed and brought to the exam room where the verification and specimen labeling steps take place.
There are inherent risks in pre-printing labels and as such, robust processes must be in established. For example, make sure the nurse/CMA only brings labels for that specific patient into the room and establish workflows that disallow the pre-labeling of containers.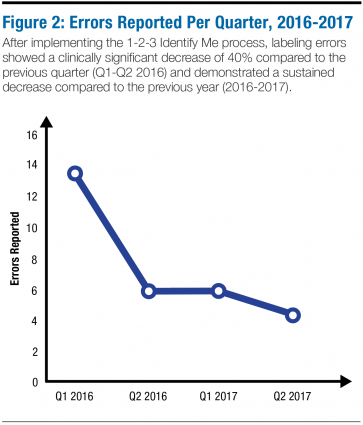 Real-Time Feedback
Laboratory services worked with each clinic nurse supervisor to provide real-time feedback on the implementation of the 1-2-3 Identify Me process. When specimens collected in the exam room were brought to the laboratory, clinic laboratory staff would log any specimen label that was missing initials and capture the patient MRN, provider name, and specimen type. The nurse supervisor collected the logs weekly and followed up with care team members as needed. Laboratory staff tracked the error rates and by the end of the study period, most of the clinics were performing at 90% or greater with respect to appropriate labeling of specimens collected in the exam room, as defined by the 1-2-3 Identify Me process. After implementing the 1-2-3 Identify Me process, labeling errors showed a clinically significant decrease of 40% compared to the previous quarter (Q1-Q2 2016) and the decrease was sustained over time (see FIGURE 2).
Laboratory services waited to implement a specimen rejection policy in our ambulatory sites until after the 1-2-3 Identify Me process had been implemented. We wanted to positively reinforce good practices and reduce the friction that can arise during process change before introducing any processes that could be negatively construed. Our collaborative improvement model was positively received by regional leadership, which in turn recommended that this model be used for future care delivery improvement initiatives. The quality and consistency of the data on patient identification and labeling events continues to improve. In addition, utilizing automatic test cancellation reports improves the capture rate for labeling events; this approach is significantly more effective than relying on individuals to self-report.
Ongoing Challenges
When systems and processes do not facilitate performance of a task, deviation and procedural drift will result. For example, if visit labels are too large for many of the specimen containers used in the exam room, errors are more likely. This became an issue with the collection kits used for colorectal cancer screening, which are given to patients in the exam room to take home. As a workaround, nurses would cut down the visit label to fit the vial, a process that invites deviation. This resulted in a dramatic increase in the number of specimens received unlabeled or missing two unique identifiers, as patients often handwrote their name on the vials. A separate project has been initiated to reduce and standardize the size of the labels across the system.
Currently, the most common errors are: a mismatch between the source listed on the order and the source written on the specimen, and the specimen is missing required information (eg, source, time in formalin, etc). A sub-group is working to develop a 1-2-3 Identify Me tool that outlines the specific labeling steps required for these types of specimens. In addition, labeling events continue to occur during relabeling of pap vials. There has been a significant increase in the number of errors wherein the pap vial was labeled correctly in the exam room, but laboratory put the wrong computer label on the vial. Relabeling of specimens with a second, laboratory-generated label will be eliminated as the laboratory migrates to a new LIS that will automate this process.
Real-time feedback is essential to process improvement. As such, weekly reports are sent to the ambulatory quality program and specific reports of labeling events are sent to each clinic nurse manager as they are reported. This regular reporting highlights areas that require improvements. By collaborating across disciplines and addressing issues at the source of the error, we can implement a sustainable process that improves the quality of care we deliver.
References
Cha AE. Researchers: Medical errors now third leading cause of death in the United States. The Washington Post. May 3, 2016. Accessed March 20, 2018. https://www.washingtonpost.com/news/to-your-health/wp/2016/05/03/researchers-medical-errors-now-third-leading-cause-of-death-in-united-states.
Wagar EA, Stankovic AK, Raab S, et al. Arch Pathol Lab Med. 2008;132(10):1617-1622.
Valenstein PN, Raab S, Walsh M. Identification errors involving clinical laboratories: A College of American Pathologists Q-Probes study of patient and specimen identification errors at 120 institutions. Arch Pathol Lab Med. 2006;130(8):1106-1113.
Nevalainen D, Berte L, Kraft C, et al. Evaluating laboratory performance on quality indicators with the six sigma scale. Arch Pathol Lab Med. 2000;124(4):516-519.
Banja J. The normalization of deviance in healthcare delivery. Bus Horiz. 2010;53(2):139.
Tennant, Geoff. Six Sigma: SPC and TQM in Manufacturing and Services. Gower Publishing; 2001;page 25.
Warner S. Silo thinking fosters distrust and an "us against them" mentality. Advance for Medical Laboratory Professionals. 2012(12).
---

Sherri Huber, MT(ASCP), CMQ/OE(ASQ), is a senior laboratory operations and quality consultant for the HealthPartners Family of Care. Sherri's role focuses on ensuring compliance with all quality programs, maintaining CAP accreditation, developing and implementing quality metrics, and quality management tools for systems' improvement.
Like what you've read? Please log in or create a free account to enjoy more of what www.medlabmag.com has to offer.
Current Issue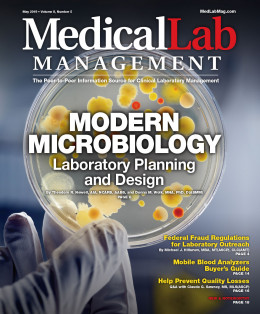 Subscribe to our Email Newsletters!
In The Loop!
Digital Edition
Special Announcements