We Hope You Enjoyed CLMA!
May 2018 - Vol. 7 No. 4
- Page #1
Fresh off this year's CLMA KnowledgeLab conference in Long Beach, California, we are excited to see how laboratory directors and managers will incorporate the valuable ideas, resources, and process improvement concepts gleaned from this year's conference. The excellent presentations, networking events, and workshops provided keen insight into today's medical laboratory setting. If you were unable to make it to Long Beach, please keep an eye on the pages of MedicalLab Management in the coming months for further CLMA content. In addition, you can refer to CLMA's Body of Knowledge, a learning road map that can help you identify your personal path toward competency as a laboratory leader. Visit www.clma.org for more information.
As MLM has grown over the last 6 years, we have amassed a large resource of articles and resources covering numerous areas of clinical laboratory practice. In order to render that material more readily accessible on our website, we have been working hard in the background to improve our search functions, enabling you to find the exact information you need to help improve your laboratory operations.
We ask you to give www.medlabmag.com a try. We think you'll find it easier than ever to access important and relevant information for your practice improvement initiatives. Whether it involves efforts to comply with CAP or Joint Commission standards, or validating a new instrument or analyzer, odds are, we have covered it before. Simply type in the information you are searching for and enjoy the results.
While you visit our website, be sure to update your free subscription information at www.medlabmag.com/subscribe to avoid a disruption in service and access.
With best regards,
David McCormick
Managing Editor
davidm@ridgewoodmedia.com
Like what you've read? Please log in or create a free account to enjoy more of what www.medlabmag.com has to offer.
Current Issue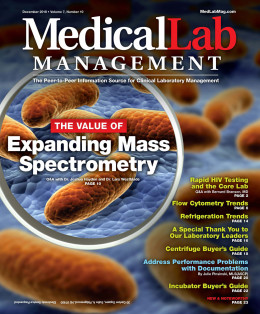 Subscribe to our Email Newsletters!
In The Loop!
Digital Edition
Special Announcements