Effective HIV Testing
July-August 2018 - Vol. 7 No. 6
- Page #18
Article Category:


Q&A with
Mark A. Cervinski, PhD
;
and Lisa LeBlanc, MT(ASCP)

Dartmouth-Hitchcock Medical Center
Geisel School of Medicine, Dartmouth
Medical Lab Management: What infectious diseases are most commonly encountered at your laboratory?
Cervinski & LeBlanc: At Dartmouth Hitchcock (DH) laboratories, the most common infectious disease encountered from a positive test standpoint is Hepatitis C, although our numbers are lower than the national average. That said, a caveat should be made for human papilloma virus (HPV), which can be found in a large portion of the overall population, but only a fraction of infections has the genetic markers of invasive HPV.
We do have incidents of positive HPV and HIV infections, but the numbers are quite low. However, if a patient presents as high risk and an HIV screen is requested, the initial steps are performed in our core chemistry lab by 4th generation HIV Ab/Ag combo assay.
MLM: How does the lab at DH perform HIV screening and confirmation?
Cervinski & LeBlanc: DH laboratory screens for HIV using a 4th generation chemiluminescent microparticle immunoassay and we auto-reflex to the immunochromatographic confirmation assay. The 4th-gen test indicates the presence of HIV-1 or HIV-2, or the p24 antigen. If that returns positive, the reflex confirmation assay differentiates between antibodies to HIV-1 and HIV-2. Since the confirmation and differentiation assay does not detect the presence of the p24 antigen, we follow up with the ordering provider on all discordant screen and confirmation results and suggest follow up testing according to the CDC's algorithm for HIV testing (see SIDEBAR).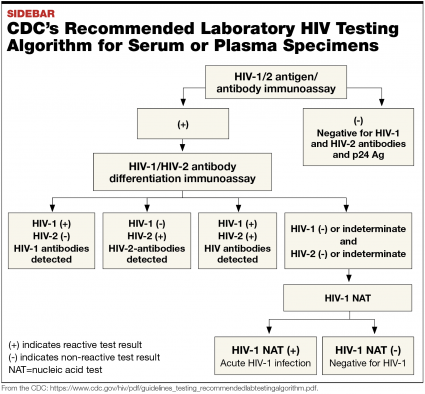 Click here to view a larger version of this SIDEBAR
MLM: What is the process if antibodies/antigens are detected?
Cervinski & LeBlanc: At DH, if a patient sample tests positive via screen and is confirmed via auto-reflex, then the sample is sent to the molecular lab to determine the HIV viral load. The process of determining HIV viral load also helps in resolving discordant results. For example, if a screen comes back positive, but on confirmation the sample is found negative, the molecular pathology lab can confirm viral load using nucleic acid amplification testing (NAAT).
MLM: Are rapid HIV test kits utilized by the DH lab?
Cervinski & LeBlanc: Rapid HIV test kits are utilized in the pediatric outpatient clinic, which assists the practice with screening compliance. If a teenager or young adult is considered high risk, a rapid result can make a difference in maintaining the privacy and screening compliance of the pediatric population. The sample can be taken as either an oral swab or finger stick, but regardless, performing rapid HIV screening in the pediatric unit helps increase compliance with regulations regarding the screening of teens and young adults with higher-risk behaviors.
MLM: What happens after a positive HIV screen?
Cervinski & LeBlanc: Whenever an HIV screen is positive, a member of the chemistry laboratory (eg, chemistry director, fellow, resident) will reach out to the provider and discuss the ramifications of a negative confirmation result and the next steps for patient testing. This is a vital aspect of how the laboratory can directly impact and benefit patient care. Open dialogue is important because every patient is different and testing response is nuanced.
By way of example, consider finding a patient sample positive on the 4th-gen HIV screen test, yet negative on immunochromatographic assay confirmation. In this case, the chemistry medical director will call the ordering provider and advise on the next steps, such as performing an HIV viral load in accordance with the CDC algorithm and/or repeating testing in 10-14 days to establish whether the screen result is a true positive. Of note, we run all screen-positive results in triplicate, so if a sample is positive via the screen, the sample is re-spun and run twice more. If two of three results are positive, we result the screen as positive. This is a common requirement for HIV screens.
These actions are taken to clearly communicate the implications of the various laboratory tests, and while the laboratorians do not advise on treatment (eg, treatment is different for HIV-1 vs HIV-2), the provider is given a clear picture of the unique circumstances and test outcomes of each patient.
MLM: Do you expect to make any changes to how HIV is managed in the near future?
Cervinski & LeBlanc: There are no current plans to make changes to the ways in which patient samples are screened, confirmed, and quantified for HIV testing in the near future. Although research and development is being made on true 5th generation HIV testing methodologies, given the patient population served by DH, there is no current need to change our practices for HIV testing and patient management.
---
Mark A. Cervinski, PhD, is the director of clinical chemistry at Dartmouth-Hitchcock Medical Center in Lebanon, New Hampshire, as well as associate professor of pathology and laboratory medicine at the Geisel School of Medicine, Dartmouth.
Lisa LeBlanc, MT(ASCP), is the outreach coordinator in Outreach Services at Dartmouth-Hitchcock Medical Center and has been
involved in numerous process improvement initiatives involving outpatient phlebotomy, microbiology, and specimen handling.
Like what you've read? Please log in or create a free account to enjoy more of what www.medlabmag.com has to offer.
Current Issue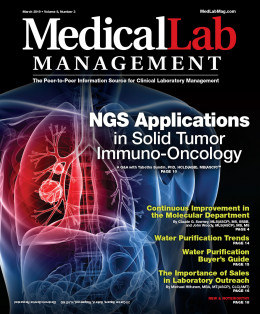 Subscribe to our Email Newsletters!
In The Loop!
Digital Edition
Special Announcements