Balance Staffing to Workload in the Laboratory
July-August 2018 - Vol. 7 No. 6
- Page #10
Article Category:
As clinical laboratory leaders, both health care providers and patients rely on us to provide timely and accurate results, while the marketplace challenges us to reduce our costs and improve the patient experience. With labor costs representing the greatest overall expense in the lab, it is necessary to place the right people in the right place at the right time in order for the laboratory to excel. Thus, the goal of every clinical laboratory is to strike a balance between overstaffing situations that lead to financial waste and understaffing staffing situations that can compromise patient care.
Components of Staffing-to-Workload Analysis
To establish an individual laboratory's staffing needs, it is necessary to understand the three primary components of a staffing-to-workload analysis: Direct effort, indirect effort, and operational needs.
Direct Effort
This first component refers to the personnel labor effort involved in direct patient specimen handling as it processes from specimen to result.
Basic Calculation for Direct Effort. In this example, it takes five minutes for a laboratory tech to interpret the melt curve for a molecular virology test, including keying the results into the laboratory information system (LIS) and finalizing the result. If the tech does this for 100 patients per day:
5 minutes x 100 occurrences/day = 500 minutes/day
500 minutes/day ÷ 60 minutes/hour = 8.3 hours/day of direct effort
8.3 hours/day ÷ 8 hours/FTE = 1.04 FTE
Note: FTE, or full-time equivalent, is based on a 40-hour workweek. However, the 40 hours can be accomplished with one staff member working 40 hours or two working 20 hours each, etc.
The basic calculation above assumes an engineering concept called "level loading," which means that if more work is presented than can be completed, the remaining work is carried over to a later time. This is not an issue for some clinical assays, but for others it is a significant issue. Furthermore, decisions regarding the degree of criticality of a specific laboratory service level typically revolve around how health care providers will act on the results, how quickly they will act, and the ramifications to the total episode of care for the patient (eg, extended stay in hospital).
If the assay in question falls in the category of a critical (STAT or Urgent) result, the basic calculation changes. (Detailed calculation examples are available at https://news.mayomedicallaboratories.com/2017/01/26/staffing-to-workload-direct-effort.)
Indirect Effort
This second component accounts for all daily testing-related tasks performed by lab staff that do not directly involve patient specimens, test data, or the patients themselves. Examples of indirect tasks include:
Daily instrument calibration
Planned instrument and automation maintenance
Performing quality control
Performing proficiency testing
Stocking supplies
Filling out paperwork/data entry
Clerical work
Managing phone calls
Report revisions
Repeat testing clerical tasks
Test development
Unplanned instrument and automation maintenance
This list represents several common occurrences of indirect effort, but there are many more. The best method of discerning the type and amount of indirect effort expended in a specific lab is to have discussions with the staff performing the testing and directly observe.
Once a comprehensive list of indirect tasks has been compiled, it is important to document the frequency and duration of each indirect task. In some cases, the duration or the frequency will have to be estimated because the task is related to an unscheduled event, such as an unexpected instrument failure or an accreditation inspection. (Further details on indirect-effort calculations are available at medlabmag.com/staff_indirect_effort.)
Operational Needs
The third component, operational needs, can be defined as non-procedural-based responsibilities that consume staffing resources. The difference between these and indirect-effort tasks is that operational needs are further removed from the testing process and are more operational in nature, such as:
Planned time off (PTO)
Unplanned time off
Sick leave
Family Medical Leave Act (FMLA)
Jury duty
Time necessary for continuing education (CE) credits (12 hours per tech required)
Lunch (assuming the lab needs to function at full capacity during lunch time)
Breaks (assuming the lab needs to function at full capacity during breaks)
Training (eg, new procedures, updated processes, new instruments)
General laboratory management
To calculate operational needs, it is necessary to first create a list and define the approximate time each FTE is allotted each year. If you have access to the time-keeping system, it is possible to achieve actual averages, as opposed to estimates. It should be noted that there are two types of PTO, the amount of PTO taken, and the amount of PTO accumulated. It is important to decide which to plan for, as often the amount taken will be less than the amount accumulated. (Detailed examples of operational-needs calculations are available at medlabmag.com/staff_op_needs.)
Impact of Direct Effort, Indirect Effort, and Operational Needs on Test Utilization
Proper test utilization means having the right staff performing the right test, in the right place, at the right time, for the right patient. And proper staffing allows a lab to meet the requirements of the right test at the right time, and all three components influence utilization.
From the direct-effort standpoint, it is necessary to have a qualified staff member available to perform a specific test at any time. Ideally, this is accomplished by creating a test pattern based on the arrival of specimens in the laboratory. Coordinating with inpatient and outpatient practices as to when particular samples are likely to be sent/arrive in the lab can make the test pattern more predictable. There will always be inherent randomness in health care, but the less random and the more predictable the testing patterns are, the more the laboratory can adjust direct-effort staffing to achieve optimized test utilization (eg, setting schedules according to when certain procedures are performed). Consideration also must be given to new test onboarding in the lab or removing a test from the menu, and how these actions affect direct demand and, in turn, staff scheduling.
There are several indirect-effort tasks that need to be accomplished each day, regardless of the amount of testing performed. These tasks fall into two categories: Activities necessary at a certain time of day, regardless, and activities of lower demand with flexible scheduling ability. Identifying some of the latter tasks can aid in compensating for some of the direct-effort randomness (eg, restocking newly received reagents can wait in the event of expected or unexpected patient-centric work). In turn, targeting flexible tasks helps protect test utilization by ensuring the right people are available at the right time. For tasks performed at a certain time on a certain day, a plan must be made to ensure appropriate staff coverage meets the predictable (or semi-predictable) demand.
The types of operational needs also tend to fall into two categories: Those that require onsite staff and those involving offsite staff. Onsite operational needs also include flexible tasks, including breaks/lunches, which are among the more flexible requirements in a lab. Regardless, these breaks in work are required and necessary to maintain optimal employee concentration. Earning CE credits often can be postponed and made up on a slower day, but again, such activities must be planned into the staffing schedule. An example of a less-flexible operational need is procedural training on new tests or test-method changes. Before rearranging such training hours, make sure a competent coverage staff member is in the lab capable of handling the work of the member in training. Even flexible tasks need to be planned for and scheduled.
Regarding off-site operational needs, ensure staff members are able to take scheduled vacations and sick days without interrupting service. These longer-term breaks improve the overall patient experience by alleviating staff burnout/turnover. Striking a balance between scheduled time off and optimized direct effort is the goal of all clinical labs. Encouraging all staff members to take reasonable time off helps nurture a more positive psychological atmosphere within the lab, which does contribute to proper test utilization.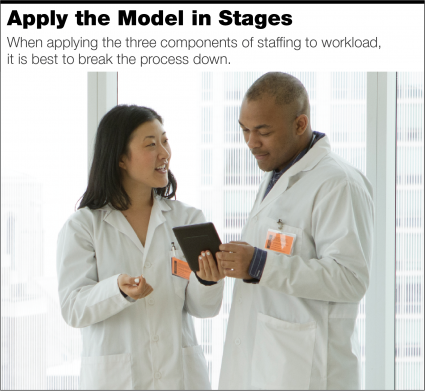 Proper Test Utilization as a Function of Proper Staffing
As a lab manager, doing the right test at the right time affects staffing by way of your scheduling. In other words, there is a difference between staffing to workload and scheduling to workload. Scheduling three staff members to be onsite on a particular day to cover direct, indirect, and operational needs is not enough. Where do each of the techs need to be stationed? What time should be dedicated to which tasks? These questions emphasize the value of coordinating with both the inpatient and outpatient practices as to when particular tests need to be performed. As a supervisor or manager, it is important to create as much direct-effort predictability as possible, including indicating which staff member needs to be at which bench when the morning shift begins. Ongoing evaluation is key; midway through a shift, bring staff together for a quick huddle and see how the day has flowed so far and whether any adjustments should to be made. That said, lab management should have a fairly strong idea of where staff members need to be and how other tasks should be staffed.
Proper Staffing Positively Impacts Testing Quality
When referring to "the right staff" in the proper test utilization sequence, this means skilled personnel with up-to-date training, certifications, and competencies capable of perform a particular test (or range of tests) repeatedly. Simultaneously, when a specimen arrives in the lab, these staff members have ensured that all instrument maintenance has been performed and the devices are stocked and ready to go; essentially, that all QC has been performed (ie, right place).
A difficult situation is presented when a test order arrives and a laboratorian cannot proceed because a staff member is either not competent on a test or the bench, or an instrument is not prepared and ready to operate. Hence, the "right time" is making sure all indirect tasks have been performed so that when a staff member sits down at the bench, he or she can perform the right test right away.
Applying a Staffing-to-Workload Model to Testing Operations
When applying the three components of staffing to workload, it is best to break the process down. Apply it to one section of the lab at a time, beginning with a section with stable processes. It is helpful to become comfortable with direct-effort calculations and results before moving to indirect effort and operational needs. In a core lab, a good place to start is the automated chemistry section.
First, define the test menu. How many of each test does this section perform, on average, each day? How long does it take to perform each of those tests? How many of these tests are performed in parallel? This is an oversimplified description of how to gain counts, but the idea is to analyze direct-effort staffing and break down test patterns by each day of the week and, if possible, by time of day.
Working through each of the components will gradually validate the model: Are you getting the right volumes and are the time stamps correct; ie, do you have the right timings? Does the lab receive daily volume reports? If not, can a volume report be implemented (in the proper format) for each area/bench in the lab? Consider performing a physical stopwatch timing on each test or gather self-observations from the lab techs. Another option is to start with timings estimated by the individuals who perform each test.
Eventually, after completing a number of laboratory sections and gaining comfort with the calculations used in staffing to workload, these concepts can be applied to larger sections of the laboratory, or multiple staffing-to-workload components can be combined. The key is to start small, gain comfort and confidence, and expand from there.
Final Thoughts
In the clinical laboratory setting, it is always better if there is open understanding and collaboration among laboratory directors/managers, laboratory scientists, and hospital administrators. Each role brings a different level of understanding and perspective to the analysis, from daily operations to scientific and patient validity, to larger institutional objectives. As such, their combined effort will lead to a validated staffing plan and a better overall understanding of how that plan integrates with the entire health care practice.
For optimizing test volume, remember to work with both inpatient and outpatient practices to make accurate predictions. Ask health care providers about their exact needs regarding a test (eg, if turnaround time is key, as perhaps the physician is seeing the patient today but is not expected to inform on test results and treatment steps until the next appointment). These conversations can bolster testing process stabilization, improve patient care, and reduce costs.
---

Michael Baisch, BS, is a systems engineer within the department of laboratory medicine and pathology at Mayo Clinic in Rochester, Minnesota. He partners with the various testing laboratories on their quality and process improvement projects including staffing to workload, root cause analysis, and standard work and training. Mike has worked at Mayo Clinic since 2005 and his degree is in industrial engineering.
Like what you've read? Please log in or create a free account to enjoy more of what www.medlabmag.com has to offer.
Current Issue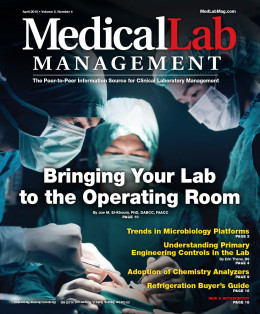 Subscribe to our Email Newsletters!
In The Loop!
Digital Edition
Special Announcements