The Best Leaders Are Engaged Leaders
July-August 2018 - Vol. 7 No. 6
- Page #1
Having already attended a few clinical laboratory conferences and expositions this year (such as CLMA, ASCLS, and ASM) and with several more on the calendar, (such as AACC, AABB, and AMP), it has been remarkably encouraging to see the positive collegiality and genuine collective interaction and engagement among so many clinical laboratory professionals. Perhaps most inspiring has been my experience with laboratory leaders. The best and most effective engage the work of the laboratory on a consistent basis. There is a common desire to keep the tools sharp, so to speak.
With the growing responsibilities in clinical laboratory and pathology disciplines having no apparent bounds, the role of laboratory director requires one to be many things to many people. And while this is encouraging to the intellect, it may at times seem overwhelming.
Our goal at MedicalLab Management is to stoke collegiality and encourage engagement. To be a conduit for your ideas and methods for coping with the demands of the daily professional life. To give voice to all your gifted and generous colleagues spanning disciplines who want to share their experiences so that otherscan learn, be encouraged, and feel confident in their actions.
With this in mind, we encourage you to visit www.medlabmag.com and have a look around. Check out the archive and scroll through it a bit. Things change, of course; practices are improved and regulations are updated, but the inspiration is still there. These articles are produced by practicing and engaged laboratory professionals. MLM is proud to offer these resources free of charge to laboratory professionals in the hope that you will continue to speak through us to your colleagues; your friends and coworkers, mentors and students. (To begin or renew your subscription, visit www.medlabmag.com/subscribe.)
As always, we also encourage you to reach out to us with ideas or questions. If there are topics you would like to write about or see written about, we will do our best to enable that. We look forward to watching laboratory leadership continue to share their stories for the betterment of the profession and of health care overall.
With best regards,
David McCormick
Managing Editor
davidm@ridgewoodmedia.com
Like what you've read? Please log in or create a free account to enjoy more of what www.medlabmag.com has to offer.
Current Issue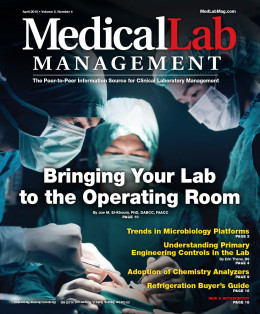 Subscribe to our Email Newsletters!
In The Loop!
Digital Edition
Special Announcements