Case Studies in Laboratory Waste Management
July-August 2018 - Vol. 7 No. 6
- Page #2
Article Category:
As a follow up to his article in the April issue of MedicalLab Management—Current Issues in Laboratory Waste—Dan presents a series of case studies in areas of clinical laboratory practice that resulted in negative action. These examples elucidate the need for comprehensive and codified waste management practices.
Case Study #1
A busy laboratory technologist forgot to empty all of the supply boxes before throwing them out with the regular trash. This staff member accidentally left hematology control vials in a small box that eventually made its way to the local landfill. Later, upon inspection at the landfill site, broken vials of blood were discovered and traced back to the laboratory. The hospital was fined $10,000 for the error and another $10,000 for removing biohazardous material from the landfill.
Lessons Learned:
It is important to make sure all boxes and containers of laboratory supplies are completely emptied before disposing of them. Department employees typically responsible for trash removal may not always be well trained in laboratory waste streams and may need specific instruction on disposal of hazardous or otherwise sensitive materials and wastes. Teach lab staff that mistakes in waste disposal can be costly and can create environmental hazards.
---
Case Study #2
An EPA inspector walked through the laboratory of a Large Quantity Generator hospital for a scheduled waste audit. Within the laboratory, the inspector noticed an unattended, open chemical waste container next to the sink. Furthermore, in the department's Satellite Accumulation Area (SAA), the waste containers were labelled with the contents, and the date was written on the containers. The lab was fined for mismanagement of hazardous waste.
Lessons Learned:
Large Quantity Generator sites are usually inspected every five years by the EPA or its state branch representative. Containers of hazardous waste may never be left open if unattended. The unattended container near the sink also poses a threat of an accidental release of hazardous chemicals into the drain, which creates environmental concerns. Waste containers should have accumulation start dates written on them when stored in Central Accumulation Areas (CAA), but not when stored in Satellite Accumulation Areas. The waste generator storage time limits begin once the waste is moved from a SAA to the CAA.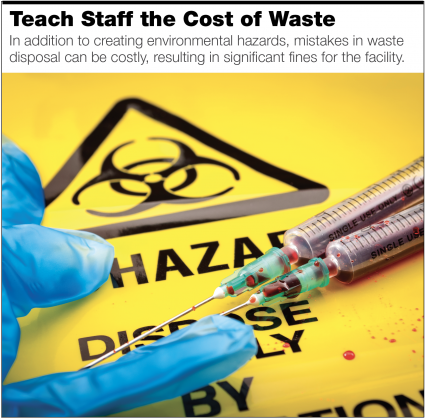 ---
Case Study #3
As a long-standing practice, the histology laboratory staff neutralized waste formaldehyde using a commercially purchased powder and then poured it down the drain. On one occasion, a pathologist decided to utilize a new product that contained both formaldehyde and acid for a new process. However, the pathologist neglected to inform the histology staff, who continued to pour what they thought was neutralized waste down the drain. The local wastewater authority notified the hospital that upon testing the waste effluent from the facility, pH levels well below the acceptable limits were detected; the facility was barred from pouring any waste down the drain.
Lessons Learned:
Ensure clear communication between those who manage laboratory procedures and those who manage waste processes so that any chemical process changes are reviewed and approved by all affected parties. If neutralizing spent formaldehyde, test the solution for aldehydes and pH levels before drain disposal. Check with local wastewater authorities to verify what treated wastes are acceptable for drain disposal, since removal from the lab via a contracted vendor can be costly.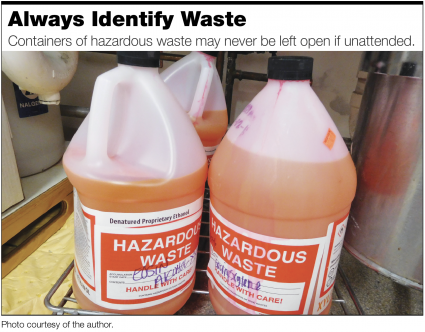 ---
Case Study #4
A small rural hospital decided to open an infectious disease (ID) unit with a laboratory after learning state grant money was available. With physician input, it was decided that the new lab test menu would include making malaria smears and gram stains. After the laboratory was established, lab management was informed that their contracted chemical waste vendor could not pick up chemical waste from a lab that would potentially work with Category A infectious substances. The local wastewater authority also would not give the ID laboratory permission to rinse the gram stain chemicals down the drain. Because the small hospital did not have an autoclave, their only option was to have all regulated medical waste from the infectious disease unit hauled away to a distant treatment facility at great expense.
Lessons learned:
Setting up a highly infectious disease laboratory takes special care and planning, and the attendant waste disposal requires significant forethought. Consider utilizing laboratory testing that generates little or no waste but nonetheless provides accurate results. Malaria testing can be performed using a point-of-care method, for example. Use molecular-based rapid identification systems for microbiology testing so that gram staining is not necessary. If there is no autoclave in the unit, Category A infectious waste can be taken to a few select facilities in the country, but the cost for transport is very high. While an autoclave may be expensive to purchase and install, it can save a great deal of money in the long run.
---

Daniel J. Scungio, MT(ASCP)SLS, CQA(ASQ), has over 25 years of experience as a certified medical technologist. He worked as a laboratory generalist in hospitals ranging from 75 to 800 beds before becoming a laboratory manager, a position in which he served for 10 years. Dan is now the laboratory safety officer for Sentara Healthcare, a system of more than seven hospitals and over 20 laboratories and draw sites in the Tidewater area of Virginia. As "Dan the Lab Safety Man," he also serves as a professional speaker, trainer, and lab safety consultant. Dan received his BS in medical technology from the State University of New York at Buffalo.
Like what you've read? Please log in or create a free account to enjoy more of what www.medlabmag.com has to offer.
Current Issue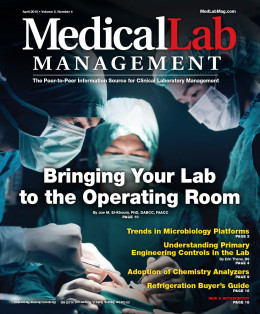 Subscribe to our Email Newsletters!
In The Loop!
Digital Edition
Special Announcements