The Right Time to Look Ahead
October 2018 - Vol. 7 No. 8
- Page #1
As we enter the year's final quarter, it is an opportune time to take a glance ahead and forecast project improvement outcomes expected in the next year. Undoubtedly, your laboratory has spent significant time this past year refining practices, implementing new testing or instrumentation, and building the appropriate technical and workflow bridges necessary for modern clinical labs to operate. And while challenges will always arise and persist, consider how the fruits of your laboratory's labors will pay off in the future.
Benchmarking operational improvements is key to justifying improvement initiatives in the first place, but doing so also provides a view into the performance indicators of similar clinical laboratory facilities. At MedicalLab Management, we are in the process of formalizing the findings of our annual State of Laboratory Technology survey. We are very grateful that so many of you took time from your busy schedules to participate in this survey, and we are excited to share the results in our November issue. As in years past, we will present valuable benchmarking data and product usage trends in the clinical laboratory market.
In the meantime, MLM continually seeks to assist clinical laboratory directors in applying greater process controls and gaining a better understanding of how today's breakthrough technologies can benefit the lab. In large part, doing so requires laboratory leaders to share their stories, both good and bad. We all learn from other's successes and mistakes, so if you have led a successful project improvement initiative in any facet of the clinical lab, we want to hear from you and help share your story.
For now, we look forward to your feedback on our forthcoming State of Laboratory Technology issue, as well as our other editorial throughout the year. By working together, we believe 2019 will be an even better year for both MLM and clinical laboratory practice as a whole.
With best regards,
David McCormick
Managing Editor
davidm@ridgewoodmedia.com
Like what you've read? Please log in or create a free account to enjoy more of what www.medlabmag.com has to offer.
Current Issue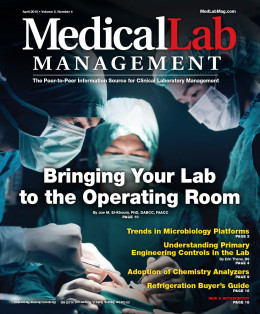 Subscribe to our Email Newsletters!
In The Loop!
Digital Edition
Special Announcements