Rapid Testing for Infectious Diseases
October 2018 - Vol. 7 No. 8
- Page #2
Article Category:

Q&A with Anthony Tran, DrPH, MPH, D(ABMM), MT(ASCP)
Public Health Laboratory Director
Department of Forensic Sciences
District of Columbia
Medical Lab Management: Where does your laboratory stand with respect to the use of rapid test kits?
Anthony Tran: We are not currently using rapid test kits in our public health laboratory, but we are exploring that option for multiple disease areas. In our laboratory's case, much of the decision making depends on the testing algorithm that we want to pursue. With some infectious diseases such as Zika, HIV, and syphilis, a one-test diagnostic serology solution does not exist; rather, identification of disease status requires multiple steps. In the case of Zika, we are exploring the rapid test1 because it identifies antibodies to a key protein, NS1, which according to the literature, is more specific for the identification of Zika than other flaviviruses such as dengue or West Nile.
With this in mind, we wanted to compare the use of this rapid test with other laboratory-based serology/antibody testing assays to find the best solution for our laboratory. There are distinct advantages to utilizing a rapid test in that results are provided very quickly, and the devices are packaged individually, so if you have a single test request, which happens often for us as a small laboratory, you can run a single sample. However, a balance must be struck among numerous factors, not the least of which are assay performance, volume, turnaround time (TAT), cost, and quality assurance.
MLM: What platform combinations are you considering for Zika testing, as an example?
Tran: We are considering a few combinations of available test platforms for Zika and other diseases including a fully-automated chemiluminescent immunoassay2, which identifies antibodies to the NS1 protein indicative of Zika infection. The other two methodologies we are considering are both based on antibodies to envelope protein enzyme immunoassays.3,4 These three are not considered "rapid" under currently accepted terminology, and while the chemiluminescent immunoassay, for example, runs relatively quickly,2 it is not a point-of-care, rapid-result test.
Ultimately, these platforms and the rapid tests available for Zika, HIV, syphilis, etc., involve different chemistries. The laboratory-based technologies run on a traditional ELISA sandwich platform immunoassay or chemiluminescent immunoassay. Testing time can take as long as three days (if a kit-based format is not used and plates are manually coated and incubated overnight before the traditional EIA [enzyme immunoassay steps), and other traditional ELISA-based immunoassays can take up to half a day to perform a test. The chemiluminescent platform, for example, is a closed-system, random access system that takes a sample, pipettes, adds reagents, and analyzes all within a timeframe considered fast by traditional standards, but still requires several steps.
MLM: What are the potential benefits of rapid test kits to your testing solution?
Tran: By way of example, Zika testing in the US is relatively new and there is only one rapid test currently available. But as all clinical laboratorians know, disease states can evolve rapidly and unexpectedly, so there is always a demand for faster, more accurate, and more portable testing platforms that address the most dangerous and virulent pathogens. As such, rapid test kits are used throughout public health and clinical laboratory settings, including (and perhaps most prominently in public health settings) those for HIV. Rapid HIV tests have been in use for approximately 15 years as CLIA-waived assays used outside traditional laboratory settings, such as community-based organizations, STD clinics, and other outreach programs.
The benefit of rapid HIV testing (and in theory, any other infectious diseases) to public health programs and non-traditional laboratory settings is clear: They provide actionable results while the client is still present after testing. Instead of traditional sample collection via phlebotomist or nurse, transport time to the laboratory, and testing that can take days, the rapid HIV test can provide preliminary results in as little as 20 to 30 minutes. As any health care practitioner working with HIV will tell you, the speed with which a potentially HIV-positive patient can enter into care and treatment is paramount. Supplemental laboratory testing is clearly appropriate for patients who receive a reactive screening result with a rapid test, but these patients are far more easily brought into treatment than those who do not receive results for several days, if at all, and may be lost to follow-up.
MLM: How do you plan to implement rapid tests into the laboratory's workflow?
Tran: In clinical laboratory settings, a range of rapid tests are used commonly for infections caused by Group A Streptococcus, C. difficile, Trichomonas vaginalis, and others. Rapid tests have become good screening tools for laboratories and may have a place as supplemental tools for confirmation of disease states. The syphilis rapid test, for example, involves a two-step (sometimes three-step) algorithm, and ideally, these tests are sensitive on the screening end and specific on the supplemental testing end. I have explored the use of a rapid syphilis test as a potential second treponemal test in the reserve syphilis algorithm and there does appear to be utility to this methodology that will require more intense studies.
As always, the element of the laboratory's test volume must be factored in. The issue with larger platforms and EIA-based assays is that they are made for high-throughput testing, and if you do not have a large volume of samples to run, reagents will be wasted, which can be costly. As a result, laboratories either batch samples, which delays TAT, or they run fewer samples at greater cost and less efficiency. This conundrum highlights the outward benefits of rapid tests; that is, the speed and individual nature of each kit.
MLM: How do you evaluate potential new testing methodologies?
Tran: There is usually more than one test methodology available for a specific disease, so we compare the various assays with each other and analyze the accuracy, precision, costs, workflow, and hands-on time required. As a small lab, I am focused on implementing the most beneficial system for our stakeholders, but also must remain cognizant of cost, workflow, and efficiency.
The majority of rapid tests that are in use tend to be immunochromatographic lateral flow testing methodologies. Typically, an antigen or antibody (depending on what is being sought) and an internal control are impregnated onto a strip (usually nitrocellulose). The sample (eg, serum, plasma, whole blood, stool, urine) is added along with a running buffer and allowed to migrate up the strip. These tests are easy to conduct, which is why many of them are CLIA-waived, thus allowing them to be performed in non-traditional laboratory settings. However, creating something so (relatively) simple requires a specific organism load and/or volume of antibodies to be present for the test to result reactive.
In my experience, I have found that although some rapid tests may be very clinically sensitive, the analytical sensitivity may be lacking, and they may not have the range of CLIA moderate- or high- complexity tests performed in the traditional laboratory setting.
MLM: What types of rapid testing are we likely to see in the near future?
Tran: The next generation of rapid tests likely will be a molecular-based technology comprising very small and portable PCR assays that can provide highly accurate results in as little as 20 minutes. Molecular methods are proving to be highly sensitive and specific, and are proliferating in public health and clinical labs. Furthermore, we will start seeing field-based, rapid molecular assays for sequencing (as well as detection). These are likely to be simple add-on devices to smartphones or other common handheld devices.
MLM: Any last comments on rapid testing in public health laboratories?
Tran: When discussing rapid testing of any kind, particularly in a non-traditional or non-clinical laboratory setting, the application of good quality assurance (QA) and quality control (QC) practices must not be overlooked. When rapid HIV tests were released, a significant training campaign was undertaken to provide education and competency assessments on how these devices are performed, interpreted, and reported. Laboratories that use rapid HIV tests have specific quality assurance programs that include training, competency, quality control, and proficiency testing for their staff and test system, but this is not always the case for all rapid testing programs conducted in the field.
CLIA-waived tests are intended to be relatively simple to perform, and many non-traditional laboratory testing staff have little or no experience with basic QC procedures such as running positive and negative controls. Despite their simplicity, rapid tests still require oversight from a vigilant trained laboratorian in all phases of testing. Validation, training, competencies, proficiency testing, QA/QC, as well as other pre- and post-analytical tasks are all essential to an effective rapid testing program.
Lastly, never forget the importance of communication with your stakeholders. When implementing a rapid test or any new methodology, all partners who will be utilizing the test results in any manner should be consulted. This includes epidemiologists, pharmacists, infection preventionists, infection disease physicians, and any other related clinicians. The success of any new testing program will rely on this kind of collaboration.
---
References
Chembio Diagnostic Systems. DPP Zika IgM System.
DiaSorin. LIAISON XL
Centers for Disease Control and Prevention. Zika MAC-ELISA.
InBios. ZIKV Detect 2.0 IgM Capture ELISA Kit.
---
Anthony Tran, DrPH, MPH, D(ABMM), MT(ASCP), is the public health laboratory director in the Department of Forensic Sciences, District of Columbia. He is an expert in bacteriology, serology, molecular biology, infectious disease diagnostics, and laboratory policy development, particularly in the areas of influenza, HIV, STDs, TB, Zika, and biothreat agents.
Like what you've read? Please log in or create a free account to enjoy more of what www.medlabmag.com has to offer.
Current Issue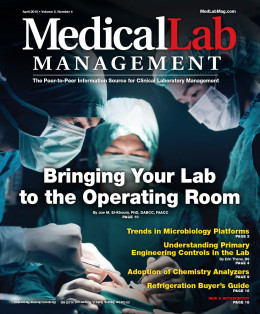 Subscribe to our Email Newsletters!
In The Loop!
Digital Edition
Special Announcements