Decentralize Somatic Mutation Testing for Better Cancer Patient Management
October 2018 - Vol. 7 No. 8
- Page #6
Article Category: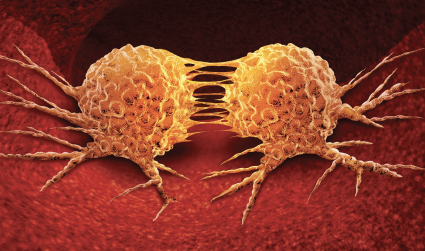 As targeted therapies continue to be developed, molecular profiling of tumor tissues has become critical for the appropriate management of patients with various cancers. Given the complexity of management decision-making when it comes to molecular profiling, accurate and timely genomic assessment of tumor tissues is imperative for selection of optimal therapeutic strategies. While the capabilities of next-generation sequencing (NGS) have unleashed a vast amount of genomic information, as always, clinical relevancy is key. There is no one-size-fits-all solution, but new instrumentation can be used in concert with other molecular technologies to create a custom solution for each individual laboratory.
Small Labs Need Advanced Diagnostics
Testing for somatic mutations in cancer can be accomplished using a variety of molecular biology techniques, most of which involve multiple steps and require personnel with non-traditional skill sets. As a result, this type of testing has generally been centralized in established molecular diagnostic laboratories found mainly in larger academic centers or health systems, and reference laboratories. This is significant, as the majority of cancer care in the US is provided by smaller, community-based facilities. Accordingly, many of these smaller facilities are looking to take advantage of the latest molecular technologies, but in a prudent manner befitting the scope of their resources and specific workload. Fortunately, systems are available to these smaller laboratories that fit their needs profile.
Finding a Solution for Our Laboratory
A significant challenge to somatic mutation testing involves the type of sample used, which is typically derived from formalin-fixed paraffin embedded (FFPE) tissue. Extraction of DNA from FFPE tissue sections is a multistep process that includes deparaffinization, digestion, and DNA isolation, the sum of which can take up to 36 hours in our laboratory. To further economize the process, samples are generally processed in batches, which may increase turnaround time, depending on what day of the week a sample arrives at the laboratory. While mutation testing can reveal substantial information, turnaround time is always a concern, and the push for earlier results is constant.
Thus, single-use, turnkey, cartridge-based testing has gained in popularity for rapid molecular detection of infectious agents. A few other blood-based applications also have become available for selected hematologic malignancies and inherited disorders. Our laboratory recently acquired a new cartridge-based molecular system that provides automated sample processing and targeted mutation detection directly from FFPE tissue for oncology biomarker testing applications. All reagents are included in a single-use cartridge and the system only requires one FFPE tissue section.
For testing, a tissue section is placed between two small filter papers and the resulting "sandwich" is inserted into the desired cartridge, which is then loaded into the instrument. During testing with a single cartridge, the processes of deparaffinization, tissue digestion, DNA liberation, and PCR amplification and detection all occur over the course of a total run time of approximately two hours. To accomplish this, the device uses a real-time PCR chemistry based on MNAzyme technology.1 With this technology, each primer is designed to have a 5' target-recognition region, a short 3' target-specific sequence complementary to the mutation of interest, and a distinct insert sequence that is mismatched to the target. This results in production of allele-specific amplicons that are detected in real time by allele-specific enzymes specific to the system, and a universal fluorescent probe, allowing for detection of multiple mutations in a single multiplex reaction.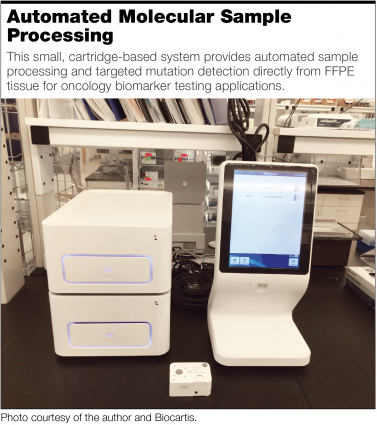 System Capabilities
The assays available on this system include cartridges for KRAS, BRAF, NRAS/BRAF, and EGFR mutations. These assays detect actionable mutations in KRAS (21 mutations), BRAF (7 mutations), NRAS (18 mutations)/BRAF (5 mutations), and EGFR (51 mutations), respectively. Using these cartridges individually or in combination allows for rapid testing of EGFR and KRAS mutations in lung cancer, KRAS, NRAS, and BRAF mutations in colorectal cancer, or BRAF and NRAS mutations in melanoma. Additional instrument assays include a microsatellite instability (MSI) assay that detects MSI via seven novel loci without the need to test normal tissue, and liquid biopsy assays that detect mutations in circulating tumor DNA directly from 1 mL of plasma. Several studies have been performed on this system using cancer specimens from different tissues and they showed excellent concordance with other available molecular methods, including NGS.2,3
The sensitivity of the molecular testing system's assays allows for a minimal sample requirement of one 5 or 10 µm FFPE tissue section per cartridge with a minimum tumor content of 10%. Furthermore, this system does not require sample pre-processing steps and the sample set-up is simple, taking approximately 5 minutes. As a result, random access is available without the need to batch samples. The device's space and infrastructure requirements are minimal, allowing it to be placed in an area outside the core molecular laboratory, such as the central lab of a smaller community-based hospital or in the main laboratory of a larger cancer-focused hospital. The closed system design of the instrument's cartridge minimizes the potential for contamination and simplifies the PCR-testing process.
Finding a Happy Medium
Next-generation sequencing has been a revolutionary technology with respect to cancer mutation profiling due to its ability to simultaneously test multiple samples for hundreds of variants. Sequencing gene targets from patient tumor samples has the potential to accurately identify novel genetic variants that may become targets for new therapies or make the patient eligible for clinical trial. Yet, the amount of genomic information that is clinically relevant for therapeutic management of cancer patients remains limited.
Other important factors to take into account when analyzing the potential impact of NGS technology on your specific laboratory include requirements for infrastructure, initial and ongoing costs, and highly trained personnel; the scope of which may inhibit certain laboratories from routinely using NGS in clinical diagnostics. Further complicating matters, resulting NGS data can take several days or weeks, which can hinder the delivery of effective treatments to patients with advanced or aggressive types of cancer. Thus, alternate molecular testing systems can complement NGS by providing rapid results for targeted mutation analysis that would allow initiation of a targeted treatment for patients while awaiting more comprehensive genome profiling via NGS.
Using the System in Our Laboratory
In an effort to provide rapid somatic mutation detection while preserving tumor tissue, we tested our new system with touch preparation (touch-prep) samples obtained from fresh tumor tissue shortly after resection.4 We tried this approach with a colorectal cancer tissue sample by making a single incision into the tumor body at room temperature and touching one filter paper on each of the two sides of the inner tumor surface for approximately 3 seconds. The two filter papers were subsequently placed in the KRAS and NRAS/BRAF cartridges, which were loaded into the instrument. The remaining intact tumor sample was processed using standard pathology protocols for fixation, embedding, and sectioning. Testing detected a BRAF V600E mutation, which was confirmed by subsequent NGS analysis 18 days later. This has shown us that combining touch preparation with the simplicity of the instrument provides a potential for testing somatic mutations stat in the gross room before processing the tissue, thus reducing turnaround times and costs even further and allowing timely management decisions to be made.
Conclusion
This new molecular testing system provides fully automated and sensitive cartridge-based testing directly from FFPE tissue samples. The simplicity and speed of the testing process and the minimal sample requirement make it a candidate for first-line testing of actionable somatic mutations. This can benefit both small centers that lack the resources for large-scale molecular testing, as well as larger centers by providing rapid turnaround times that allow timely management of time-sensitive cancer cases.

M. Rabie Al-Turkmani, PhD, DABCC, FAACC, is molecular diagnostics Fellow at the Clinical Genomics and Advanced Technology (CGAT) Laboratory in the department of pathology and laboratory medicine at Dartmouth-Hitchcock Medical Center in Hanover, New Hampshire. He also is an instructor in pathology and laboratory medicine at the Geisel School of Medicine at Dartmouth.

Donald C. Green, MB(ASCP)CM, is a clinical laboratory scientist at the CGAT Laboratory in the department of pathology and laboratory medicine at Dartmouth-Hitchcock Medical Center.
Gregory J. Tsongalis, PhD, is director of the CGAT Laboratory in the department of pathology and laboratory medicine at Dartmouth Hitchcock Medical Center. He also is a professor in pathology and laboratory medicine at Geisel School of Medicine.
---
References
Mokany E, Bone SM, Young PE, et al. MNAzymes, a versatile new class of nucleic acid enzymes that can function as biosensors and molecular switches. J Am Chem Soc. 2010;132(3):1051-1059.
Uguen A, Troncone G. A review on the Idylla platform: towards the assessment of actionable genomic alterations in one day. J Clin Pathol. 2018;71(9):757-762.
Al-Turkmani MR, Godwin KN, Peterson JD, Tsongalis GJ. Rapid somatic mutation testing in colorectal cancer by use of a fully automated system and single-use cartridge: a comparison with next-generation sequencing. J Appl Lab Med. 2018;3(2):178-184.
Al-Turkmani MR, Schutz SN, Tsongalis GJ. Potential of STAT Somatic Mutation Testing at Resection. Clin Chem. 2018;64(5):865-866.
Like what you've read? Please log in or create a free account to enjoy more of what www.medlabmag.com has to offer.
Current Issue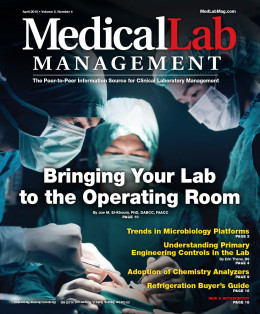 Subscribe to our Email Newsletters!
In The Loop!
Digital Edition
Special Announcements