Real-Time Temperature Monitoring in a Courier System
October 2018 - Vol. 7 No. 8
- Page #12
Article Category:
A common refrain among laboratory practitioners is that the laboratory's results are only as good as the quality of the specimen. Given this reality, it is critical that all specimens are delivered to the laboratory safely and within the appropriate environmental parameters. While such tasks may seem relatively straightforward in the inpatient setting of many small-to-mid-sized hospitals, large medical centers with several practice locations, or facilities that operate a healthy outreach program, tend to have more difficulty ensuring samples remain within a viable environment when there is a wait time before they are picked up or substantial time is required for delivery.
At Dartmouth-Hitchcock Medical Center (DHMC) headquartered in Lebanon, New Hampshire, the growing demands of our expanding outreach program involves a courier system for the delivery of samples and specimens to our central lab for processing. Given the well-known importance of the pre-analytical phase of testing, an important goal at DHMC is to ensure the viability of the samples sent for analysis, both for the peace of mind of our clients, as well as the quality of care we provide.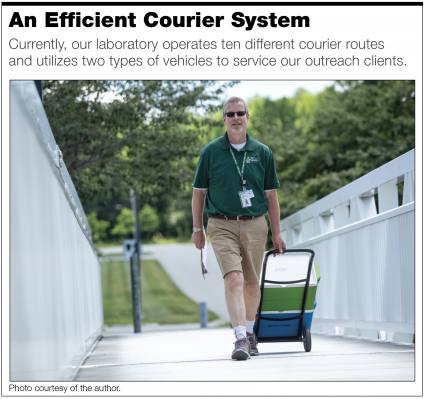 Improvement Project Impetus
In April 2018, the laboratory at DHMC changed courier service providers, largely because the new provider offered a service that uses bar coded, proof-of-delivery (POD) scanning and signature capture, as well as the ability to track all shipments in real time. This latter function was part of a collaboration with the courier to provide greater insight into the delivery process.
In May of this year, I took over the role of outreach coordinator at DHMC and took charge of this initiative. The prior coordinator monitored temperatures under the previous courier company using traditional data loggers, from which the data was downloaded and analyzed after any given run was completed. While this offered post-run information on a sample container's environment over time, it did not provide insight into the real-time location or environment status of a specimen container.
With an eye toward improving this process, the outreach manager and I decided to investigate this process and see whether there was a better way to ensure the quality of outreach specimens during courier travel. Among the functionalities we sought was the ability to monitor the temperature and location of a specific container in real time. We were aware of the existence of real-time asset monitoring systems, but needed greater insight before implementing such a program at our facility.
Product Search Criteria
Our primary search criteria focused on finding a temperature monitoring device that is cost effective, purchasable (as opposed to a lease), and does not rely on middle-man or late-stage functionality to send results indicating temperatures have gone out of range. As with many improvement projects, the first step was to reach out to larger reference laboratories, beginning with our own, to see what systems they utilized. Ultimately, we identified a package tracker designed to provide real-time GPS location, temperature readings, humidity levels, shock events, and other parameters depending on need. Unlike many traditional data loggers, this system reports in-transit location and quality data in real time, thereby enabling in-transit visibility and proactive quality control. In order to track products this way and monitor device performance, the vendor provides intuitive software in the form of a Web-based, supply chain visibility platform. The vendor we selected offered a free trial tracker to help us determine whether it was a good fit for our needs.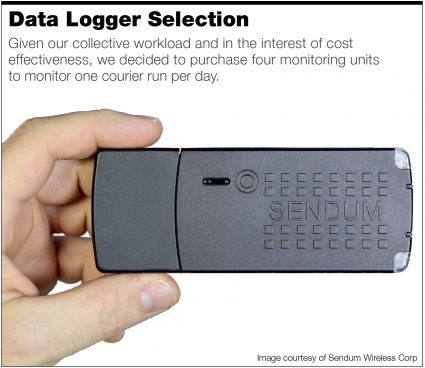 Necessary Specimen Environments
Conforming with best practice, we measure the temperatures of laboratory specimens that are delivered via courier to ensure that the pre-analytical environment is correct and consistent. The pre-analytical phase must have rigorous control measures to avoid unwittingly allowing problems or errors to travel further downstream. For our laboratory, we need to monitor each courier container for ambient (ie, room) temperature, refrigerated, and frozen temperature states. The types of specimens we monitor are blood and urine samples, microbiology samples, and anatomic pathology samples.
For example, we request that CBC tubes be transported at room temperature, which for our containers is between 20-25°C. If the CBC tubes are sent refrigerated or the ambient temperature within the transport container gets too cold, the ETDA tubes will need to be brought back to room temperature before being analyzed and tested due to the potential for platelet and cell clumping. Blood cultures must be transported at room temperature as well, as some bacterial pathogens are not viable at refrigerated temperatures.
To manage this, the courier prepares the three different containers prior to starting the run on each day of service. We also have protocols for the summer and the winter months to ensure the container environment will remain stable. Further, we transport spun blood tubes upright per the transportation recommendations of CLSI document GP44,1 which indicates that tubes are to remain upright in transportation to promote complete clot formation when there is no additive present, to prevent sample contamination due to prolonged contact with the stopper, and to reduce aerosol formation during uncapping. Doing this also minimizes agitation of the tubes which reduces the potential for hemolysis.
Identifying Necessary Components
To determine the number of individual package tracker devices we needed, we assessed our workload for each temperature state. Given that the three different environments must be measured—ambient, refrigerated, and frozen—it was clear that at least three devices were necessary. Currently, our laboratory operates ten different courier routes and utilizes two types of vehicles to service our outreach clients: windowless vans and hybrid sedans. This is important because the presence of windows impacts the temperature inside the vehicle. The hybrid sedans are used on the longest runs due to their better gas economy, but the vans are used if there is large amount of specimens being collected on a specific run.
We are now trending our temperatures monthly for all eleven courier routes and plan to rotate the devices throughout the routes so that each is monitored regularly, but not daily. Some programs only monitor monthly, whereas others conduct daily reviews. While we are not performing real-time daily reviews, by continually rotating and periodically viewing status in real time, we have a solid grasp on product location and are able to hold drivers accountable for following standard operating procedures. With the goal of avoiding alert fatigue in the laboratory, unless an issue is detected, there is rarely a need to constantly view real-time data. However, if an abnormality is detected, such as a container arriving outside the expected temperature range, that route will be monitored more frequently. Likewise, in the beginning of each new season, we will monitor more frequently to assess whether the drivers are following the protocol for transporting specimens per that season's requirements (eg, extreme heat in the summer versus extreme cold in the winter).
Given our collective workload and in the interest of cost effectiveness, we decided to purchase four monitoring units to monitor one courier run per day. This covers the three different types of courier containers on a route, leaving a spare unit available as a backup. Moving forward, if we decide to monitor more than one route per day, we will order more units. At this point, in order to serve our range of outreach clients, our couriers venture into remote areas of the New Hampshire North Country, so we wanted to ensure these devices would continue to work and transmit data through the Web portal. After we ran the free trial, we experienced zero failures in sending information in real time.
Program and Device Operation
At DHMC, the outreach coordinator (OC) has been designated as the point person for this monitoring program along with our courier partner. The OC deploys the units to the couriers, who will place a unit into the container in their charge. The OC will monitor each device using the software throughout the entirety of the run (every 10 minutes, in our case).
In the event an alert is received from one of the devices, a message will display on my computer screen and text message alerting also can be activated through the software. Once there is an alert, the OC will contact the courier manager, who will then contact the courier to instruct them to take action at their next scheduled stop. For example, if an alert indicates the container is at or has breached a high temperature threshold, the courier will be instructed to add more cold packs.
Monitoring the temperatures of our courier containers is designated as a key performance indicator (KPI) within our control plan for specimen transport optimization (see FIGURE 1). In addition to temperature, we also monitor on-time pickup and delivery; specimens lost, misplaced, or delayed; STAT pickup; and delivery and workload volume. The primary benefits of this system are clear: We know, in real time, before the samples arrive at the laboratory that they have been transported correctly. Real-time monitoring also helps in troubleshooting areas needing improvement, such as a particular vehicle, route, or driver that is not performing as expected.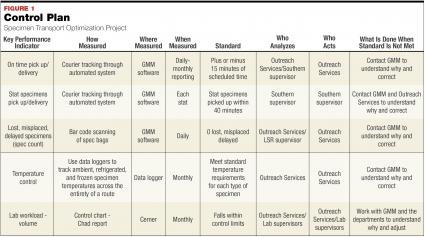 Click here to view a larger version of this Figure
Mature Program Expectations
Reviewing the program for consistency and performance reliability is included as part of our laboratory's monthly assessment of the courier system. This will help the couriers understand the importance of maintaining the pre-analytical environment and can be used as a teaching tool for new couriers on the importance of packing their containers properly. Furthermore, we plan to leverage the program to provide reassurance for new laboratory staff on the value of specimens being tracked, monitored, and secured, and as a selling point to our outreach clients, who can be assured that their samples are being handled correctly.
Reference
1. CLSI. Procedures for the Handling and Processing of Blood Specimens for Common Laboratory Tests. 4th Edition. Clinical and Laboratory Standards Institute. GP44-A4.
---

Lisa LeBlanc, MT(ASCP), is the outreach coordinator at Dartmouth-Hitchcock Medical Center in Lebanon, New Hampshire. She has worked at DHMC for 27 years. Prior to becoming outreach coordinator, Lisa worked in both hematology and microbiology, and has been involved in numerous process improvement initiatives covering outpatient phlebotomy, microbiology, and specimen handling.
Like what you've read? Please log in or create a free account to enjoy more of what www.medlabmag.com has to offer.
Current Issue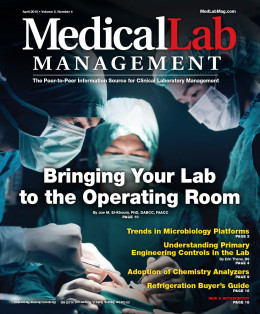 Subscribe to our Email Newsletters!
In The Loop!
Digital Edition
Special Announcements