Reference Laboratories
November 2018 - Vol. 7 No. 9
- Page #22
Article Category:
Reference laboratory services are widely utilized by clinical laboratories of all types and sizes. Due to the auxiliary nature of these services, quality and reliability are key performance indicators in an increasingly competitive field. It bodes well that most facilities report strong satisfaction with their reference lab service providers and loyalty remains solid.
Utilization of reference laboratory services is strongest among those facilities outsourcing (34%) approximately 10% of clinical laboratories' total testing workloads. Whether providing relief for high-volume testing or offering esoteric instrumentation and expertise, reference labs remain a vital resource for medical
diagnostic testing. Although many facilities have been able to adopt technologies such as flow cytometry, next-generation molecular pathology platforms, and florescence in situ hybridization (FISH), among others, many more facilities do not have the financial or personnel resources, let alone the test volume, necessary to make such advanced automation systems viable for in-house operations.
Regardless, as nearly all clinical laboratories rely on reference laboratories for some testing services, effort must continue in creating efficiencies between in-house processes and technology, and those of outsourced service providers.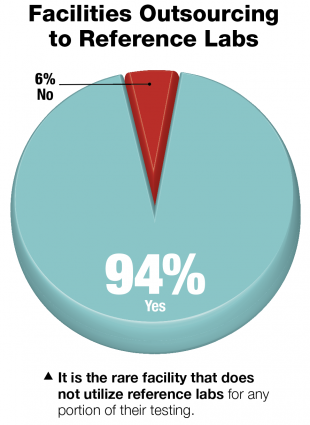 To view the complete survey results, click the download link above.
Like what you've read? Please log in or create a free account to enjoy more of what www.medlabmag.com has to offer.
Recent Popular Articles
Current Issue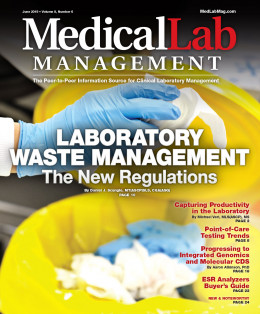 Subscribe to our Email Newsletters!
In The Loop!
Digital Edition
Special Announcements