Use This Data to Drive Acquisitions!
November 2018 - Vol. 7 No. 9
- Page #2
As the nature and structure of US health care has evolved in the last decade, so too have the methods by which health care providers serve their patients. Competition among coalescing facilities has grown significantly in recent years, and as individual hospitals continue to merge and form systems, the power of combined resources is driving, and demanding, ever more advanced and interconnected instruments, information systems, and services.
Knowledge does, indeed, enable strength to be directed where it is most needed, and this is where the real benefit of our annual State of Laboratory Technology survey is realized. Laboratory directors across the country, in hospitals ranging from 25 to 1000 beds, know only too well what many of their highest-level administrators may be missing: In order to compete in today's health care market, laboratory operations must be acknowledged as elemental to safe and effective patient care, and supported both financially and fundamentally.
To this end, MedicalLabManagement is happy to provide a PowerPoint slide package containing the data found on the pages of this issue. You are welcome to use these slides for presentations to administration emphasizing the need for automation acquisitions in order to remain competitive. Please feel free to also use the slides in local and national presentations indicating valuable benchmarking data. Visit www.medlabmag.com/slides to download this year's package. We simply ask that you retain the credit line that appears on the bottom of each slide.
As always, we appreciate the time you have taken to complete our survey, and we want to make the fruits of that effort available to improve your practice. If there are areas of clinical laboratory technology you would like us to include in the future, please let us know.
With best regards,
David McCormick
Managing Editor
davidm@ridgewoodmedia.com
---
CORRECTION:
In the September issue of MLM, our cover story focused on methods for combating turnover in clinical phlebotomy. Due to an internal design error, we published a lead photo showing poor technique that could lead to a needlestick. The accuracy of accompanying imagery is important to us and we regret this error. The author of the article, Barbara Day, was unaware of the choice of this photo and did not approve its use, thus the responsibility for this error is ours only. We have inserted a more appropriate photo in our digital versions.
Like what you've read? Please log in or create a free account to enjoy more of what www.medlabmag.com has to offer.
Recent Popular Articles
Current Issue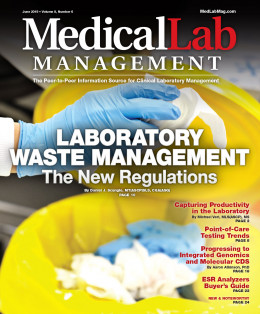 Subscribe to our Email Newsletters!
In The Loop!
Digital Edition
Special Announcements