Rapid HIV Testing and the Core Lab
December 2018 - Vol. 7 No. 10
- Page #2
Article Category:

Q&A with Bernard M. Branson, MD
Principal Consultant
Scientific Affairs LLC
Medical Lab Management: How has HIV testing evolved over the last 15 years?
Bernard Branson: The first 15 years of HIV testing from the mid-1980s through the 1990s were dominated by the use of indirect enzyme immunoassays (EIAs) that primarily detected IgG antibodies to HIV. The early 2000s marked two major changes in HIV testing:
The introduction and proliferation of CLIA-waived point-of-care rapid tests, which made it practical to conduct testing in outreach settings and other non-clinical venues
In core laboratories, the increasingly widespread adoption of antigen sandwich "3rd generation" EIAs that detected both IgM and IgG and reduced the window period between HIV infection and detectability.
Since 2010, combination assays that simultaneously test for HIV antibodies and p24 antigen have been available and are now recommended for first-line screening to help reduce the time to detection.
Rapid HIV tests have changed little since their introduction. To detect antibodies, most use a conjugate with protein A, a staphylococcal protein with high affinity for binding IgG and variable affinity for IgM. Core laboratory tests, on the hand, have undergone extensive evolution, first with the introduction of highly sensitive chemiluminescence assays (CIAs) suitable for use on multi-platform analyzers, and then with the advent of antigen-antibody combination assays that further reduced the time between infection and detection ability. Although often referred to as "4th generation" assays, the term is a bit of an anachronism now that enzyme immunoassays are no longer in widespread use. The CDC classifies tests by the analytes they detect (eg, IgG, IgM, antigen, RNA). Recent technical updates distinguish between high sensitivity instrumented immunoassays, preferred for core laboratory testing due to their superior sensitivity, and single-use rapid assays that, when performed with serum or plasma, might be a useful option, particularly for smaller labs that perform a low volume of HIV tests.
Over this same time period, molecular methods have evolved for directly detecting and quantifying HIV, first end-point and then real-time PCR. These methods have demonstrated ever-diminishing limits of detection and now are not only the mainstay for HIV management, but also the arbiter for conflicting antibody test results.
MLM: What are the challenges to efficiently utilizing lab-based HIV testing methodologies and instruments?
Branson: Specimen collection and transport for testing with antigen/antibody combo assays poses the main challenge when the laboratory is not on-site. Specimens must be removed from the clot or red blood cells as soon as possible after collection, stored at room temperature for no more than 24 hours (including transport time), and shipped at 2° - 8°C to minimize loss of p24 or RNA reactivity. By comparison, specimens for antibody testing can remain at ambient temperatures for up to 7 days.
MLM: What has been the impact of rapid HIV testing methodologies and instruments on current disease management?
Branson: Rapid HIV tests are invaluable for testing and periodic retesting among high risk, high prevalence populations, especially in non-clinical and outreach settings. Because the clinical sensitivities of available rapid HIV tests are comparable, the tests' utility in such settings largely depends on ease of use. Factors such as minimal sample size specimen collection, practitioner and patient comfort, and packaging that includes all necessary reagents are important considerations.
Regardless, rapid HIV testing has contributed substantially to reducing the percentage of undiagnosed HIV infections by facilitating testing among those with limited contact with the health care system, such as persons age 13 - 24, who represent about 20% of all new HIV infections.1 Furthermore, factors that influence selection of rapid tests differ considerably, especially the ability to detect early infection in different specimen matrices. Testing fingerstick or oral fluid specimens introduces a delay in time to detection of 1 - 3 weeks compared with the same tests used on plasma. With fingerstick specimen collection, the larger specimen volumes required by some tests can lead to more invalid results. Rapid tests in outreach settings make HIV testing accessible, but the greater utility of these tests depends on linkage to follow-up laboratory testing and appropriate HIV care after a reactive result.
MLM: What are the cost implications involved in HIV testing?
Branson: Cost implications depend on the perspective of the test setting and detailed micro-costing analyses have not been conducted to compare testing modalities. However, for laboratories, the volume of HIV tests performed is clearly one of the most important determinants of the overall cost burden of HIV testing. That said, in non-clinical settings, often logistic and personnel costs contribute more to the overall cost of testing than the test itself. I think most core lab HIV test procedures are folded into general testing, especially now that they can be performed on multi-assay analyzers.
MLM: How are rapid, POC tests able to be used to influence and improve lab-based testing?
Branson: Fortunately, undiagnosed HIV infections have declined substantially. As noted, rapid HIV tests ultimately serve as recruitment tools that allow screening among higher prevalence populations who need to be tested periodically. In most cases, this patient population would not otherwise come into contact with traditional or hospital-based laboratory testing.
MLM: How do you expect testing for HIV to continue to evolve in the next five to ten years?
Branson: I anticipate laboratories will have access to a much wider variety of HIV screening and testing choices in the near future due to the major changes underway in FDA oversight of HIV testing devices. Until now, all HIV tests were designated as Class III, high-risk devices, subject to a pre-market approval application and the strongest degree of FDA scrutiny before approval.
This past summer, FDA's advisory committee recommended down-classification to Class II, and new tests will be subject to FDA's 510(k) clearance process, like almost all other in-vitro diagnostics. Although FDA has not yet issued guidance on requirements for new tests, this change will substantially reduce the regulatory and economic barriers keeping innovative new technologies from the market.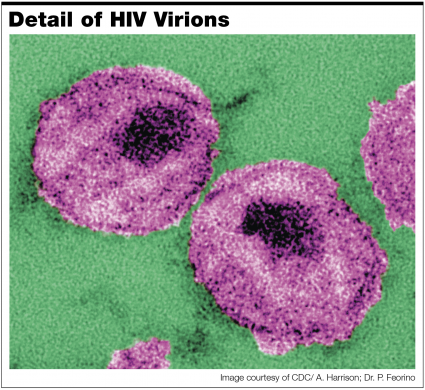 MLM: What advice or suggestions would you give clinical laboratory management to prepare for future developments in HIV testing?
Branson: Although antibody testing will always play a role in high-volume, first-line HIV screening, molecular tests will play an increasingly prominent role in both HIV diagnosis and management. Given the high specificity of current Ag/Ab tests, it only makes sense at this point to conduct a quantitative (viral load) test immediately after a reactive screening test to provide results that are useful both for diagnosis and management.
Rapid turnaround, near-patient or low-volume HIV RNA tests are likely to become more practical and widely available, analogous to the advent of POC antibody tests. As a result, the overall quality of HIV testing will only continue to improve.
---
Reference
Centers for Disease Control and Prevention. HIV Among Youth. https://www.cdc.gov/hiv/group/age/youth/index.html Accessed: 11/20/2018
---
Bernard Branson, MD, has been heavily involved in public HIV prevention and testing policies in the US, Caribbean, and Central America for more than 30 years. The lead author of the CDC's 2006 recommendations for HIV screening in health care settings and the June 2014 HIV testing recommendations that updated the US laboratory HIV testing algorithm for the first time in 25 years, Dr. Branson has extensive experience as a clinician, advocate, community organizer, infectious disease specialist, and clinical virologist.
Having joined the CDC in 1990, he served as Associate Director for Laboratory Diagnostics in the CDC's Division of HIV/AIDS Prevention for eight years prior to his retirement in 2014. Since then, Dr. Branson has provided expert consultation, developed continuing medical education activities, and devoted his efforts to promoting the adoption of biomedical interventions.
Like what you've read? Please log in or create a free account to enjoy more of what www.medlabmag.com has to offer.
Current Issue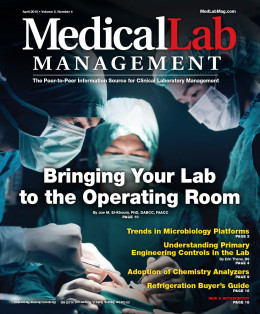 Subscribe to our Email Newsletters!
In The Loop!
Digital Edition
Special Announcements