The Value of Expanding Mass Spectrometry Use
December 2018 - Vol. 7 No. 10
- Page #10
Article Category: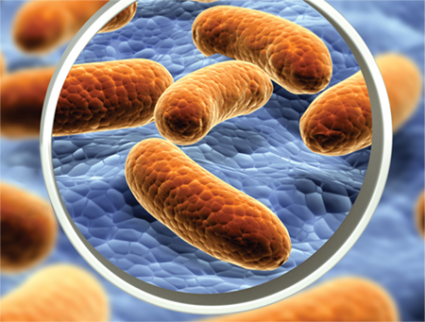 Q&A with Dr. Joshua Hayden and Dr. Lars Westblade
Department of Pathology and Laboratory Medicine

Weill Cornell Medicine
NewYork-Presbyterian Hospital-Weill
Cornell Medical Center
Medical Lab Management: How long has mass spectrometry been in use in your clinical laboratories and what are its primary clinical utilities?
Joshua Hayden: The first application of mass spectrometry in our laboratory came about in 2005, or approximately 8 years prior to my arrival in 2014. That first application was the introduction of gas chromatography mass spectrometry (GCMS) for the confirmation of positive urine drug screens. In 2012, the laboratory implemented liquid chromatography tandem mass spectrometry (LCMS) for the analysis of tacrolimus and 25-hydroxy vitamin D. Currently, we are expanding the role of LCMS in the clinical laboratory and as of 2015 no longer perform GCMS. Our clinical laboratory currently utilizes LCMS exclusively.
Lars Westblade: We introduced matrix-assisted laser desorption/ionization time-of-flight mass spectrometry (MALDI-TOF MS) in our clinical microbiology laboratory in 2016. Essential to this process was speaking with laboratories that had already implemented this technology for clinical use, which helped us understand how best to implement and use MALDI-TOF MS in our laboratory. This implementation has had a significantly positive impact on our operations by enabling us to rapidly and accurately identify bacteria and yeast isolated in culture.
Prior to MALDI-TOF MS-based identification, it took 24 – 72 hours to identify an organism upon isolation in culture using conventional biochemical-based methods. With MALDI-TOF MS, the time to identification upon isolation of a microorganism in culture has been reduced to minutes, ultimately benefitting patients and decreasing the cost of microbial identification. Further, due to more accurate identification results we can now associate previously underappreciated organisms with specific clinical presentations; eg, Actinotignum schaalii with urinary tract infections and Staphylococcus pseudintermedius with animal (dog) bite infections. The promise of this technology is vast, and we have greatly benefitted from it thus far.
MLM: What are the greatest challenges to implementing mass spectrometry into clinical operations and how were those overcome?
Hayden: Implementing mass spectrometry into the clinical laboratory has a number of challenges; the cost of the instruments and the lack of a reagent rental model to pay for them can be a substantial barrier. However, in my experience, the greatest challenge is finding and retaining qualified laboratory technologists to perform the testing and analyze the results. Mass spectrometry requires advanced expertise, yet clinical laboratory science training programs rarely provide training on this type of instrumentation. Furthermore, if a laboratory is able to train or hire a highly experienced and skilled technologist, that person can be difficult to retain due to their desirability on the job market.
Westblade: An interesting challenge we have encountered is that due to the ease with which our medical technologists can now identify a microorganism (ultimately a very good thing), it has likewise become easy to overwork cultures and report out organisms that might simply be contaminants or colonizing microbiota. Therefore, we continually reinforce the point that MALDI-TOF MS, while brilliant, is a tool, and that our medical technologists are the crucial link between the identification result and what is reported in the electronic medical record.
We also stress that although MALDI-TOF MS is very accurate (certainly in comparison to conventional biochemical-based methods), no identification system is infallible and it remains important to correlate MALDI-TOF MS results with key microbiologic characteristics: Gram stain, colony morphology, and results of simple spot tests; eg, oxidase, indole, and catalase. In keeping with this, when we encounter a species we have never seen before, we attempt to verify the result using an independent approach; either phenotypic-based, genotypic-based, or a combination of both. We do this for quality control, and then, if we encounter the same organism again, and MALDI-TOF MS was shown to be correct with the initial organism, we know we can accept the result with confidence.
MLM: How do you train new staff on mass spectrometry and what qualifications do you expect them to have?
Hayden: As a clinical laboratory operating in New York City, any new hire must be licensed by the state. This presents a challenge, as individuals without this license may have more technical expertise or analytical skill required to perform this type of testing. Consequently, we end up needing to train most of our new hires from the ground up with respect to the instrumentation and technology. This requires a thorough and appropriately paced training schedule.
Careful consideration must be given to training method development and complexity, from performing a detailed review of the steps in running mass spectrometry tests, to determining how long it will take a staff member to achieve full competency on the procedure, etc. Regardless, the fact remains that currently, one of the biggest challenges to implementing mass spectrometry testing is performing the training and gaining required licensure.
Westblade: There are great resources for training in the use of MALDI-TOF MS in microbiology settings. In addition to the extensive support we received from the manufacturer, we are fortunate in the microbiology community to have a number of individuals—including Drs. Blake Buchan, Carey-Ann Burnham, Susan Butler-Wu, Karen Carroll, Christopher Doern, Peter Gilligan, Nate Ledeboer, and Melissa Miller, to name but a few—that have been gracious in both generating data (extremely important in justifying MALDI-TOF MS implementation in most laboratories), and sharing their results and suggested approaches for implementation and training.
Furthermore, in 2017, the Clinical and Laboratory Standards Institute (CLSI) published what has become, in my opinion, an invaluable resource for those planning to use, or already using, MALDI-TOF MS in their laboratories: the M58 document, Methods for the Identification of Cultured Microorganisms Using Matrix-Assisted Laser Desorption/Ionization Time-of-Flight Mass Spectrometry.1
MLM: How have regulatory bodies such as the FDA or CAP encouraged the use of mass spectrometry in clinical and microbiology settings?
Hayden: I think that CAP's introduction in recent years of check listed items specific to mass spectrometry (such as the matrix effect assessment, CAP CHM.18825) was a step in the right direction. I say this because we all have a responsibility to ensure clinical laboratories are producing high quality MS results and MS-specific checklist items help with this, as do educational initiatives such as the short courses offered by organizations such as Mass Spectrometry: Applications to the Clinical Laboratory (www.msacl.org).
While the FDA and CAP have not curtailed the use of mass spectrometry, I do believe that some states could do more to help address the shortage of qualified personnel. New York State, for instance, offers options for individuals who have not completed a traditional clinical laboratory scientist program, yet have acquired the relevant molecular expertise to work in clinical laboratories. I think a similar recognition of the value of previous mass spectrometry experience in the absence of a traditional medical technology degree would help expand the pool of qualified applicants.
Westblade: I agree that regulatory bodies have helped laboratories implement MALDI-TOF MS (CAP also has introduced check listed items specific to MALDI-TOF MS in clinical microbiology) and, perhaps most important, helped ensure these systems are appropriate for clinical use. I am compelled to acknowledge the guidance that the New York State Department of Health Clinical Laboratory Evaluation Program (CLEP) has provided laboratories in New York State for validating their instruments for use with non-FDA approved organism databases or practices.2 The CLEP has generated guidelines for validation that are clear and realistic, such that clinical laboratories can perform high quality validations without exhausting resources.
MLM: How do you hope to further the scope of use of mass spectrometry in chemical toxicology and microbiology in the near future?
Hayden: My hope is to further the use of MS-based testing with a focus on those areas where traditional immunoassay-based approaches have substantial limitations. This includes expanding the nature of our urine drug testing to mitigate or eliminate patients being impacted by false positive/false negative results, as well as assessing the performance of our existing therapeutic drug monitoring assays.
Westblade: I think we have only just begun to scratch the surface of what is possible using mass spectrometry in clinical microbiology. Fifteen years ago, I do not think many clinical microbiologists imagined that mass spectrometry would be such a valuable method for microorganism identification, and yet this has proven to be the case. That said, as with any technology that depends on data analysis to be effective in a clinical setting, there is a persistent need for larger and more refined databases, and instrument manufacturers are likewise working to expand and refine databases.
It also is my desire that the scope of this technology be pressed in new directions. For example, it would be highly beneficial to both identify an organism and infer its antibiotic susceptibility from the same spectrum, identify microorganisms directly from clinical specimens, and readily type microbial isolates. In fact, both manufacturers and clinical laboratories have demonstrated these functions as possible, yet most remain far removed from routine clinical use.
Finally, MALDI-TOF MS is but a single type of mass spectrometry and my hope is that clinical microbiologists will experiment with other forms of mass spectrometry to detect and identify microorganisms, or their metabolites, either in culture or directly from clinical specimens.
---
The opinions expressed by Drs. Hayden and Westblade in this article are theirs alone and do not necessarily reflect the official position of their affiliated institutions.
---
References
CLSI. M58 - Methods for the Identification of Cultured Microorganisms Using Matrix-Assisted Laser Desorption/Ionization Time-of-Flight Mass Spectrometry. First Edition, 2017. Clinical and Laboratory Standards Institute, Wayne, PA. https://clsi.org/standards/products/microbiology/documents/m58/ Accessed 11/18/2018
New York State. Clinical Laboratory Evaluation Program. Department of Health, Wadsworth Center. https://www.wadsworth.org/regulatory/clep
Accessed 11/18/2018
---
Joshua Hayden, PhD, DABCC, FAACC, is an Assistant Professor in the Department of Pathology and Laboratory Medicine at Weill Cornell Medicine, Director of the Toxicology and Therapeutic Drug Monitoring Laboratory, and Assistant Director of Central Laboratory at NewYork-Presbyterian Hospital-Weill Cornell Medical Center. He earned his PhD in chemistry from Carnegie Mellon University and conducted postdoctoral research at Massachusetts Institute of Technology before completing a two-year clinical chemistry fellowship at University of Washington. Joshua has special expertise developing and overseeing mass spectrometry assays in the clinical laboratory.
Lars Westblade, PhD, D(ABMM), is an Assistant Professor in the Department of Pathology and Laboratory Medicine at Weill Cornell Medicine and the Associate Director of Clinical Microbiology at NewYork-Presbyterian Hospital-Weill Cornell Medical Center. He received his undergraduate and postgraduate training in biochemistry at the University of Birmingham, United Kingdom; followed by postgraduate studies in molecular biophysics and mass spectrometry at The Rockefeller University in New York. He completed a CPEP-approved fellowship in medical and public health laboratory microbiology at Washington University School of Medicine in St. Louis and has a special interest in mass spectrometry and its application in clinical microbiology.
Like what you've read? Please log in or create a free account to enjoy more of what www.medlabmag.com has to offer.
Current Issue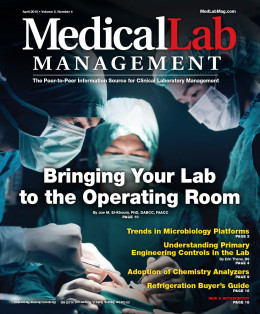 Subscribe to our Email Newsletters!
In The Loop!
Digital Edition
Special Announcements