Buyer's Guide: Centrifuges
December 2018 - Vol. 7 No. 10
- Page #18
Article Category:

NuAire's NuWind multi-application, bench-top ventilated and refrigerated centrifuges offer a large capacity relative to its footprint. Featuring a half-inch thick steel shell, NuWind minimizes its exterior footprint, saving valuable bench space while improving safety and enabling device cleaning. This construction technique allows the centrifuge to add more capacity with more speed. Offering the ClickSpin feature, the system allows users to remove and install rotors easily without a tool. Each NuWind centrifuge has the InSight Electronic Control Center, a plug-and-play dashboard that is operated via touch screen. Lab technicians can use this to control 100 programs, read service reminders, keep a logbook of accessories, and more.
---

The new FC5707 general purpose centrifuge from OHAUS Corporation, part of the Frontier 5000 series, is a compact, low-speed centrifuge for general laboratory applications. It features a pre-installed 8 x 15 mL fixed angle rotor that can process both round and conical bottom tubes, including common blood tubes, and can be adapted easily with accessories to also process 7 mL and 5 mL tubes. Featuring a uniquely designed protective splash-proof front panel and modern touch-wheel control, the system offers a compact footprint of only 9 inches in width.
---

Drucker Diagnostics' HORIZON centrifuges can process all blood and urine 75-100 mm (3-10 mL) tubes, and are available in 6, 12, and 24 tube capacity. The device's unique lid lighting system helps prevent the problem of forgotten tubes and clearly indicates cycle status, even when noise levels are high. Bright blue LED lights flash at the end of each cycle until the lid is opened, turn on when the device is running, and turn off when ready.
The Set and Lock models, with three customizable presets for chemistry, coagulation, and urine, can be reset to any validated cycle, then locked for maximum repeatability, even across multiple locations. For maximum flexibility, users may choose HORIZON Flex with 10 fully programmable settings and digital display. The centrifuges include rotor and universal tube holders, are made in the United States, and feature a two-year warranty and lifetime
rotor warranty.
---

Hettich Benchtop Centrifuges from Helmer Scientific, part of a full line of clinical centrifuges, offer reliable functionality and ease of use. Featuring modern technology and providing high-quality precision for centrifugation, these devices and accessories are developed in collaboration with users from many disciplines, and they are adapted to the latest requirements.
From compact tabletop to high-capacity benchtop models, these clinical centrifuge packages include the centrifuge, rotor, and accessories needed for specific specialty applications.
---

The E8 Centrifuge from LW Scientific provides fast and clean separations with quiet operation, low chamber temperatures for cool test-tube samples, short height to fit under cabinets, and auto-calibrating speed for precise results. It has an auto-brake to stop the rotor in less than 30 seconds to save time. The E8 family also includes a digital model, with no knobs and precise time and speed programs to help comply with CLIA regulations. The E8 Fixed is designed for blood separations at a fixed speed of 3500 rpm only (1534 g-force). The E8 Variable and E8 Digital will separate blood at 3500 rpm and can be slowed to separate other fluids at lower g-force, such as urine specimens as outlined by CLIA regulations.

The Thermo Scientific Medifuge small benchtop centrifuge allows labs to perform both routine clinical and life science separations. Offering a compact design, its unique DualSpin rotor features a 2-in-1 hybrid design. Users can easily change between fixed angle and swinging buckets using the same rotor. Four customizable programs allow quick completion of routine protocols. Three selectable deceleration profiles, including brake-off option, are designed to optimize separation.
---

DASH centrifuges from Drucker Diagnostics offer two options: the DASH Apex features simple two-button operation, while the DASH Flex 12 is digital and programmable for unique lab needs. All units can be adjusted to any lab's custom validated cycles but arrive preset with common STAT spin cycles for convenience. Users may program time, RPM, and g-force settings quickly, or save up to 10 cycles with the DASH Flex 12. For maximum standardization, users can set and lock to their three preferred cycles using the DASH Apex 6, 12, or 24.
Minimize turnaround time with the DASH's unique flashing lid lights that indicate when the centrifuge is ready, running, or done, making it easy to track cycle status in busy STAT labs. The lid light flashes until the lid is opened, eliminating the issue of forgotten samples. All units can spin 75-100 mm (3-10 mL) tubes and arrive ready-to-run with a horizontal rotor, universal tube holders, and a 2-year warranty.
Like what you've read? Please log in or create a free account to enjoy more of what www.medlabmag.com has to offer.
Current Issue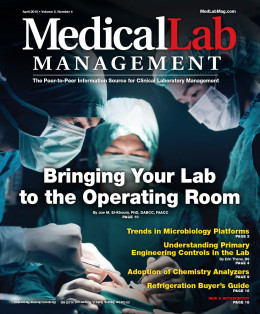 Subscribe to our Email Newsletters!
In The Loop!
Digital Edition
Special Announcements