CLMA: Performance Problems: Training vs. Discipline
December 2018 - Vol. 7 No. 10
- Page #20
Article Category:
Distinguishing between training-related performance problems and those that are discipline-related can be challenging for laboratory directors and supervisors. Problems that do not involve technical competency or laboratory work ability tend to be indicative of issues related to either training or discipline. In the event of an employee performance issue, first consider whether the employee does not know or understand the laboratory's policies regarding performance and professional decorum. Regardless, all new and existing staff should be clearly trained on what is expected of them as professional laboratorians and what the penalties are for disregarding those expectations.
Take Action and Create Documentation
Every laboratory has a new staff on-boarding process, often comprising a checklist of orientation topics. Checklist items may include directives to Discuss work schedule and Review shift start and stop times, and lunch and break durations. Vagueness in these areas can lead to misbehavior and a lack of documentation will lead to confusion as to the source of the problem.
Therefore, after all checklist items are clearly detailed and reviewed with the employee, an Employee Expectation letter can be drafted and signed by the laboratory director or supervisor, and the employee. This document should cover the details of potential gray areas, such as the literal expectation of "being on time," the expected duration and acceptable timeframe of breaks, dress code, processes for calling off work, etc. The value of training and education documentation cannot be overstated. Among other reasons (eg, regulatory and accreditation agency scrutiny), documentation aids in the following:
Memory: When supervising 25+ employees, remembering what days staff members were late in the previous month is untenable
Minimize misunderstandings: Addressing a specific training or discipline issue with documentation enables modifications for correction
Reveal patterns: For example, a particular employee has called out 3 times this month and a total of 16 times in the last 3 months, all on Mondays or Fridays
Communicate seriousness of intent: Documentation of a training or discipline issue often serves as a wake-up call for an employee displaying inappropriate or unacceptable behavior
Create Proper Documentation
While documenting employee performance problems can be a challenge, the following are some practical suggestions:
Write up incident statements as if you are speaking directly to the offending employee
State the problem or violation and include all relevant details (who, what, where, when, etc)
State the negative impact of the violation or problem
Set clear corrective actions to be performed
List consequences for non-compliance (eg, Employee remains subject to further disciplinary action), including any formal documentation of reprimand
Require employee and supervisor to sign leaving space for employee comment
Document any remedial training and education
Progressive Discipline
Once a problem is observed, it is important to directly address the issue and monitor the employee's response. The first step is to issue a verbal warning and provide opportunity for the employee to correct the problem. It is imperative that each interaction, including verbal warnings, be documented. If the problem persists, progress to an official infraction write-up or letter of recommended counseling. Consistent behavior or performance problems in the face of remediation efforts are ultimately grounds for termination.
Every clinical laboratory director wants engaged, dedicated, and disciplined employees on staff, but having this in a constant state is unrealistic. That said, if unacceptable behaviors are ignored, they will lead to larger problems downstream and can negatively affect morale.
---

Julie A. Pinsinski, MLS(ASCP), is a medical laboratory scientist with Mayo Clinic Health Systems in Albert Lea, Minnesota. Prior to joining Mayo Clinic, she worked at Wilford Hall Ambulatory Surgical Center in San Antonio, Texas.
Like what you've read? Please log in or create a free account to enjoy more of what www.medlabmag.com has to offer.
Current Issue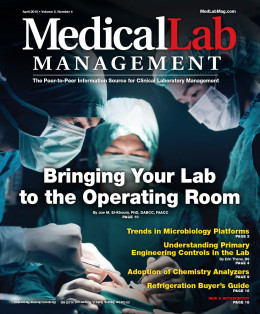 Subscribe to our Email Newsletters!
In The Loop!
Digital Edition
Special Announcements