Serving You Better in 2019
January 2019 - Vol. 8 No. 1
- Page #1

The calls to action that accompany the new year may ring strongly in both our professional and personal lives. You can set your watch to this month's upswing in attendance at the local health club and quite a few declarations to eliminate bad habits or find new ways to work more productively. And while it is easy to scoff at or dismiss these pledges, we find ourselves repeating them year after year. This is because there is an internal desire to continue to grow and improve inside all of us, and those in the health care profession know this better than most.
Growth and development—of scientific understanding, technology utilization, and clinical application—is required of clinical laboratorians; thus, the role of laboratory director is that of the bellwether and leader of growth. Often this requires researching new systems, instruments, services, and providers. At MedicalLab Management, we have been researching better ways to serve our readers in our continued quest for growth.
This year, we are introducing our first annual MedicalLab Management Resource Guide. Coming this March, the 2019 Resource Guide will feature the products and services, along with attendant contact information, for all of your clinical laboratory needs. The Resource Guide will serve as an at-hand listing for you throughout the year and having all of this information in one place will make it easy to find what you're looking for.
In 2019 MLM is spreading its wings. We are growing in size and in the scope of services we are happy and proud to provide to clinical laboratory leadership. We look forward to presenting our first Resource Guide and continuing on the journey to improvement.
With best regards,
David McCormick
Managing Editor
Like what you've read? Please log in or create a free account to enjoy more of what www.medlabmag.com has to offer.
Recent Popular Articles
Current Issue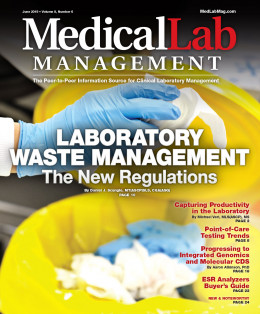 Subscribe to our Email Newsletters!
In The Loop!
Digital Edition
Special Announcements