Outreach as a Laboratory Service Line
January 2019 - Vol. 8 No. 1
- Page #6
Article Category:
The majority of hospital-based laboratories in this country operate outreach programs with varying levels of effectiveness and success. As the evolution toward health system and integrated delivery network formation continues, the concept of outreach is likewise evolving into in-reach. Regardless of the title this activity bears, the benefits to the laboratory and institution can be substantial. For both new and established outreach programs, critical success factors include administrative understanding and support, existing laboratory capacity, competitive pricing, solid billing practices, amenable relationships, and an adequate infrastructure.
In order to realize its full potential, a laboratory outreach program must be managed as a business; a service line within the organization. A service line contains a single set of attributes that provides flexibility and consistency across the enterprise and offers a uniform approach to delivering a limited set of high-quality products or services. Within a health care system, clinical service lines may be based on disease (eg, wound care), life stage (eg, senior health), or condition (eg, transplant). Within a laboratory, the outreach service line should provide a business framework that ensures efficient and high-quality service delivery to customers. The primary elements of this framework include leadership, strategy, business development, finance, marketing, and operations. It is important to maintain an understanding of these components and how they work together to create a successful laboratory outreach service line.
Leadership
Key to the success of the laboratory outreach service line is alignment with organizational initiatives. For each of the six service line elements described in this article, alignment is the critical first step. Within an organization, leaders are responsible for developing the organization's culture and fulfilling the organization's mission. They establish a vision and create the right conditions to ensure that vision is realized. Leaders set goals, develop strategy, prioritize initiatives, allocate resources, and enable staff to substantially contribute to organizational success. Likewise, leadership of a laboratory outreach service line must create and support these conditions.
The laboratory outreach service line will be most effective if it is aligned with, complements, and supports organizational strategy. The laboratory outreach leader should identify areas of alignment such as financial growth, increased provider integration, and improved patient satisfaction, and then develop associated goals for the outreach program. The outreach service line will not succeed unless staff members are supportive of the program, and are provided a clear structure in which they feel supported to succeed. Throughout, the leader must provide clarity in vision and communicate progress toward goal via relevant metrics.
Strategy
All growing business initiatives require a strategy to reach established goals. These goals are defined as what needs to be accomplished and the accompanying strategy details how to reach those goals. A good strategy provides a clear path with guidelines and processes to aid staff in working toward and making positive decisions to achieve strategic goals. For example, assume an organization's goal is to Achieve greater than 75% integration of laboratory testing ordered by employed physicians by [date]. The accompanying strategy may be to Develop processes and infrastructure to enable seamless access to laboratory testing for employed physicians and their patients, to achieve greater than 75% integration by [date]. Of course, it is necessary to provide definition and refinement to the general terms, and to identify measurements of success.
A service line leader must be able to articulate the strategy concisely and clearly, to all professional levels in the organization. A good service line strategy takes into account current capabilities, as well as the risks and limitations of capability growth, and addresses how to leverage current assets to address those limitations. If additional resources are necessary, some organizations may require a business plan that describes the goal(s), strategic priorities (ie, immediate and short- and long-term), expected expenditures, a financial/ROI analysis, and an implementation plan. Business plan formats range from a single page to exhaustive documents, so it is important to represent your needs in a format that organizational leaders are familiar with and can take action on. Before developing your own strategic or business plan, it is a good idea to understand your organization's preferred process, and use existing templates whenever possible.
Business Development
The term business development frequently is used to describe a sales activity that drives organizational growth. Within today's laboratory outreach service line, dedicated sales staff may be required. Increasingly, as providers are becoming employed or more tightly affiliated with health care organizations, there becomes an expectation that they will use as many of the organization's services as possible, including laboratory. Thus, this transition of outreach to in-reach may not be subject to choice.
Conversely, choice of laboratory services remains among independent providers and within organizations that do not direct providers to use a specific hospital laboratory. Regardless of the sales dynamic, business development can be seen simply as the process of developing growth goals, identifying where growth will come from, and working to achieve those goals.
Effective business development for the outreach service line is grounded in developing and managing relationships. In order to establish effective relationships, ask the following questions:
Who are the key targets for the laboratory outreach service line?
Is use of your laboratory mandatory or discretionary?
Who makes governing decisions for the laboratory?
Are there dynamics for this provider that will influence their choice in laboratory?
What competitive attributes do you have that will make your laboratory the best choice for this provider?
Are there legal, regulatory, or compliance challenges related to serving this provider?
Are there competitive disadvantages that do not support your laboratory being the best choice for this provider? If so, have they been addressed in the strategic plan?
Once these questions have been answered, business development activities can be aligned within the outreach service line strategy. It may be necessary to deploy a dedicated sales effort, or leverage internal leaders or other resources in order to secure buy-in and ultimately the testing from targeted providers.
Finance
An effective outreach service line must have strong financial discipline. Because laboratory outreach should be a profitable revenue source for the organization, it is absolutely necessary to develop accurate financial reporting to demonstrate its contribution. This financial reporting should identify the outreach testing by customer type, and include test volumes, collected revenue, and net operating income. Nationally, such financial reporting seems to be the most challenging aspect of managing an effective outreach service line and it is not unusual for outreach and in-reach data to be combined with other hospital outpatient types. However, it is necessary to clearly identify outreach patients and associated testing in order to demonstrate the true financial contribution of the outreach service line. Additionally, if an investment is required, good data are critical to demonstrate a return on that investment.
It is necessary to identify financial dynamics that may limit growth or impact profitability. Keep in mind that pricing structure, health plan contracts, and patient out-of-pocket responsibility may drive testing away from your laboratory. Profitability is determined by subtracting cost from revenue, and it is critical to understand the cost of performing outreach client testing and the total cost of serving that customer. These costs will include reagents and supplies, variable technical staff effort, and outreach-specific expenses, but should not include equipment cost, institutional overhead, or other general allocations, as one of the largest financial benefits of an outreach program is leveraging existing laboratory capacity and equipment. Revenue should only be represented as collected revenue. Charges or gross revenue do not represent what the laboratory was actually paid for services.
Marketing
An outreach service line requires effective messaging in order to promote the laboratory's services. It is necessary to understand the market, the customer segments, and the individuals who will be selecting the service. Within a health system with multiple locations, there may be unique messaging required per market or area, but the laboratory service remains the same. It may be necessary to perform research in order to refine your laboratory's messaging. When appropriate, align the laboratory communications plan with the organization's plan, leveraging branding, messaging, templates, and other resources to support the message of the laboratory service line. There are many tactics available for communicating an outreach program's message, including print, Web, and social media. An effective marketing and communications plan will be able to identify the best tactic to reach the proper audience.
Operations
A laboratory outreach service line cannot succeed without effective operations. Across an organization, it is not surprising to see that many departments already provide some aspects of operational support for an outreach service line. It is necessary to support integration or consolidation where appropriate, and provide flexibility to develop infrastructure as required. Begin by taking inventory of current outreach operational assets; identify best practices and also areas of redundancy. Then develop a plan to refine the outreach infrastructure, leveraging existing organizational resources when appropriate. Although all outreach infrastructure areas may not be found or maintained within a single department, alignment across the outreach service line is absolutely necessary.
Putting it all Together
Laboratory outreach is not a department. Rather, it is a service line that requires structure, support, and a dedicated business focus. Key to a lab outreach program's success is intentional alignment of the outreach service line with the institution's overall goals, developing strategy, creating effective support mechanisms, and monitoring metrics to demonstrate progress and success.
---

Jane M. Hermansen, MBA, MT(ASCP), is outreach and network manager at Mayo Medical Laboratories in Rochester, Minnesota. She received a BA in medical technology from Concordia College in Moorhead, Minnesota, and an MBA from the New York Institute of Technology. Jane's 25+ years of clinical laboratory experience spans clinical research; process engineering; project management; and laboratory outreach consulting, training, and facilitation.
Like what you've read? Please log in or create a free account to enjoy more of what www.medlabmag.com has to offer.
Current Issue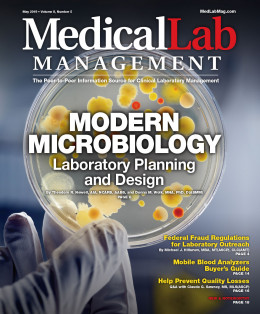 Subscribe to our Email Newsletters!
In The Loop!
Digital Edition
Special Announcements