Buyer's Guide: Temperature Monitoring
January 2019 - Vol. 8 No. 1
- Page #16
Article Category:
Sentinel Next from Argus Labs automates the recording of laboratory refrigerator and freezer temperatures. If a device goes out of range, the system will provide immediate notification to help prevent product loss. All data and corrective actions are recorded according to regulatory requirements, and the WiFi-enabled sensors can utilize any existing WiFi 802.11b/g/n network to communicate with a cloud-based or local server.
The system is easily installed and requires no additional software or hardware. Sensors are battery or line powered, and Snap calibration probes are available as a convenient alternative to help meet the requirements for annual system calibration verification. The Snap calibration probes can be replaced as required with new NIST traceable certificates of calibration. A wide variety of sensors are offered, including those to monitor ultralow freezers, CO2, differential pressure, voltage, LN2, and more.
Argus Labs's software includes full function mobile applications for Apple and Android devices. Support and installation teams are available to help users through every phase of the installation and post-installation process to ensure that the system continues to meet expectations.
From Argus Labs
For more information, visit medlabmag.com/info
---
Like what you've read? Please log in or create a free account to enjoy more of what www.medlabmag.com has to offer.
Recent Popular Articles
Current Issue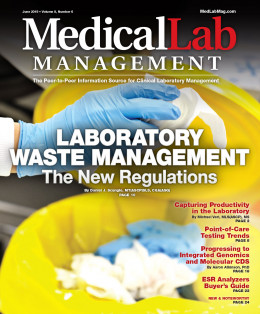 Subscribe to our Email Newsletters!
In The Loop!
Digital Edition
Special Announcements