Your New Clinical Laboratory Market Resource
February 2019 - Vol. 8 No. 2
- Page #1
Given the myriad products and services now available for clinical laboratories and the ensuing variety of possible combinations available for a custom practice, finding the right fit for your specific laboratory operation can be a daunting task. To help address the needs of laboratory management, we are pleased to present our first annual Clinical Laboratory Resource Guide. In partnership with our online resource— lab.2finditnow.com —we present this first edition of what we expect will be a burgeoning and at-hand resource for all your clinical practice needs.
MedicalLab Management's first annual Resource Guide provides easy access to hundreds of medical laboratory product and service providers to help improve the safety, efficiency, and effectiveness of laboratory practice.
With new products and providers entering the marketplace at a rapid clip, it can be a challenge to keep track of the best sources for the products you need. MLM's 2019 Resource Guide helps simplify that process, and we will continue to update our online database throughout the year.
A quick glance at the 2019 MLM Resource Guide can help keep you abreast of the latest tools, technologies, and services available to assist with the numerous responsibilities tasked to laboratory directors and managers.
Please also visit our website to update your free subscription, review recent articles, or discover new resources available at no cost to laboratory practitioners. In addition, we invite you to let us know if there are additional products or services you would like to see included in the Resource Guide and on our website.
Thank you for your continued support of MLM this year. We look forward to providing new and exciting laboratory coverage in 2019.
With best regards,
David McCormick
Managing Editor
Like what you've read? Please log in or create a free account to enjoy more of what www.medlabmag.com has to offer.
Current Issue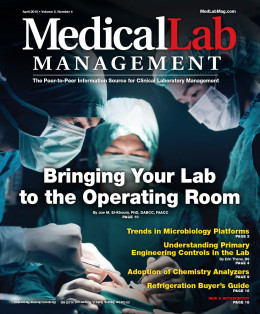 Subscribe to our Email Newsletters!
In The Loop!
Digital Edition
Special Announcements