Boosting Our Online Resources
March 2019 - Vol. 8 No. 3
- Page #2
As the evolution of information distribution continues apace, we recognize the need for dynamic online resources to complement the content of our print publications. Thus, we are seeking to create additional online tools at medlabmag.com to help focus the scope of clinical laboratory management needs. As part of this effort, most of our feature articles moving forward will contain links to related content in our recent archives.
In addition, we are working to improve and refine our online database of relevant vendors and service providers for the convenience of laboratory directors and managers. To this end, we encourage all suggestions and comments for improvement. There is perhaps no more universally applied term in the clinical lab than Quality, and for good reason, which is why we take the pursuit and presentation of quality resources very seriously at MLM. We encourage the feedback of clinical practitioners as to how we can better serve your needs.
In another nod to the recent contributions of your fellow thought leaders throughout the clinical laboratory landscape, we are proud to present our current Top Ten list of articles featured on medlabmag.com.
Top 5 Recent Articles
If there is a topic you would like to see featured in MLM, please reach out to us. Likewise, if you have an operational success story that you would like to share, we can help you with that as well.
With best regards,
David McCormick
Managing Editor
Like what you've read? Please log in or create a free account to enjoy more of what www.medlabmag.com has to offer.
Recent Popular Articles
Current Issue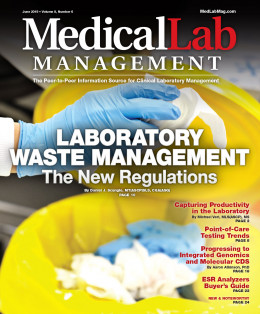 Subscribe to our Email Newsletters!
In The Loop!
Digital Edition
Special Announcements