Continuous Improvement in the Molecular Department
March 2019 - Vol. 8 No. 3
- Page #4
Article Category:
The management and staff of Sonic Reference Laboratory (SRL) constantly seek to build a culture of continuous improvement from the time new employees enter the workplace, through training, and throughout their careers. This includes providing employees with avenues to express their ideas and concerns, and focusing on finding opportunity for improvement over assigning blame.
The foundation of the quality management system (QMS) at SRL is built on the philosophy of continuous improvement through Lean and Six Sigma principles, ISO 15189 standards (Medical laboratories – Requirements for quality and competence), College of American Pathologists standards, and the 12 Quality System Essentials from CLSI.1 We are fortunate to have several continuous improvement resources available, as many SRL staff members hold a range of Lean and Six Sigma certifications.
Key to this effort, SRL leadership fully supports continuous improvement efforts. More specifically, the molecular diagnostics department embraces this philosophy through daily management huddles, leveraging staff computer skills, and applying continuous improvement principles to drive departmental projects. A recent project focused on efforts to improve turnaround times (TATs) and reduce waste.
Focus on Turnaround Time
In recent years, the molecular department at SRL faced challenges typical to the workflow of this type of laboratory: Turnaround time issues, client complaints, and struggles to meet customer expectations. During a quarterly quality review (QQR) with the executive team in October 2017, data presented by the department caused some concern and the medical director challenged the department to address these issues. TAT often is a key quality performance indicator that many labs use in gauging client satisfaction and to ensure the correct results arrive in clinician hands as quickly as possible. Accordingly, the molecular team decided to address this challenge aggressively.
An initial review of TAT data at the end of October 2017 indicated a relatively small percentage of the 35 assays performed in the molecular department were meeting SRL's established 95% report TAT benchmark. After thoroughly reviewing the notes from several previous QQR meetings where detailed explanations were given for outlying TAT delays, we sought to identify the commonalities and root causes. The following are some of the primary processes wherein issues involving TAT were identified:
Staff scheduling (ie, time of day, day of week, availability of specific staff to run specific assays, and certain testing frequency)
Sample repeat requests, including
individual and batch failures
Instrument and reagent issues leading to run interruptions
Pathologist substitution and delays in test authorization
FIGURE 1 illustrates the results of a pareto analysis intended to help further identify and categorize reasons for TAT delays. These results indicated that 41% of the molecular department's historical TAT problems were tied to scheduling mismanagement and sample repeats resulting from batch or individual failures (23.1% and 17.9% respectively). These results illustrate the complex nature of efficient staff scheduling, as opposed to the simplistic reputation it sometimes carries. To address this, there are several factors to take into account, such as designating appropriate batch sizes, identifying and maximizing instrument and automation capacity, and ensuring appropriate staff availability for complex or esoteric assays.
Establish Key Performance Variables
After evaluating the specimen transportation process, we realized there were substantial delays occurring between when specimens arrived in the laboratory and their batching, which lead the team to further drill down to Day Received and Day Resulted as metrics to analyze turnaround time. Additional analysis revealed further delay when results were left in a pathologist queue waiting to be reported. A process capability index and an Anderson-Darling test also demonstrated that these processes were not stable.
After our analysis was complete, we determined the following key performance input variables were directly linked to improving TAT:
Specimen receipt to batch time
Batch time to pathologist queue
Pathologist queue to authorization
Day of the week samples run
Day of the week results are authorized
Date samples are received and authorized
Sample failures
A Focus on Assay Failures
To further understand issues related to assays' failure to meet the 95% threshold, a phased approach was taken to narrow the initial scope of the project, and a cross-section of 3-day TAT assays were evaluated first. A process capability analysis of the data set, which measures how well output process meets specification limits, is illustrated in FIGURE 2.
For the purpose of our evaluation, a defect is referred to as any sample that does not meet the 72-hour TAT. Over the course of our study, approximately 15.4% of the samples exceeded the established TAT. Of note, the process capability chart is one-sided, and the process performance (Ppk) findings of 0.29 and process capability (Cpk) of 0.33 are less than the industry standard goal of ≥1.33.
The next phase of the study evaluated laboratory information system (LIS) data utilizing a multiple regression analysis of the 3-day TAT assays. The response in the study was specimen receipt authorization (SRA) to result authorization, and the continuous predictors were SRA to batch time, batch time to path (pathologist queue), and path to authorization. The results of the regression analysis are shown in TABLE 1, wherein the P value indicates that all factors were significant and the R- square value indicates the model is a good fit.
Since the data indicated that all factors were significant, a Pearson correlation was performed indicating SRA-to-authorization and SRA-to-batch had the highest Pearsons correlation value (see TABLE 2).
The main input variables determining the time between specimen received and resulted were then evaluated. On average, the longest period in the overall TAT process was SRA to batch. This shows an average waste of 20 hours spent waiting for a collection of samples to reach optimum batch size in all three assays evaluated.
To improve the performance of the assays in FIGURE 3, the department instituted the following to assist in meeting established TATs:
A weekend run was added to correct the TAT delay for Zika virus, Epstein-Barr virus, and BK virus over that time period.
Consistent monitoring of outliers by lead technologist on a daily basis. This also encouraged and engaged staff participation in daily huddles.
Authorization privileges granted to designated technologist helping to load level cases signed out by pathologist and technical director. This will be implemented this year.
Augmented training for technical director to enable case resulting when pathologist is absent.
Enhanced technical focus on standard of work and pipette competency program.
Project Improvement Phase
In order to streamline the process and purposefully schedule specific staff members according to workload and assay type—actions that would reduce TAT and improve operations overall—the molecular department manager evaluated historical data to find trends for the receipt of certain specimens in the lab, and began scheduling appropriate staff during those times. This process was then carefully coordinated with the technical director and pathologist, so when an assay is reported, the results are released shortly thereafter. Additionally, a monthly report for evaluating SRA by assay and time of day has been implemented, and there are plans to review those data in real time looking for further improvement (see FIGURE 4).
Adding an additional shift and adjusting the weekly run times of specific assays in the molecular department have improved overall 3-day TAT. There also has been significant reduction in the standard deviation, and out-of-specification reduced from 15% to 0.03%. The mean overall changed from 47 hours to 28 hours from specimen receipt to result (TAT) (See FIGURE 5).
Looking ahead, management will decide which assays must stay within their established run times and which assay run times can be adjusted based on cost. Accordingly, there is a clear guide for management to follow the established run time, regardless of batch size, and remain within the TAT criteria.
Addressing Sample Repeats
Molecular assays tend to be highly complex and manual. Thus, the implementation of standard-of-work guides and job aids has assisted staff in improving work processes in the effort to reduce sample repeat rates. Repeat codes were simplified in the LIS to encourage technologist documentation and to more easily identify reasons for repeat requests.
Furthermore, the laboratory worked with an outside company to develop a pipette competency program that has yielded five staff proper pipette-technique champions. These champions now train new staff on proper use and techniques to sharpen their skills. This is intended to help reduce analytical issues attributed to pipetting errors.
Sample repeats consisting of both individual and batch failures are a major contributor to the cost of poor quality (CoPQ) in any laboratory. To help address this, SRL developed a CoPQ initiative to track costs associated with department reruns. Most molecular departments are aware of the high cost of reagents associated with different assays; therefore it is of paramount importance to monitor direct reagent and labor costs associated with running these expensive and complex assays. In order to decrease rerun rates, the department focused on intensive training for staff specializing in particular assays, implementing a standard of work, increasing the use of job aids, seeking reimbursement for reagents from manufacturers, and improving staff pipetting skills. Comparing CoPQ from 2017 to 2018, the department has shown a CoPQ reduction of approximately $147,000.
Conclusion
The implementation of the solutions described herein has helped the molecular department maintain an average TAT of 98% consistently over the past year. Leveraging the LIS, identifying root causes, and most importantly, setting in place control mechanisms to sustain implemented change have enabled the department to exemplify the meaning of embracing a culture of continuous improvement.
---
Reference
CLSI. Quality Management System: A Model for Laboratory Services; Approved Guideline—Fourth Edition. CLSI document QMS01-A4. Wayne, PA: Clinical and Laboratory Standards Institute; 2011.

---

Claude G. Sawney, MLS(ASCP), MS, SSBB, is the director of quality at Sonic Reference Laboratory. He is an advocate for patient safety, and establishing and building a culture of quality and continuous improvement.

John Woody, MLS(ASCP), MB, MS, is the molecular department manager at SRL. He received his training in biomedical research and molecular biology at Eastern Virginia Medical School, and is an avid champion of modern technological applications with emphasis on informatics implementation and workflow optimization in the clinical workspace.
Like what you've read? Please log in or create a free account to enjoy more of what www.medlabmag.com has to offer.
Recent Popular Articles
Current Issue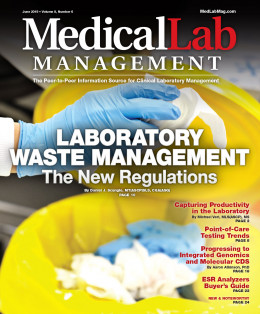 Subscribe to our Email Newsletters!
In The Loop!
Digital Edition
Special Announcements