NGS Applications in Solid Tumor Immuno-Oncology
March 2019 - Vol. 8 No. 3
- Page #10
Article Category:

Q&A with Tabetha Sundin, PhD, HCLD(ABB), MB(ASCP)CM
Scientific Director of Molecular Diagnostics and Serology
Sentara Healthcare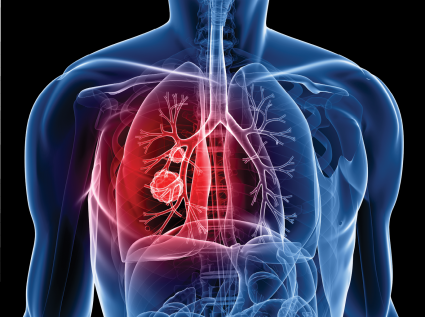 Medical Lab Management: How did your hospital system approach the implementation of next generation sequencing (NGS)?
Dr. Tabetha Sundin: We initially insourced NGS testing for expanded cystic fibrosis carrier screening in January of 2017. That process allowed us to become familiar with the technology while working with a single gene. By the middle of 2017, we had validated a 50-gene solid tumor panel capable of detecting mutations in hotspots within genes using tumor DNA. Late in 2018, we transitioned from the DNA-only solid tumor panel to a more comprehensive hotspot panel that enabled us to detect DNA mutations, gene fusions with RNA, and gene copy number variants in patient tumors. We now use this NGS panel to gain further efficiencies, such as decreases in tissue utilization, cost of care, and turnaround time (TAT) for results involving patients in our system with melanoma, lung, and colon cancer.
MLM: How does facility size impact the decision to utilize NGS?
Sundin: As cancer care is increasingly driven by the biomarker status of a given patient's tumor, personalized or precision medicine requires clinicians to understand tumor genotype specific to their patients. Sentara Healthcare is a 12 hospital system covering the state of Virginia and Northeastern North Carolina. The Sentara Reference Laboratory performs over 9 million tests per year serving Sentara Healthcare, members of Optima Health Insurance, and outreach to the local communities.
In our case, we realized we were sending increasing volumes, with increasing costs, to reference laboratories for biomarker testing. Concurrently, we began receiving a greater number of complaints about TAT and the lengthy reports issued by the reference laboratories. As this pattern continued, it became apparent that insourcing NGS services could address some of these complaints, but would create new challenges that would need to be overcome.
For smaller hospitals and health systems, the prohibitive issues regarding the insourcing of NGS have traditionally been three-fold: High cost, esoteric staff skill sets and technology, and the massive amount of resulting data that require additional bioinformatic resources to analyze and operationalize. However, these hurdles have become largely surmountable.
The cost to insource the relevant equipment is far cheaper than Sanger sequencers, for example. Furthermore, the cost to sequence has dropped considerably within the last few years. Diagnostic companies that manufacture NGS equipment have likewise made strides in making instruments more user friendly than initial designs. We were able to purchase an instrument to automate the library preparation and templating reactions, and which is able to process samples reliably requiring only a few minutes of hands-on technologist time. Finally, there are now automated options to assist in processing the resulting data into a readable report for the clinician. All of these relatively recent changes—in sequence cost, technical skill and instrumentation required, as well as robust assistance with bioinformatics and report generation—have made the prospect of insourcing NGS far more attainable.
MLM: Can you provide an example of the current state of immunotherapy in US hospitals?
Sundin: We have known for some time that tumors are often inflamed, meaning the immune system is recognizing that cancer cells are no longer normal and begins targeting them for destruction. There are new therapies available (and many more in the pipeline) that target tumors with an inflamed phenotype, many of which require a diagnostic test to indicate the tumor is inflamed before the patient is eligible for drug therapy (eg, PD-1/PD-L1 [programmed death-1/programmed death ligand-1] inhibitors are immunotherapies). Most of these drugs also require an immunohistochemistry (IHC) test to determine sufficient PD-L1 expression on the tumor cells or on immune cells within the tumor.
MLM: Where is the line between substantial immunology and molecular diagnostics?
Sundin: We consider tests that detect genetic changes to be molecular diagnostic assays. These changes could be mutations in DNA, gene fusions, or even gene copy number changes. The central dogma of molecular diagnostics is that DNA is transcribed into RNA, which is then translated into protein. It is important to understand that the DNA is just the genetic code; the library, if you will. It is the protein that actually does the work in the cell, so in a molecular diagnostic laboratory we can determine whether the code has been altered, but we cannot necessarily assess changes in proteins.
Immunotherapy often requires laboratorians to know something about the amount of protein expressed, and this is not determined in the molecular diagnostics laboratory at our hospital. However, the on-site IHC laboratory can determine protein expression. They use antibodies to detect the presence or absence of protein, as well as the amount of protein expressed. An IHC test may even be able to determine a protein has changed shape, but only if that change altered the binding site of the protein. Genetic changes and protein expression patterns can all be considered biomarkers.
These two technologies are complementary to one another with IHC being relatively inexpensive with a rapid TAT, and molecular diagnostic testing normally having a longer TAT and being more expensive, but offering much greater sensitivity. I am a proponent of utilizing the fastest (and often most expensive) test that gives an accurate result. Sometimes that is IHC, other times it is molecular-based assays.
MLM: What is the standard of care for biomarker testing?
Sundin: We consider the recommendations put forth by the National Comprehensive Cancer Network (NCCN) to be the standard of care for biomarker testing. If a biomarker is recommended in the NCCN guideline, we work with our oncologists to ensure that testing is available for our patients. Specific for tumor sites and updated regularly, NCCN guidelines currently recommend at least 5 unique biomarkers for adenocarcinoma non-small-cell lung cancer. This is particularly important due to the fact that in our health system, it is more cost effective to perform NGS than to perform 3 individual assays for biomarkers.
MLM: Who are the primary stakeholders in your NGS initiative, and what are their basic expectations?
Sundin: We strive to standardize testing within our system, and in order to do so, we have developed a molecular steering committee to make recommendations about biomarker testing for each tumor site. Stakeholders from each tumor site (eg, for lung cancer: oncologists, pathologists, thoracic surgeons, interventional radiologists) are brought together to discuss recommended biomarkers. We make recommendations about which biomarkers should be tested, when they should be tested, and who should give the order (pathology or oncology). Although stakeholders change depending on tumor type, a few members of the group are consistently involved in the discussion: oncology, pathology, and laboratory. Surgeons, interventional radiologists, and genetic counselors also are included as necessary.
MLM: What is the current role of NGS in your laboratory and what is actionable?
Sundin: We worked together with our oncologists and pathologists to decide which tests to insource for NGS. Our oncologists wanted actionable results, or biomarkers that could lead to specific drug therapy. Likewise, we wanted instrumentation that is relatively easy to operate, and requires minimal tissue at a low operating cost. We decided to insource a hotspot or targeted panel, which helps drive down the cost of testing while providing our clinicians actionable results.
We evaluated the commercially available panels on our platform and looked at workflow, length of time to results, ease of use, cost per patient, and actionable targets covered by the panel. We found a solution that met all of our needs and then performed a validation of the laboratory-developed test (LDT) in our laboratory. The College of American Pathologists (CAP) checklist and other publications are available that cover what should be included in a validation for LDTs.
MLM: What instrumentation types or other technologies are necessary to properly run NGS in your facility?
Sundin: We already had a clinical molecular diagnostic laboratory so the requirements for insourcing NGS equipment were fairly low. We designated separate rooms for pre- and post-amplification and we already had an instrument to extract DNA and RNA from tissue, as well as trained molecular biologists working in the lab. We purchased the actual sequencer and chose to buy automated equipment for library prep and templating. We chose to use the bioinformatics solution offered by the same vendor that provided our sequencer, and we pay per report to generate the data we provide to our clients.
MLM: Can you discuss the practical aspects of insourcing NGS and why the field is moving toward NGS from single-gene testing?
Sundin: NGS is now more efficient with respect to tissue stewardship, cost of testing, and TAT to perform, as opposed to performing numerous single-gene markers. We determined that in our health system, if three or more biomarkers need to be analyzed, NGS is the most efficient approach.
MLM: What considerations should laboratories new to NGS take into account when considering this option?
Sundin: As with any substantial change or addition in the lab, planning is imperative. We began by evaluating which send-out tests could be insourced in order to build our business plan. We also intentionally planned which tests to insource based on complexity. This led to a plan wherein we could begin with single-gene genetic testing, move to a cancer hotspot panel capable of detecting mutations, then insource a hotspot panel that could detect mutation, fusions, and copy number variants in tumor samples. This allowed us to build competency and experience as we validated increasingly complex testing.
MLM: What is the future of NGS practice in immunotherapy?
Sundin: Adoption of NGS is growing, but it is important to keep in mind that most clinical applications of NGS do not yet replace IHC testing for immunotherapy. One exception is microsatellite instability (MSI) testing. Tumors that are MSI-high may have a deficiency in DNA repair, meaning the genetic code of these tumors is different from the code of normal cells. Therefore, the proteins made by this code also are different. Due to these changes, the immune system may be better able to recognize these cells as abnormal and target them for destruction. An IHC test is available to directly detect changes in levels of the proteins responsible for DNA repair. Alternatively, a molecular test for MSI can be employed to detect the changes to the code at a molecular level.
MLM: Any final thoughts on what intrigues you most about solid tumor NGS?
Sundin: I am excited about providing clinicians actionable information about their patients' tumors so that they can make educated treatment decisions. Often in the laboratory we are removed from direct patient care, but in this case, we get to see scientific advances result in better patient outcomes. With NGS, we have a seat at the table with the treating clinicians and work together as a multidisciplinary team to provide guideline driven care.
---
Tabetha Sundin, PhD, HCLD (ABB), MB (ASCP)CM, is the scientific director of molecular diagnostics and serology at Sentara Healthcare. With over 10 years of laboratory experience in cancer biology and clinical molecular diagnostics, she is an active member of the Association of Molecular Pathology (AMP) and is involved with numerous efforts to support the molecular diagnostics field with American Medical Technologists (AMT) and Clinical & Laboratory Standards Institute (CLSI).
---
Looking for More INFO on Immunology/NGS?
Like what you've read? Please log in or create a free account to enjoy more of what www.medlabmag.com has to offer.
Recent Popular Articles
Current Issue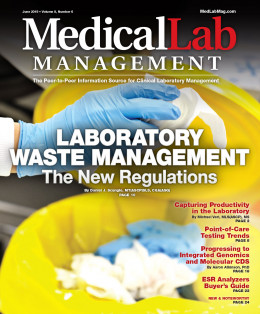 Subscribe to our Email Newsletters!
In The Loop!
Digital Edition
Special Announcements