Buyer's Guide: Water Purification
March 2019 - Vol. 8 No. 3
- Page #15

ELGA LabWater's MEDICA range provides a constant supply of compliant water for clinical analyzers with built-in, wrap-around reservoirs to occupy a minimal amount of space in the laboratory. Constructed from the highest quality components, these systems aim to provide bacterial control and optimal purity, as well as an uninterrupted workflow. Features include recirculation of high purity water ensuring consistent high quality with low bacterial specification, and long-lasting deionization cartridges that reduce exchange frequencies and running costs.
All MEDICA units have a bypass loop, which continues to provide compliant water to the analyzer in emergency situations. The new MEDICA EDI systems combine technologies with lower running costs to ensure a constant and reliable supply of purified water exceeding the CLRW specification. ELGA is part of the water services company Veolia.
---

The WaterPro BT System from Labconco is designed for laboratories that require between one and ten liters of water per day, delivering ultrapure Type 1 up to 18.2 megohm-cm at a typical rate of >0.5 liter per minute. Type 1 water is ideal for instrumental trace element analysis, and for mixing standardized acid/base solutions and media solutions. An optional UV lamp further reduces bacteria and TOC levels. Reverse osmosis (Type 3) water is produced and stored in the six-liter tank at a rate of three liters per hour. Type 3 water is ideal for reagent preparation and glassware rinsing. Compact, lightweight, and quick to install, the WaterPro BT may be easily transported and shared among labs. To install, the WaterPro BT requires only a simple connection to a tap water supply, drain, and electrical source. The Filter Pack bundles all water filter technologies (reverse osmosis, activated carbon filtration, and deionization) into one twin cartridge package, allowing users to snap the Filter Pack into place, completing installation.
---

The Milli-Q CLX 7000 series of large, connected water purification systems from MilliporeSigma provides a high-performance water purification solution for daily water needs of up to 3000 liters. These systems integrate the Elix electrodeionization (EDI) module and new Milli-Q Connect remote service and monitoring capability. Water produced complies with the CLSI guideline for clinical laboratory reagent water (CLRW).
The series offers advanced traceability with full monitoring, automatic e-record archiving for up to 2 years, and Milli-Q Connect for rapid data access, facilitating laboratory audits and accreditation processes. Pre-installation water analysis, customizable Milli-Q Service Plans, and remote connection and repair capabilities maximize system performance and reliability. Elix EDI and Evolutive Reject Adjustment (ERA) technologies optimize water recovery, decreasing water consumption by up to 50%, and extending cartridge lifetimes. The large, interactive, and intuitive touchscreen interface displays information about system operation, minimizing user time and effort.
---

The WaterPro PS Polishing Systems from Labconco deliver Type I water to general chemistry laboratories. With purity up to 18.2 megohm-cm, WaterPro PS Polishing Systems dispense water from either a dispensing valve or dispensing gun at a typical rate of 1.8 liters per minute. WaterPro PS models are available in multiple configurations with a control panel that includes a digital readout of water quality level, and features a user-friendly timed dispense feature for unattended dispensing of pure water. WaterPro PS units utilize leak detection moisture sensors and also may be purchased with a UV light to achieve low TOCs and bacteria.
Each WaterPro model may be used with a final filter to reduce contaminants greater than 0.2 microns. The cabinet features a stainless steel front panel and built-in dispensing center for a small overall footprint and easy installation. The large capacity filter media bowls are made of unpigmented polypropylene, an inert material free of water contaminating impurities.
Like what you've read? Please log in or create a free account to enjoy more of what www.medlabmag.com has to offer.
Recent Popular Articles
Current Issue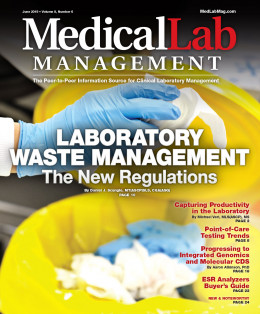 Subscribe to our Email Newsletters!
In The Loop!
Digital Edition
Special Announcements