The Importance of Sales in Laboratory Outreach
March 2019 - Vol. 8 No. 3
- Page #16
Article Category:
Over the last few decades, many hospital-based laboratories have realized the benefit of outreach laboratory testing, not only for the generation of profit, but also by providing a mechanism to secure additional testing volume and types, which helps fill excess testing capacity and lowers overall unit cost. These benefits serve to enrich the laboratory's outreach program as well as inpatient and outpatient care.1
While the benefits of outreach testing have become well known, many laboratory directors and managers (perhaps lacking formal sales training) tend to look at sales as a necessary evil, when in fact, sales are the lifeblood of their department. Sales plays a pivotal role in the success of all health care businesses and this is no less true for clinical laboratories and attendant outreach programs. Regardless of whether you run a large health system laboratory with the volume and necessary resources to employ dedicated sales staff, or a small community hospital laboratory where the director is inclined to serve as the services salesperson, understanding the importance of sales skills to the laboratory's outreach program survival is critical.
Prioritize Clear Sales Objectives
At a basic level, sales generate revenue, which covers expenses and enables profit. The ability to cover expenses (at minimum) is indicative of stable operations with the opportunity for growth through outreach. Furthermore, a successful laboratory outreach program can benefit the greater hospital or health system in several ways, including by becoming a profit center, maximizing testing capacity, and helping to foster good relationships with physician and patient communities, which brings economic value to the facility.2
By drilling down into the economic value derived from outreach, the laboratory can spread fixed costs over a larger volume of testing, thereby decreasing the cost per test. Larger test volumes also provide the opportunity to broaden the in-house test menu and reduce testing referrals. Local physicians and providers benefit through enhanced service levels and expanded test offerings, and patients benefit from a more diverse provision of community-based medicine, supported by an integrated electronic medical record across the continuum of care.3 Hospital laboratories also can add value to the broader continuum of care by providing insight on various patient populations and through the monitoring of key disease trends.
Laboratory Contributions to Positive Outcomes
It is widely believed that the cost of the US health care delivery system is becoming untenable in its current form. Given the dire need to reform this system, new reimbursement models (eg, value-based purchasing) are being implemented across the US. As health care reform efforts continue to evolve and we transition from fee-for-service reimbursement models to value-based payment models, winners and losers will emerge. Which side of this divide your organization falls on likely will be based on the ability to gather and analyze substantial clinical data, reduce episode-of-care costs, and establish and implement evidence-based, standardized care processes to positively affect outcomes.
Laboratories can provide value toward positive outcomes by using real time actionable data to affect executive level policy decisions, care management workflow, provider engagement, and individual patient treatment decisions.4 However, this is only attainable if the hospital laboratory has access to the total continuum of care. This means having the access and ability to provide outreach services to its entire patient population. Moreover, having a well-trained sales staff can increase the potential for serving a large percentage of patients in the catchment area. The following are some important ways in which sales drive outreach success.
Foster Customer Loyalty
Dedicated sales staff members bridge the gap between a potential customer's needs and the services provided by your laboratory to fulfil those needs. This process is key to the building of loyalty and trust between customers and your outreach business. Loyalty and trust tend to be the main reasons why a customer would recommend your laboratory to a patient or colleague, or write a positive review of your service online or during a survey. Further, a healthy and growing outreach business allows the laboratory to augment its services and technologies, which in turn has been shown to improve physician and patient satisfaction, drive improved patient outcomes at reduced costs, and strengthen the hospital's reputation and revenue stream in the long term.5
Customer Testimonials
Third-party recommendations and positive reviews are always valued by prospective and existing customers, as these reviews and recommendations are independent of the seller and therefore carry more credibility. In the digital age, they are extremely influential, due to the reach and power of social media. During sales interactions, encouraging the customer to recommend a colleague or give positive feedback can have an impact on the growth of the business through increased brand awareness and greater sales volumes.
Customer Retention
Sales is ultimately a personal interaction, the strength of which should not be underestimated, nor should the potential effects this relationship can have on your brand's reputation. The most valuable and effective salespeople are those that not only close sales, but create long-lasting, positive impressions on the customer. Long-term customer relationships lead to repeat business, quality referrals, and augmented brand recognition and reputation.
One of the keys to customer retention through sales is to actively engage in follow up. Encouraging post-sale calls or meetings is a great way to maintain and build a positive relationship, and gives the customer an opportunity to provide ongoing feedback on their experience with the laboratory's service. If the customer has a problem or complaint, it can be dealt with quickly and professionally. Too often, unhappy customers will not complain, they will simply switch their business to another provider and likely will defer on recommending your services or products to others. Worse yet, disgruntled former clients may tell anyone who will listen about their bad experience with your service. A typical company loses 50% of its clients every five years and in health care, it costs up to ten times as much to acquire a new client versus retaining a current client.6 It is easier and more cost effective to retain customers than win new ones, so maintaining existing customer relationships is essential.
Conclusion
The power of sales in the continued success of an organization is not to be underestimated or under-used, and all areas of health care service are seeking ways to maximize their contribution. The laboratory can take advantage of the positive impact that dedicated sales staff can provide, not only on revenue, but to brand reputation, long-term customer retention, and business growth.
---
Michael J. Hiltunen, MBA, MT(ASCP), CLC(AMT), is president of MedStar Consultants and the executive director of the GreatLakes Laboratory Network. A certified laboratory consultant, as well as a certified sales coach and trainer with over 30 years of experience working in a variety of hospital laboratory settings, Michael has held positions ranging from medical technologist to outreach client sales rep, through outreach client services manager and laboratory director. He formed MedStar Consultants in 2013 to provide laboratory consulting services to clinical laboratories that wish to leverage outreach services to maximize revenue potential.
---
References
LaPointe J. Transforming the Hospital Laboratory into a Profit Center. Rev Cyc Intel. March 27, 2018. https://revcycleintelligence.com/news/transforming-the-hospital-laboratory-into-a-profit-center
Anderson V. Hospital laboratory outreach: benefits and planning. Clin Lab Med. 2007;27(4):791-805, vi.
Hermansen J, Hiltunen M. Models for Success in Clinical Lab Outreach. Med Lab Mag. 2015;4(6):6-9.
Lafferty E. Transforming Your Lab from a Cost Center to a Strategic Asset. Healthcare Financial Management Association. Healthcare Cost Containment: October 5, 2016.
Reitermann M. Investing in The Lab: The Hidden Jewel In The Healthcare System. Forbes. January 5, 2018. www.forbes.com/sites/siemenshealthineers/2018/01/05/investing-in-the-lab-the-hidden-jewel-in-the-healthcare-system/#708845ca7536
Reichheld FF. Learning from customer defections. Harvard Business Review. 1996;74(2):56-69.
---
Looking for More INFO on Laboratory Outreach?
Like what you've read? Please log in or create a free account to enjoy more of what www.medlabmag.com has to offer.
Recent Popular Articles
Current Issue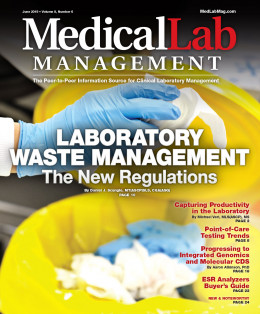 Subscribe to our Email Newsletters!
In The Loop!
Digital Edition
Special Announcements