Thank You for Stopping By at CLMA!
April 2019 - Vol. 8 No. 4
- Page #1
What a treat is was to see so many new and familiar faces at this year's CLMA KnowledgeLab in Grapevine, Texas. It is always encouraging to receive positive feedback from clinical laboratory directors representing labs of all shapes and sizes. After having a similar conversation with a few attendees, I wanted to reiterate that although MedicalLab Management is free of charge to all clinical practitioners, we do ask that you renew and/or confirm your contact information on our site, periodically. Without these renewals (we ask that you do so annually), subscriptions will eventually roll off the list; this is to avoid sending the magazine to a practitioner who may have left the lab. That said, while you are visiting medlabmag.com, please take a look around. Check out our archive of past issues or review our list of FAQs. If you have any questions, concerns, or ideas for improvement, we are all ears.
As medlabmag.com continues to grow and build its resource capabilities, we want to ensure our readers have access in the most convenient ways. After all, we are more than a magazine alone; we are working constantly in the background to improve on a range of helpful resources, from past articles and the resources contained therein, to information on upcoming clinical laboratory trade shows, and direct access to the vendors and service providers you want to engage with.
The sole purpose of MLM is to provide the best operational resources for the clinical laboratory profession and we believe wholeheartedly that your input matters. If there are ways in which you think we can improve our online resources, please let us know. As is the case with our editorial, we want our digital resources to be the voice of clinical laboratory management.
With best regards,
David McCormick
Managing Editor
Like what you've read? Please log in or create a free account to enjoy more of what www.medlabmag.com has to offer.
Current Issue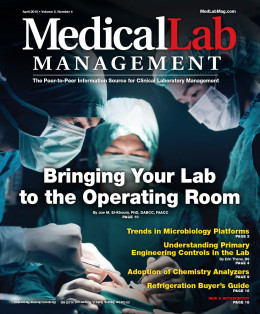 Subscribe to our Email Newsletters!
In The Loop!
Digital Edition
Special Announcements