Bringing Your Lab to the Operating Room
April 2019 - Vol. 8 No. 4
Article Category: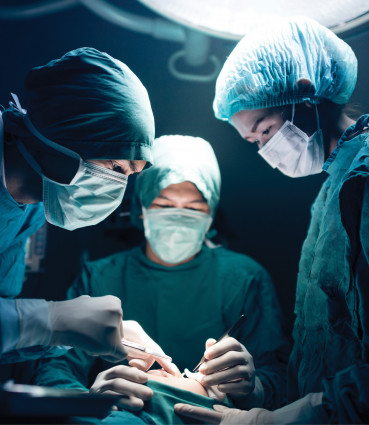 In this era of lower reimbursements, workforce shortages, and laboratory test consolidation, radical changes to a laboratory operation may seem outrageous. For example, consider having a discussion with laboratory and facilities leadership about opening a small lab operation adjacent to the operating room suite (OR) that runs a single test to meet the needs of a few endocrine surgeons. To some, this could be considered outlandish, but if doing so provides better quality of care for patients and reduces overall cost to the health system by improving efficiencies in high expense hospital services, like the OR, then it is beneficial to examine such changes.
Herein, we review the clinical utility, analytical considerations, and operational aspects of intraoperative parathyroid hormone (ioPTH) testing to highlight the important role laboratories play in providing high quality of care while reducing cost to the system.
Identifying PHPT
Primary hyperparathyroidism (PHPT) is a relatively common endocrine disorder affecting 0.7% of the general population and 2% of postmenopausal women.1,2 Patients with PHPT are typically identified via incidental hypercalcemia, but in severe cases may exhibit symptoms and signs of bone and mineral disorders including osteoporosis, bone fractures, bone pain, and myopathy, among others.3 A diagnosis is established by finding an elevated serum calcium with an inappropriately elevated parathyroid hormone (PTH), after excluding secondary causes such as kidney disease, vitamin D deficiency, or intestinal absorptive abnormalities.3
Treatment Options
Treatment of patients with PHPT often involves a parathyroidectomy (ie, the surgical removal of one to all parathyroid glands) and has a 95% cure rate.3 The initial procedure, pioneered in 1925, involves administering general anesthesia followed by a small lateral incision on the patient's neck in order to examine the parathyroids and remove the enlarged gland(s).
In the 1990s a minimally invasive parathyroidectomy (MIP) technique was developed that included monitoring PTH intraoperatively to confirm successful removal of the affected gland(s).4 This new procedure was enabled thanks to the short half-life of PTH (3-5 minutes), levels of which would drop quickly upon the successful removal of all abnormal tissue, or which would indicate the need for further exploration.
Intraoperative PTH testing can be performed in the central clinical chemistry laboratory (requiring transportation of the sample to the lab) or in the OR for faster turnaround times (TATs). At Yale-New Haven Hospital, ioPTH testing was implemented in the OR in 1999 and was associated with approximately a 50% reduction in operating time, a sevenfold reduction in hospital stay, and a mean cost savings of $2,693 per procedure, representing nearly a 50% reduction in total hospital charges.5 With over 400 MIP procedures performed annually at Yale-New Haven, this represents over $1 million in annual savings (see FIGURE 1).
Methods for PTH Testing
Analytical platforms for testing PTH have evolved substantially over the years. We have used a range of these platforms in the OR since 1999, from our initial, manual chemiluminescence immunoassay for intact PTH (iPTH), to the automated, 9-minute electrochemiluminescence immunoassay benchtop analyzer that we use today. The acquisition of this latest automated platform allowed us to expand the number of MIP operations being performed simultaneously from one to three while providing a consistent TAT of 12 minutes from collection to result.
As with most manual procedures, the execution of PTH assays manually results in greater imprecision and TAT variability, and may jeopardize a patient due to the risk of sample switching or misidentification. In the past, manual methods were the only option for rapid testing and could only support one surgery at a time. With the release of rapid automated assays, laboratories can take advantage of automation. A newer generation of PTH assays (called Bio-PTH, 3rd generation) have now received FDA approval and have been shown to be unsusceptible to interferences from other PTH fragments that affect the 2nd generation iPTH assays.6
The new assays will, in theory, allow for even more rapid detection of change after a successful parathyroidectomy because they are not affected by the presence of other PTH fragments that have longer half-lives. And although the current assay time of 40 minutes for bio-PTH is not amenable to routine use in intraoperative PTH testing, they can be helpful when investigating spurious results from iPTH testing, post-operatively.7
Bringing ioPTH Testing to the OR
The two greatest challenges to implementing intraoperative PTH testing in the OR were the acquisition of appropriate lab space near the OR and staffing this satellite operation. The first challenge was ameliorated by the advocacy of the endocrine surgeons to hospital administration. (Clearly, collaboration with surgeons and OR staff is critical to the success of such a project.) With approval and support from clinicians and administration, we were able to convene a renovation project that created a small lab space connected to one of the operating rooms by a pass-through window, yet large enough to accommodate an automated analyzer, a processing bench, and three testing personnel. The other two operating rooms where endocrine procedures take place are proximate, and samples taken from those sites are brought to the satellite lab by OR nursing staff.
The second challenge of appropriate staffing required creative problem solving on behalf of the lab given that lab staff members were working practically at capacity. To address this (and knowing that ioPTH procedures are scheduled operations), we first agreed with surgery to support this initiative just one day a week, so all MIPs should be scheduled for that day. Second, we found that several of our experienced testing personnel were interested in working in this periodic, satellite testing area on a per diem basis, even post-retirement from the lab. This is logical, as it only requires maintenance of competency on this one bench and it is convenient given its once-weekly scheduling. This allows skilled staff members an easier transition into retirement while remaining involved in professional practice. As a result, we have been able to leverage the experience and flexibility of our senior staff without overextending our upcoming and support staff from the main laboratory. Laboratory leadership recently approved support of the OR on two weekdays (Tuesdays and Fridays) and as per diem staff have retired from this role, we have incorporated some of our core laboratory staff members who expressed interest in the area.
Conclusion
Implementation of MIP was a major endeavor, the success of which involved clinicians from surgery, anesthesia, nursing, and laboratory medicine all working together as a team. This project demonstrates the role laboratory medical professionals can play outside of the laboratory by leveraging their expertise and resources to provide better patient care while enabling significant saving for the hospital at the same time.
Additional positive outcomes have included improved engagement and satisfaction for our testing personnel who work the ioPTH bench, because they felt more closely connected to the patient and the surgeons dependent on their work. Greater respect and recognition for the vital work of laboratorians also was fostered among the surgeons. Bringing the lab to the OR may not work for everyone, but such relatively novel ideas should be explored.
Acknowledgment: The author would like to thank Ms. Daniela Rivera for her critical review of the manuscript and providing the images.
---

Joe El-Khoury, PhD, DABCC, FAACC, is co-director of the clinical chemistry laboratory at Yale-New Haven Health in Connecticut. He also is an assistant professor of laboratory medicine at Yale University School of Medicine.
---
References
Heath H III, Hodgson SF, Kennedy MA. Primary hyperparathyroidism. Incidence, morbidity, and potential economic impact in a community. N Engl J Med. 1980;302:189–193.
Lundgren E, Rastad J, Thurfjell E, et al. Population‐based screening for primary hyperparathyroidism with serum calcium and parathyroid hormone values in menopausal women. Surgery. 1997;294:287–294.
Calendar G, Udelsman R. Surgery for primary hyperparathyroidism. Cancer. 2014;120:3602–3616.
Starker LF, Fonseca AL, Carling T, Udelsman R. Minimally invasive parathyroidectomy. Int J Endocrinol. 2011;2011:206502.
Udelsman R. Six hundred fifty-six consecutive explorations for primary hyperparathyroidism. Ann Surg. 2002;235:665-70;670-2.
Valcour A, Zierold C, Blocki FA, et al. Trueness, precision and stability of the LIAISON 1-84 parathyroid hormone (PTH) third-generation assay: comparison to existing intact PTH assays. Clin Chem Lab Med. 2018;56:1476-1482.
Cavalier E, Schleck ML2, Souberbielle JC. Spurious intraoperative PTH results observed with 2nd, but not with 3rd generation PTH assays. Clin Chim Acta. 2018;477:72-73.
---
Looking for More Info on Laboratory Design and Remote Operations?
Clinical Core Lab Design: From Looking Up to Looking Down
By Tammy Germini, MT(ASCP); Theodore R. Newell, AIA, NCARB, AABB; Sara Eastman, AIA
medlabmag.com/core_design
Evolving Workflow Drives Anatomic Pathology Design
By Sandy Mullay, BS, MT(ASCP); Theodore R. Newell, AIA, NCARB, AABB; Jeffrey Prichard, DO, FCAP; Sara Eastman, AIA
medlabmag.com/pathology_design
Improve Patient ID and Specimen Labeling in the Ambulatory Clinic
By Sherri Huber, MT(ASCP), CMQ/OE(ASQ)
medlabmag.com/clinic_labeling
Like what you've read? Please log in or create a free account to enjoy more of what www.medlabmag.com has to offer.
Current Issue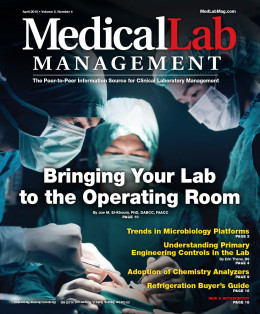 Subscribe to our Email Newsletters!
In The Loop!
Digital Edition
Special Announcements