Buyer's Guide: Refrigeration
April 2019 - Vol. 8 No. 4
- Page #16
Article Category:

Helmer Scientific's GX Solutions are professional medical-grade refrigerators with OptiCool cooling systems designed to meet the requirements for blood, patient sample, medication, and vaccine storage. Temperatures are maintained within +/-1°C throughout the unit and temperature levels recover quickly after door openings, leading to fewer temperature deviations from the set point. The optimization of temperature control components ensures products are safely stored at proper temperatures without fluctuations or rapid temperature changes. GX Solutions are Energy Star certified and offer a reduced heat output, allowing facilities to place refrigerators in small work areas while limiting HVAC system impact.
---

Accucold's ACR1718RH is a glass-door refrigerator designed for reliable storage. Uniquely sized at 27.63 inches wide and less than 25 inches deep, it provides a 17 cubic-foot storage capacity for areas with limited floor space. Features include a self-closing door, open door and high/low temperature alarms, keyed lock, high efficiency compressor, and cantilevered shelving to accommodate items of varying sizes. Optional interior drawers on full-extension glides are available, along with a stainless steel exterior and interior cabinet for added durability and improved sanitation. The tempered glass door includes LED lighting inside the pane for full visibility. ETL-S listed to NSF-7 standards and made in North America, the ACR1718RH features a right-side door swing, but is available in a left-hand version. Additional sizes also are available.
---

High-Performance Laboratory Refrigerators from Follett feature an air flow design for precise temperature control. The center-plenum air distribution system ensures temperature consistency at all levels within the cabinet, even when the 45-cubic foot medical grade refrigerator is heavily loaded with product. A proprietary 7 inch full-color touchscreen interface puts every essential feature at the user's fingertips, from data collection and alarms to an optional electronic locking system. Created to enhance data management and product protection, the user interface features data and event recording with on-screen graphing, as well as USB data export capabilities. The top-mounted modular refrigeration system increases useable storage space and simplifies maintenance by allowing critical components to be serviced without disrupting the contents and internal temperature of the refrigerator.
---

The Model PR-L2466W-PA refrigerator from PHC Corporation of North America is designed for critical storage of temperature-sensitive lab materials, vaccines, and other biological products. Offering a compact 1.62 cubic feet footprint, it is designed to prevent freezing, is Energy Star certified, and is UL471 commercially rated. Ideal for small lab storage, single lot storage, isolated storage, or quarantined product, the refrigerator offers interior temperature uniformity and quick recovery following door openings.
The refrigerator is factory preset to 5°C and designed to prevent temperatures below 2°C. Constructed with a light-weight, field-reversible door, the unit ensures protection for photo-sensitive products. Its internal temperature is displayed on a digital LCD, touchpad interface to 0.1 of a degree using real-time temperature monitoring. A microprocessor controller with adjustable high and low temperature alarms helps simplify programming and temperature monitoring.
---

BioFridge portable refrigerators from Sanguis Health are designed for transporting blood, plasma, and other temperature-sensitive biological materials safely and efficiently. After charging from a standard wall outlet, the refrigerator will operate for 18 to 24 hours, keeping products within a safe temperature range. The BioFridge can be incorporated into a Massive Transfusion Protocol to safely and efficiently move product among departments, and it can be used in the operating room or other departments where an emergency supply of blood may be required. An optional temperature monitoring system is available to monitor the temperature of refrigerated products in real time. If the temperature goes out of range, the system will provide immediate notification to help prevent product loss, communicating via the hospital's WiFi network.
---

The VIP ECO Model MDF-DU702VHA-PA -86°C ultra-low temperature freezer from PHC Corporation of North America has earned Energy Star certification and is designed for long-term preservation of high-value biologicals at safe, ultra-low temperatures. The VIP ECO uses a unique, robust refrigeration system with variable speed compressors that operate on environmentally friendly natural refrigerants. Developed to maximize energy efficiency with a documented 0.29 kWh/cubic-foot Daily Energy Consumption rating, the freezer has reserve refrigeration power to ensure fast temperature recovery following door openings as well as tolerance for extreme ambient conditions.
Available for both 115V and 220V installations, the 25.7 cubic-foot upright freezer includes a comprehensive, on-board predictive performance control system with eye-level, door-mounted LCD touchscreen display and a USB data port for documentation of all parameters. The full-function controller includes audible and visual event warnings, diagnostics, temperature and door opening history, and graphical temperature log to display temperature and door openings over time. The ergonomically designed cabinet includes a unique one-hand door latch with advanced frost prevention around the door.
---

Medical-grade refrigerators and freezers from Medline are designed to meet the specific needs of the laboratory environment with under-counter models and freestanding units available in a variety of sizes and styles. In order to properly store specimens that require cold temperatures to maintain effectiveness, medical grade equipment is necessary to meet the temperature requirements for safe product storage and to adhere to the Center for Disease Control and Prevention (CDC) guidelines. Medline's medical-grade refrigerators and freezers contain industry-important features such as accurate temperature control, digital display, constant temperature uniformity, audio and visual alarm, and lock-and-key entry.
---

Accucold's MED2 series of refrigerators and freezers are constructed to meet CDC guidelines for safe product storage. At 32 inches high, they can be used built-in or freestanding and also can fit under lower, ADA-compliant counters. The 5.5 cubic-foot refrigerator includes a front control panel with a digital thermostat and NIST calibrated temperature alarm/thermometer conveniently positioned to keep the readout on display without staff having to open the door and expose stored items to ambient temperature. Designed to operate between 2ºC and 8ºC, the unit features a front lock located near the top of the door for easy access. Additional features include a hospital-grade green dot power cord, 3/8 inch access port, adjustable shelves, and a buffered temperature probe to ensure accuracy in temperature reporting. A matching freezer is available, as well as additional options in compact and larger sizes.
Like what you've read? Please log in or create a free account to enjoy more of what www.medlabmag.com has to offer.
Current Issue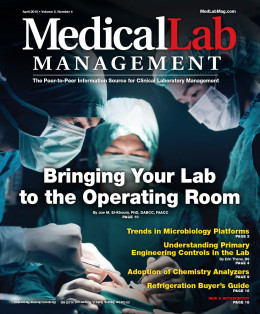 Subscribe to our Email Newsletters!
In The Loop!
Digital Edition
Special Announcements