Things Do Seem Bigger in Texas
May 2019 - Vol. 8 No. 5
- Page #2
It was a distinct pleasure seeing so many familiar faces at this year's CLMA KnowledgeLab in Grapevine, Texas. Those who arrived early may have experienced the fascinating and somewhat overwhelming world of a cheerleading convention. It was amazing to see that cast of thousands disappear overnight, leaving the convention center a much calmer locale as KnowledgeLab got underway.
This experience reminded me that you never quite know what you might encounter at a professional convention and trade show in the medical laboratory field. While it may sometimes be easier to skip a few shows in the interest of tending to internal challenges, it is always encouraging to see what can be accomplished when people meet face to face and bring their professional worlds into sharper focus. These in-person encounters gain even more value in today's digitally interactive world.
The CLMA show was the first on our slate of trade shows this year—which includes ASM Microbe, AACC, MML, AABB, and AMP, among others—and we were stimulated by the enthusiasm of those in attendance. As always, we encourage you in turn to come and talk to us at these shows. We love to engage and find out ways we can better serve the clinical laboratory community and related fields.
The staff of MLM will continue to work with thought leaders and professionally active laboratory directors and management to provide reasonable and actionable information from a peer perspective. We also invite you to browse our archive of past articles at medlabmag.com/issues to find relevant and useful information to improve your lab operations.
We hope to see you at the next professional trade show and in the meantime, drop us a note and let us know how we can better serve you.
With best regards,
David McCormick
Managing Editor

Like what you've read? Please log in or create a free account to enjoy more of what www.medlabmag.com has to offer.
Recent Popular Articles
Current Issue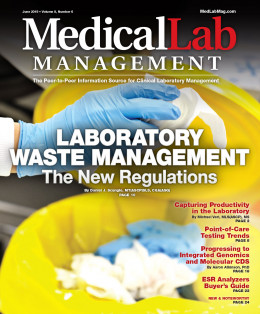 Subscribe to our Email Newsletters!
In The Loop!
Digital Edition
Special Announcements