Federal Fraud Regulations for Laboratory Outreach
May 2019 - Vol. 8 No. 5
- Page #4
Article Category:
Most clinical laboratory outreach programs follow a conservative approach regarding compliance with federal fraud and abuse regulations, particularly the Anti-Kickback Statute (AKS) and Stark Law (see SIDEBAR). Given the consequences of breaching these regulations, establishing a robust compliance program can mitigate much of the potential risk associated with outreach sales and marketing activities.
A Legal Interpretation
The Substance Use-disorder Prevention that Promotes Opioid Recovery and Treatment (SUPPORT) for Patients and Communities Act was signed into law on October 24, 2018. Among the subtitles included in the SUPPORT Act is the Eliminating Kickbacks in Recovery Act (EKRA) of 2018.1 The wide-ranging SUPPORT Act "is a combination of more than 70 bills aimed at fighting the opioid epidemic, with EKRA intended to address patient brokering in exchange for kickbacks of individuals with substance abuse disorders. However, as written, EKRA is far more expansive."2 EKRA now prohibits kickbacks related to any laboratory service paid for by a federal health care program or commercial health insurer, and specifically prohibits compensating sales and marketing personnel based on volume or value of laboratory testing generated for the laboratory.
Further to payment arrangement concerns: "with regard to payment arrangements with sales personnel, one statutory exemption provides that compensation paid to both W-2 employees and 1099 contractors would not violate EKRA if the payment is not determined by or does not vary by:
the number of individuals referred;
the number of tests or procedures performed; or,
the amount billed or received.
"By inclusion of the statutory exemption in EKRA, Congress indicates that payments to any employee or contractor related to the business they generate is prohibited unless the laboratory can meet the specific criteria under the three-prong exception (listed above)."2
This paper concludes that "EKRA would appear to permit a payment arrangement with sales personnel similar to the type that meets the criteria of the Personal Services and Management Contract safe harbor under the AKS. That safe harbor permits payments to sales personnel if the compensation is fixed in advance and not determined by the volume or value of the federal health care program (FHCP) business they generate, which means commission-based payments do not qualify since there would be a nexus between the compensation and volume or value of business they generate."2
Confusion Over Interpretation
While the SUPPORT Act's initial intent was to address the national opioid crisis, it appears as though EKRA was added onto the SUPPORT Act at the last minute and at times, appears to contradict current regulations that affect clinical laboratory outreach programs, especially with respect to sales and marketing activities and compensation. Congressman Frank Pallone, Jr, US Representative for New Jersey's 6th congressional district, expressed his concerns with EKRA in that "it did not go through regular order and was not properly vetted. In fact, it was added at the very last minute…multiple stakeholders have raised concerns that the language does not do what we think it does and may have unintended consequences."3
According to the American Bar Association in noting examples of the intersection of EKRA with the AKS and Stark Law, "perhaps the most notable area in which EKRA is currently affecting the healthcare industry relates to sales and marketing relationships that were previously governed under the AKS and are now requiring restructuring in order to comply with EKRA as well. Of these arrangements, those pertaining to laboratories are particularly relevant because of the fact that EKRA applies to all laboratories that meet its broad definition and not only toxicology laboratories that operate in the substance abuse treatment arena."4
Know Your Compensation Practices
What do these developments mean for your laboratory outreach program? Many successful laboratory outreach programs, as with any other business, use some type of sales compensation plan to attract, motivate, and retain sales professionals. These plans often compensate sales staff for achieving goals that are aligned with business goals, such as growing market share, maintaining current clients, as well increasing job satisfaction and quality performance. Under EKRA, these types of compensation plans may no longer be compliant.
Authors writing in The National Law Review this past December stated that "EKRA's prohibition is broad, and affected providers in the industry should review the statute for compliance purposes. For example, the common industry practice of paying laboratory sales reps based on the volume or value of lab tests generated for the laboratory (when the test is paid by a commercial/private payor) will now subject laboratories to heightened scrutiny and could be found to violate EKRA."5 They further state that "previously compliant payment methodologies structured under the Anti-Kickback Statute's employment safe harbor (such as paying W-2 employees a volume or value-based commission) are now at risk of violating EKRA."5
Moreover, in a recent Chi Solution's National Hospital and Health System Laboratory and Outreach Survey, only approximately 40% of respondents had an incentive compensation plan in place for their sales reps.6 Does this mean that if an outreach program does not pay its sales reps a bonus or offer an incentive plan, then the institution is off the liability hook? The answer is "perhaps not." Much of this depends on other business practices and activities in which the outreach program engages and how those activities may be interpreted under the new law.
Practices Requiring Greater Scrutiny
As outlined in a memo from the American Clinical Laboratory Association (ACLA) regarding the anti-kickback provisions of the SUPPORT Act this past November, "through the years, laboratories have developed certain practices and arrangements in reasonable reliance upon the Federal Anti-Kickback Statute that are beneficial to patients and the community alike. But given that 18 U.S.C. § 220 applies to all laboratories and all payors, some of these practices may now be considered criminal conduct."7 Potentially criminalized conduct includes:
Group Purchasing Organizations (GPOs): A laboratory pays an administrative fee to a GPO of up to 3% for recommending or arranging for the provision of the laboratory's services to the GPO's members. Under the new law as written, the fee could be interpreted as a GPO soliciting/receiving remuneration "in return for referring...patronage...to a laboratory," or interpreted as a laboratory paying remuneration "in exchange for an individual using the services of...a laboratory."7
Placement of phlebotomist in physician office: A laboratory provides a phlebotomist to a physician office to draw blood specimens being sent to that laboratory, when there is sufficient patient volume to warrant placement of a phlebotomist to service the practice's patients. The Department of Health and Human Services Office of Inspector General (OIG) has said placement of a laboratory employee would not necessarily be an inducement under the Federal Anti-Kickback Statute when the phlebotomist does not perform additional tasks that are normally the responsibility of the physician's office staff. Under the new law, providing a phlebotomist could be interpreted as the laboratory paying remuneration "in exchange for an individual using the services of...a laboratory." This practice all of a sudden may be impermissible for commercial business.7
Specimen collection: Laboratories may provide specimen collection devices to physician offices, which the OIG has said may not be deemed to be "remuneration" if used solely to transport/collect specimens (absent intent to induce referrals). There isn't an exception in the new law that would protect that practice (federal or private pay).7
Conclusion
As with other federal laws in this area, EKRA is a criminal statute that includes a "knowing and willful" intent requirement. Violators of EKRA will be subjected to a fine of up to $200,000 or imprisonment of 10 years, or both, for each occurrence. In addition, a violation of EKRA could have other collateral consequences, such as licensure sanctions, and revocation and exclusion from governmental health care programs. Therefore, if you are operating an outreach program with dedicated sales staff, it behooves you to be knowledgeable of the language of EKRA.
That said, the language used to define the scope of EKRA leaves significant ambiguities and raises many questions for those in the clinical laboratory industry. Until Congress refines/clarifies EKRA, or CMS or the Attorney General puts forth regulations or other guidance interpreting EKRA, many existing arrangements should be reevaluated with legal counsel to assess compliance under the new law. Likewise, it is recommended that EKRA be closely followed to determine the scope of its impact.
---
Disclaimer: The author is not an attorney and this article is not intended to provide legal advice. Outreach laboratory programs may want to seek internal or outside counsel familiar with EKRA and health care fraud, waste, and abuse laws to avoid potential risk of criminal liability.
---

Michael J. Hiltunen, MBA, MT(ASCP), CLC(AMT), is president of MedStar Consultants and the executive director of the GreatLakes Laboratory Network. A certified laboratory consultant, as well as a certified sales coach and trainer with over 30 years of experience working in a variety of hospital laboratory settings, Michael has held positions ranging from medical technologist to outreach client sales rep, through outreach client services manager and laboratory director. MedStar Consultants service clinical laboratories that wish to leverage outreach services to maximize revenue.
---
References
United States Congress. Substance Use–Disorder Prevention that Promotes Opioid Recovery and Treatment for Patients and Communities Act. 10/24/2018 Became Public Law No.: 115-271. Accessed 4/28/19:
www.congress.gov/bill/115th-congress/house-bill/6/text
Dunham CC. Sales and Marketing Compliance: New Federal Anti-Kickback Law May Alter How Clinical Laboratories Compensate Sales Personnel. Health Law Advisor. Epstein, Becker, Green, P.C. November 20, 2018. Accessed 4/29/2019: www.healthlawadvisor.com/2018/11/20/sales-and-marketing-compliance-new-federal-anti-kickback-law-may-alter-how-clinical-laboratories-compensate-sales-personnel/
House Committee on Energy & Commerce. Pallone Floor Remarks in Support of H.R. 6. Press Release; September 28, 2018. Accessed 4/28/19: https://energycommerce.house.gov/newsroom/press-releases/pallone-floor-remarks-in-support-of-hr-6
Benkoff RN, Wachler DT. EKRA: Enactment and Implications of the SUPPORT Act's New All-Payor Federal Antikickback Law. American Bar Association. March 20, 2019. Accessed 4/29/19: www.americanbar.org/groups/health_law/publications/aba_health_esource/2018-2019/march/ekra/
Seng LD, Castle RM, Wade RA, et al. Congress Expands Anti-Kickback Statute to Include All Payors for Laboratories, Clinical Treatment Facilities, and Recovery Homes. Nat Law Rev. December 7, 2018. Accessed 4/29/19: www.natlawreview.com/article/congress-expands-anti-kickback-statute-to-include-all-payors-laboratories-clinical
Chi Solutions, Inc. 2017 National Hospital/Health System Laboratory & Outreach Survey Findings. September 2017. Accessed 4/29/19:
www.accumen.com/resources/white-papers/2017-national-hospital-and-health-system-laboratory-and-outreach-survey-findings/
Gresko JE, Park MH. ACLA Memo Regarding Anti-Kickback provisions of the SUPPORT for Patients and Communities Act (Public Law 115-271). American Clinical Laboratory Association. November 26, 2018. Accessed 4/29/19: www.acla.com/acla-memo-regarding-anti-kickback-provisions-of-the-support-for-patients-and-communities-act-public-law-115-271/
---
The federal Anti-Kickback Statute is a health care fraud and abuse statute that prohibits the exchange of remuneration—which the statute defines broadly as anything of value—for referrals for services that are payable by a federal program, which, in the context of healthcare providers, is Medicare. Anti-Kickback violations also usually constitute violations of the False Claims Act, meaning that Anti-Kickback investigations can likewise result in fraud liability. However, there are far more criminal prosecutions of individual physicians under the Anti-Kickback Statute than the False Claims Act.*
* https://barrettsingal.com/services/the-anti-kickback-statute
** https://barrettsingal.com/services/the-stark-law
---
FOR MORE INFO ON
Laboratory Outreach and Legal Issues
Like what you've read? Please log in or create a free account to enjoy more of what www.medlabmag.com has to offer.
Recent Popular Articles
Current Issue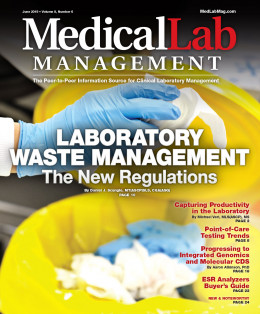 Subscribe to our Email Newsletters!
In The Loop!
Digital Edition
Special Announcements