Buyer's Guide: Mobile Blood Analyzers
May 2019 - Vol. 8 No. 5
- Page #14
Article Category:

The epoc Blood Analysis System from Siemens Healthineers is a handheld, wireless solution that enables comprehensive blood analysis testing at the patient's side on a single, room-temperature test card. Providing results in less than one minute, the epoc system can accelerate clinical decision making with customized critical ranges and fast, wireless transmission of patient results, which are easily integrated into any laboratory information system. To streamline patient testing workflow, the full-panel test card offers 13 analytes and automatic calibration prior to analysis. Further, an integrated bar code reader provides easy identification of patient and operator IDs. The full menu includes pH, partial pressure of oxygen, partial pressure of carbon dioxide, sodium, potassium, ionized calcium, hematocrit, glucose, lactate, creatinine, chloride, BUN, and TCO2. Only 92 microliters of blood are required for the full panel of tests.
---
The ABL90 FLEX PLUS from Radiometer America is a mid- to high-volume cassette-based analyzer for all point-of-care respiratory and laboratory needs. The ABL90 measures BG, electrolytes, metabolites, and co-oximetry parameters on 65 microliters of whole blood including a one-point calibration in 35 seconds. Able to accept syringe, capillary, and test tube samples, the system's rolling stand makes it mobile, and it can fit in all POC testing areas. Featuring a comprehensive quality assurance system called Automatic Quality Management (AQM), continuous system checks are performed, as well as one-point calibrations before and after every sample, independent QC fluids, automatic verification check on the solution pack, automatic corrective actions, and an automatic and thorough clot removal system. An optional battery enables running patient samples detached from the power grid for up to one hour.
---

The CoaguChek Vantus from Roche is a self-testing device for coagulation monitoring. With built-in Bluetooth technology, patients can use an app on their tablet or smartphone to send results automatically via wireless connectivity, enabling health care providers to receive patient INR results rapidly and accurately, while also reducing visits to the lab. Health care providers benefit from reliable results that are sent directly from the patient's meter to their office and a service provider, such as CoaguChek Patient Services, who manage patient training and result reporting. Self-testing can enable patients to test more conveniently, which may improve their time in the target INR range set by their doctor as compared to in-office or in-lab testing. In addition, patients who can self test have the tools and flexibility to be more engaged in their therapy, ultimately promoting better compliance. The CoaguChek Vantus system includes medication and testing reminders, the ability to flag results in relation to the target range, and the option to insert comments to the result. The device enables patients to conveniently monitor INR results with an intuitive user-interface, while enabling flexible remote connectivity to their health care providers.
---

The miniiSED from Alcor Scientific is the newest addition to the iSED family of erythrocyte sedimentation rate (ESR) analyzers. Its measurement of ESR is fast, accurate, and unaffected by many variables associated with traditional methodologies, such as hematocrit. This single position, fully automated ESR analyzer works directly from primary EDTA tubes or BD Microtainer MAP Microtubes, requires just 100 microliters of sample, is equipped with an internal bar code reader, and produces a result in less than 15 seconds. Made in the United States, its small footprint combined with an advanced design and rapid time to result makes it an ideal solution to ESR testing for small laboratories, POLs, and emergency clinics.
Like what you've read? Please log in or create a free account to enjoy more of what www.medlabmag.com has to offer.
Recent Popular Articles
Current Issue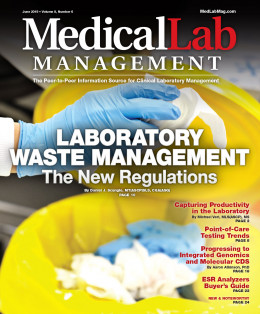 Subscribe to our Email Newsletters!
In The Loop!
Digital Edition
Special Announcements