Help Prevent Quality Losses
May 2019 - Vol. 8 No. 5
- Page #16
Article Category:

Q&A with Claude G. Sawney, MS, MLS(ASCP)
Quality Manager
Sonic Reference Laboratory
Austin, Texas
Medical Lab Management: How important is it to quantitatively and qualitatively measure incurred or prevented losses due to poor quality in the clinical laboratory?
Claude Sawney: I think that laboratories must first understand the fundamental elements of Cost of Quality and Cost of Poor Quality. When these concepts have been ingrained in the culture, understanding the importance of applying metrics to measure them becomes easier. Simply put, you must first understand the what before the why. Determining and measuring the cost of quality allows a facility to then establish where and how its resources are being used to prevent poor quality; this ends as a combination of prevention and appraisal (good cost of quality) and internal and external failure (cost of poor quality).
Furthermore, the economic landscape of clinical laboratory reimbursement is changing quickly and laboratories must continue to find ways to conserve resources while maintaining a competitive advantage. Applying metrics to measure cost of poor quality will help identify and reduce waste, among other efficiencies. Additionally, quantitating these loses can help the laboratory identify areas for process improvement opportunities, which will, in turn, have beneficial impact on patient care. Engaging continuous improvement initiatives head on and associating them with cost will demonstrate that overall quality is improving in your laboratory.
As a quality professional, it is important to show the value of your quality program by demonstrating improvements through cost avoidance. I see this as a way of showing how quality contributes to the net profit/bottom line of the business.
MLM: What are the basic parameters that clinical laboratories should consider when establishing a program to monitor and track poor quality or non-conforming events?
Sawney: In order to establish proper and effective non-conforming event (NCE) management, tracking and detailing non-conforming events must be part of the laboratory's overall quality management system (QMS). This may be daunting at first, but compiling and analyzing a list of the most common NCEs in your lab, and tracking them through from initiation to discovery, is essential. Once identified, it is good practice to segregate NCEs into internal failure cost (ie, cost to remedy defects before leaving the lab) and external failure cost (ie, cost incurred to remedy defects discovered by the customer). Start with hard costs, which are easier to calculate, and as the program matures, include the evaluation of soft costs, which essentially are estimates of failures that are difficult to apply a dollar value to.
When assessing soft costs, it may be easiest to begin with high-risk or high-frequency events, such as mislabeled specimens, corrected reports, or sample repeats, as likely you can work with your accounting department to figure out hourly rates, cost per test, or direct labor or direct reagent cost. Likewise, work with lab staff and management to determine total time spent per event, the data of which can be used to calculate the cost of poor quality by event or total time spent.
It also is important to normalize the data and give cost of poor quality a denominator. Examples may include factoring cost of poor quality as a percent of net revenue (a personal favorite), or 10,000 accessions or billable tests. In this case, you are not just looking at a fixed, isolated dollar amount, but rather, you are given context to the dollar value in terms of a standard unit.
MLM: What commercial options are available to help labs managing non-conforming events and how can these systems be best incorporated into the lab?
Sawney: Many laboratory compliance modules now incorporate NCE management into their systems. As more laboratories move toward compliance with ISO 15189 Medical Laboratories—Requirements for quality and competence,1 the benefits of utilizing such modules are becoming clear. At Sonic Reference Laboratory, we make great use of our non-conformance module and an additional module that calculates CoPQ.
To successfully integrate these modules into laboratory workflow, they must be able to categorize NCEs based on risk and priority, have ample report building capabilities, electronically send notifications about non-conformities, and assign corrective and preventative actions (and notify when they are due). To ensure that these actions are integrated properly, lab management should assign a superuser/champion and be willing to properly train their employees on the importance of documenting NCEs and how to effectively use the system.
MLM: What tips or advice would you give a lab that is just beginning to track its NCEs and cost of poor quality?
Sawney: I believe the most important catalyst for a successful quality program is management buy in. Work with the executive team and operations managers to demonstrate the value and benefits of tracking cost (both for quality measures and poor quality/NCE management). With support from the top, the second step is actively building a culture in which staff members know the importance of documenting NCEs, and do so without fear of undue reprisal. The ability to collect true data and realistically calculate the cost of poor quality depends on conscientious and detailed event reporting.
It may be easier for some to begin tracking events using a readily available outlet such as Excel templates and then transition to a software package once parameters have been established. As you collect data, share it with the management team in monthly or quarterly meetings using graphical displays of gains or losses, but do not over engineer; visual simplicity is often key to demonstrating program effectiveness.
At the start, tackle a project that you can secure quickly to show what immediate impact the value of tracking cost of poor quality can have. There are numerous resources available to research the management of poor quality and NCEs in clinical laboratories, including the aforementioned ISO 15189, the Clinical and Laboratory Standards Institute's (CLSI) QMS20-R:2014 Understanding the Cost of Quality in the Laboratory,2 and past articles from MedicalLab Management (see list below).
While establishing a system to comprehensively track and analyze quality initiatives in the lab may seem overly challenging at first, it is more than possible, and the benefits are extensive. Understanding and applying concepts such as the cost of poor quality are excellent initiatives that all clinical laboratories should embrace.
---
References
International Organization for Standardization. ISO 15189:2012 Medical laboratories—Requirements for quality and competence. Accessed 4.29.19. www.iso.org/standard/56115.html
Clinical and Laboratory Standards Institute. QMS20-R Understanding the cost of quality in the laboratory; a report. Accessed 4.29.19. https://clsi.org/standards/products/quality-management-systems/documents/qms20
---
Claude G. Sawney, MS, MLS(ASCP), is the quality manager at Sonic Reference Laboratory in Austin, Texas. He received his BS in clinical laboratory science from Midwestern State University and his MS from Tarleton State University. Claude has Six Sigma certification from the University of Michigan and been involved in many continuous improvement projects throughout his career. He is passionate about laboratory efficiency, continuous improvement, developing meaningful quality benchmarks, establishing Cost of Poor Quality systems, and patient safety advocacy.
---
FOR MORE INFO ON
QUALITY CONTROL
Tips for a Successful Cost of Poor Quality Initiative
By Jennifer Dawson, MHA, DLM(ASCP)SLS, FACHE, CPHQ, LSSBB QIHC, QLC; Christina Nickel, MHA, MLS(ASCP)CM, CPHQ
medlabmag.com/PQI
The Confusion About Quality
Jennifer Dawson, MHA, DLM(ASCP)SLS, FACHE, CPHQ, LSSBB QIHC, QLC; May Oo, BS, LSSGB
medlabmag.com/Quality
What's Your CoPQ? Quantifying the Value of Laboratory Quality
Jennifer Dawson, MHA, DLM(ASCP)SLS, FACHE, CPHQ, LSSBB QIHC, QLC
medlabmag.com/COPQ
Like what you've read? Please log in or create a free account to enjoy more of what www.medlabmag.com has to offer.
Recent Popular Articles
Current Issue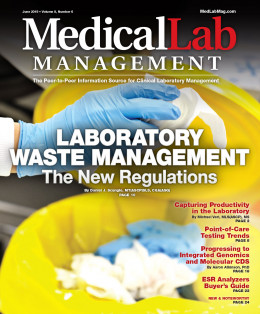 Subscribe to our Email Newsletters!
In The Loop!
Digital Edition
Special Announcements