Frequently Asked Questions
Following are some frequently asked questions about MedicalLab Management (MLM) magazine.
Q. How many times a year is MLM published?
A. MLM is published ten times a year.
Q. How is MLM different from other publications for clinical lab managers?
The differences abound! First and foremost, MLM's focus is on delivering valuable content in a meaningful way. MLM provides clinical laboratory managers and directors with unbiased articles written by peers; practical, actionable, real-world examples; purchasing research; decision-making processes; and new products in the marketplace.
Q. Who reads MLM? And how can I get a subscription?
A. Our readership comprises a host of clinical lab decision-makers, including:
More than 5,000 lab directors
More than 15,000 additional lab professionals
To join our readership of more than 20,000 clinical lab professionals nationwide,
click here for your free subscription!
Email all other subscription queries to Donna Weinstock, .
Q. Where should I send my company's press releases?
A. Email your press releases, along with a high-resolution product image or corporate logo, to Ali Cook at .
Q. Where can I find an editorial calendar for MLM?
Contact David McCormick at .
Q. Where can I send a comment about a recent editorial feature?
A. Contact our editor, Deanne Halvorsen, at , or our publisher, R. Mitchell Halvorsen, at .
Q. Where can I find a media kit and/or more information on advertising with MLM?
A. Contact Kimberly Towey at .
Q. What are your materials specifications for print advertisements?
A. Contact Donna Weinstock at .
Current Issue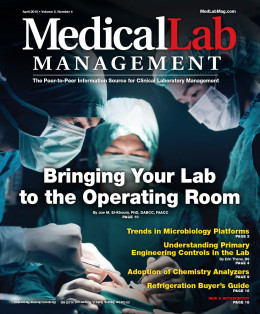 Subscribe to our Email Newsletters!
In The Loop!
Digital Edition
Special Announcements