March 2019
Rapamycin, Tacrolimus, and Cyclosporine A Control
By: More Diagnostics
The Rap/Tac/CsA Control from More Diagnostics is intended as a diagnostic control to check calibration in clinical laboratory chemistry analyzers by providing three concentrations of rapamycin, tacrolimus, and cyclosporine, which can be run side by side with the patient sample through all assay phases. The value sheet contains expected recovery ranges for the analytes in the control for use on many laboratory chemistry analyzers and by LC-MS/MS testing. The product has a shelf life of four years when stored at less than -14°C and 45 days when stored at 2°-8°C. The control is manufactured using a whole blood matrix to which rapamycin (sirolimus), tacrolimus, and cyclosporine have been added to appropriate levels. No reconstitution is necessary, as the control is in a frozen form.
More Diagnostics
Recent Popular Articles
Current Issue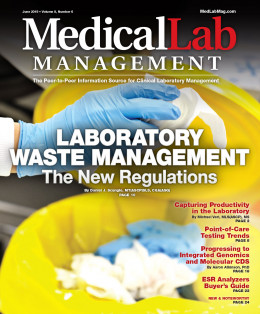 Subscribe to our Email Newsletters!
In The Loop!
Digital Edition
Special Announcements