April 2019
Therapeutic Drug Monitoring Antibodies
By: Bio-Rad Laboratories, Inc
Bio-Rad Laboratories has launched a range of recombinant monoclonal anti-idiotypic antibodies that inhibit the binding of the drug eculizumab (Soliris) to its target, complement C5 protein, and therefore detect free drug for use in drug-level monitoring assays. This new range comprises four inhibitory antibodies that are highly specific for the humanized IgG2/4 kappa monoclonal antibody drug, eculizumab, a biotherapeutic used to treat paroxysmal nocturnal hemoglobinuria and atypical hemolytic uremic syndrome. The anti-eculizumab inhibitory antibodies can be used to quantify the level of eculizumab in patient samples. An antibody pair is ideal for the development of a pharmacokinetic bridging ELISA, and three antibodies of high, medium, and low affinity are suitable as a positive control or calibrator in an anti-drug antibody assay.
Bio-Rad Laboratories, Inc
Current Issue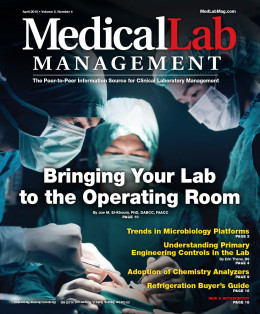 Subscribe to our Email Newsletters!
In The Loop!
Digital Edition
Special Announcements