April 2019
Lab Monitoring Kit
By: Monnit Corporation
Monnit Corporation's Lab Monitoring Kit brings remote monitoring to labs, allowing users to be informed and in control. Consisting of two wireless ALTA sensors, an Ethernet wireless gateway, and software, the kit can be set up in less than 15 minutes for tracking cold-storage temperatures and other mission-critical concerns. The software provides online monitoring and issues alerts via text, email, or a voice call, based on the user's preference.
Monnit offers three battery types and users can select from three temperature ranges: low (-200°C to 162°C), standard (-40°C to 125°C), and high (-50°C to 370°C). All ALTA sensors have a wireless range of over 1200 feet non-line of sight and reaching through walls, and feature onboard data memory for up to 512 readings per sensor. The sensor system provides data protection via Monnit's security technology and a battery life of up to 12 years. The kit is made in the United States and includes customer support.
Monnit Corporation
Current Issue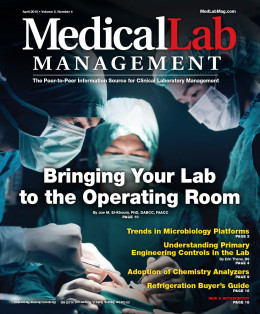 Subscribe to our Email Newsletters!
In The Loop!
Digital Edition
Special Announcements