Adding Tests to the Laboratory Service Menu
November-December 2013 - Vol. 2 No. 6
- Page #6
Article Category:
Several considerations influence the decision to add new testing services to a hospital laboratory's formulary. For Virtua Health—a community hospital system in Southern New Jersey that receives no grants or research funding to support testing needs—the primary factors we consider include current test utilization, cost of performing the proposed testing, customer need given the population we serve, and other diagnostic tools that may already be available to the caregiver (eg, adding serum markers that may be used in conjunction with a biopsy for diagnosis). Technical and logistical factors also must be considered including the acquisition of additional technology to perform the testing and whether that equipment should be leased or purchased. Likewise, it is necessary to determine appropriate staffing volumes with the requisite expertise to support the complexity of the testing and address training and competency needs.

Given that the laboratory provides services to numerous disciplines, often the decision to add testing may be driven by an outside department's need or an administrative directive, such as a request for a faster turnaround time (TAT) for a test currently outsourced. Perhaps newly available technologies have made certain testing medically or economically feasible to bring in house. An interdisciplinary group must review all of these elements before the final decision is made.

In-house vs Outsourced Testing
An essential part of the decision to add new testing is determining the soundness of conducting a medically advantageous testing process in house as opposed to outsourcing. Looking at the two processes in general, in-house testing often allows for better TAT from receipt of specimen in the lab to delivery of results to the provider. From a customer-service perspective, this is often the number one concern for the majority of testing performed. Furthermore, cost per test can be much lower for in-house testing when supported by an adequate volume, assuming the costs of QC, proficiency testing, and materials.

From the other view, outsourced testing is often supported by the quality and availability of advanced technology and technical staff specialization. In this regard, it may be more convenient to send a specimen to a large reference laboratory with access to more sophisticated instrumentation, techniques, and specialties as opposed to investing significant amounts of time and money to develop and maintain this same testing in house. Another benefit of outsourced testing is that reference laboratories tend to perform testing on a continuous basis with less batching. Therefore, these types of laboratories may be able to offer a faster TAT for esoteric testing than what could be achieved in house, even with similar technology. Ultimately, the governing metric is volume. If there is a significant increase in need for a specific kind of test, then the cost/benefit ratio changes. At Virtua Health, we use our current reference lab testing volumes as a trigger to decide when the volume of outsourced testing demands further consideration for bringing that testing in house, supported by TAT and cost-per-test analysis.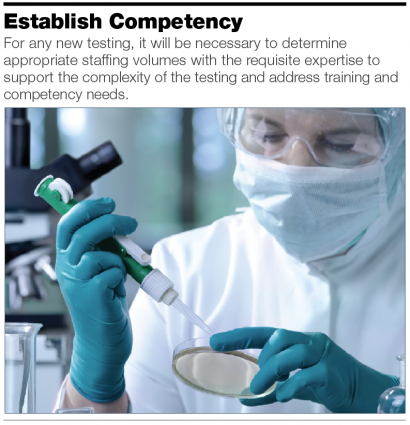 New Trends in Testing Adoption
Testing for infectious disease detection has seen considerable growth in recent years, particularly for multi-drug resistant organisms such as MRSA and C. Difficile, given their increasing incidence in that same time frame. In addition, attention to these disease states has been heightened by regulatory emphasis on hospital infection-rate core measures and changes to Medicare reimbursement. To help manage this increase in demand, many organizations are moving infectious disease testing out of Microbiology and into its own testing area in the molecular laboratory to improve testing specificity and TAT.

In addition, vitamin D testing is also on the rise, as recent studies have linked low levels of vitamin D to many disease states. As the demand for vitamin D testing has grown steadily over the past several years, it made sense for us to bring this testing in house to improve TAT and reduce costs associated with outsourcing.

Reasons for Not Adding Testing
The primary reasons for not adding a new test are usually cost related. Beyond this, the unavailability of technology, extraneous staffing needs, and lack of test utilization can further invalidate the addition of new testing. Our health system uses a self-defined tipping point of 100 test orders a year for a particular test. Should the request volume exceed 100 orders in a given year, we begin the process of determining whether the testing platform should be brought in house. However, if during this process it is revealed that it would still be cheaper to outsource the testing—ie, the new testing would require the purchase of a new analyzer or additional staff—we generally continue using a reference lab for those tests.

The factors used to determine whether to add new testing (or whether to defer) should be debated by a select group of hospital practitioners, including relevant laboratory medical directors, representatives from any medical specialties that would be affected by the addition or deferral of testing, infection control practitioners, financial advisors, and purchasing personnel. These core staff members need to bring their respective expertise to bear in order to determine a testing platform's worthiness. In addition to test volume, physician request is another trigger for the review of adding new testing. Our laboratory medical directors meet monthly with our physicians to discuss their needs and desires, as well as any other concerns about laboratory services.

Post-adoption Processes
Once the decision is made to move forward with adding a new test platform to laboratory services, there are several procedural operations that must be addressed. Naturally, the first step is to properly educate lab staff on how the new testing will impact workflow. This should include the basic tenets of staff training, policy and procedure (P&P) creation and review, and then competency training and testing. Ongoing proficiency testing also must be addressed using materials associated with the specific new testing, and relevant staff should complete a strong, six-step competency assessment program. These six steps are the commonly accepted actions that define a competency model for lab testing (see FIGURE 1). For example, we are in the process of implementing a new analyzer to perform platelet function testing. To address this new testing, our competency program includes specimen collection, observation of staff demonstrating proper use of the analyzer for patient testing, performance of all required maintenance and QC, demonstrating the ability to read and interpret instrument printouts, and discussions of how to handle testing when results appear inappropriate.

Once proper training, P&Ps, and competency assessments have been established, the question of ongoing test interpretation comes to the forefront. In order to maintain the testing protocol going forward, validation of reference ranges (complete validation studies) is a necessary step for all testing in the lab. Likewise, from the caregiver's perspective, the lab must notify all medical staff of interpretation protocols. This most commonly includes the addition of specific, interpretative statements to all test reports coming out of the lab. Lastly, the new testing must come under the purview of the management structure beginning with the technical department managers and involving guidance from the laboratory medical director and any appropriate senior lab leadership.

Influence of Kit Testing
When a new testing kit is introduced, we usually hear about this from the kit vendor or read about it in a laboratory publication or online. The process of monitoring and reviewing the utilization of tests that are being converted into a kit depends on a few factors. For one thing, kit testing tends to be expensive from a cost-per-test perspective, so if the lab is currently performing kit testing and a more automated (and potentially less expensive) methodology becomes available, we will consider switching to the automated technology.

To this end, laboratories should always perform thorough due diligence when considering new kit testing (as would be done for all new testing). A kit should not automatically be adopted without taking into account all factors. Although kit testing is generally more expensive on a cost-per-test basis, it also often provides other benefits, such as quick TAT and an easy testing methodology. Therefore, it is necessary to consider all the tangential factors that go into the entire testing process before deciding between kit and non-kit testing.

Other Mitigating Factors
In addition to the basic decision factors of cost, TAT, and acceptable volume that determine the value of adding new testing, other influences include necessary quality control (QC) activities, proficiency testing, calibration and linearity materials, consumables, and waste. Since QC and proficiency testing are mandated per regulatory guidelines, the issue is not so much how they will be included, but rather how they will affect the final, cumulative cost-per-test once all factors are accounted for. Therefore, it is valuable to look at this process through a basic return-on-investment (ROI) analysis (see FIGURE 2).

There are several types of waste to consider when looking at new testing platforms. Biohazardous waste is always an important factor to account for, including how it will be handled and disposed of. In order to mitigate any potential financial waste, we aim to negotiate with our vendors to purchase on a cost-per-reportable scale as opposed to a reagent rental agreement to avoid losing money if a reagent must be discarded.

Conclusion
As with any new introduction in the healthcare setting, it is important to look at the impact of new testing services both on direct end users, as well as the ramifications on the facility as a whole. In some cases, the benefits of a new technology, workflow, or testing introduction in the lab manifest primarily outside the lab. Furthermore, some types of new testing will not generate revenue directly for the lab or necessarily improve workflow or employee satisfaction. Ideally, overall clinical benefit should drive the decision of whether to adopt new testing, so the lab may be obliged to take on new testing if it relieves costs or improves operations in other areas of the hospital. For example, testing for influenza or C. Diff is usually expensive for the lab, but doing so helps relieve costs related to unnecessary patient isolation, extended length of stay, and other expensive clinical care activities.

The lab should make every effort to improve both its own operations and those of the hospital as a whole, as it is in a unique position to do so. Because so many other hospital disciplines rely on laboratory activities, operational improvement discussions should always include the question of what can be done in the lab to avoid costs elsewhere. Concepts such as new infectious disease testing can help save money through proactive care and the adoption of any type of esoteric testing may help with outreach opportunities. Ultimately, thoroughly vetting and adopting new testing remains an important aspect of continual process improvement in healthcare.
---

Karen Walsh, MS, MT(ASCP), CPHQ, CLSSMBB, serves as the Virtua corporate laboratory quality director as well as a certified Lean Six Sigma Master Black Belt for the organization. With a focus on continuous process improvement, she has lead numerous Six Sigma projects including a recent project on the effects of CPOE on managing unfulfilled test orders. With over 30 years in the laboratory profession, Karen currently has oversight of all laboratory regulatory and accreditation activities in addition to directing the Virtua system-wide multi-hospital laboratory quality program.

Brad Heath, BS, MT(ASCP), is chemistry technical supervisor for the Virtua laboratory system where he has worked for over 24 years. He has oversight of all special chemistry testing and provides technical guidance to five chemistry laboratories.
---
FIGURE 1
Competency Assessment
According to CLIA regulations, all phases of testing should be reflected in the laboratory's competency assessment program. CMS guidance defines competency as the ability of personnel to apply their skills, knowledge, and experience to perform their duties correctly. CLIA regulations break down competency assessment for performing testing into the following six areas, each of which are required before testing can begin, then semi-annually the first year, and annually thereafter:
Direct observations of routine patient test performance, including patient preparation, if applicable, specimen handling, processing, and testing
Monitoring the recording and reporting of test results
Review of intermediate test results or worksheets, quality control records, proficiency testing results, and preventive maintenance records
Direct observation of performance of instrument maintenance and function checks
Assessment of test performance through testing previously analyzed specimens, internal blind testing samples, or external proficiency testing samples
Assessment of problem-solving skills as appropriate
---
FIGURE 2
Gauging Return on Investment
When conducting an ROI analysis for the implementation of new testing, a fully loaded cost analysis will include the following:
Projected volume
Proficiency testing costs
QC consumables
Interface and IT needs
Maintenance contracts
Staff training and competency
Labor costs
Reagent costs (if applicable)
Instrumentation costs (if purchasing new equipment)
Like what you've read? Please log in or create a free account to enjoy more of what www.medlabmag.com has to offer.
Current Issue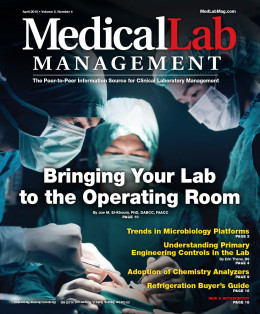 Subscribe to our Email Newsletters!
In The Loop!
Digital Edition
Special Announcements