The Building Blocks of Laboratory Outreach
January-February 2017 - Vol. 6 No. 1
- Page #6
Article Category:
In any activity there are fundamental aspects that must be in place in order to be perpetually successful. Certain actions undertaken by clinical laboratories—pointedly, laboratory outreach—require a dynamic view and approach to these fundamentals. Laboratory outreach is not a new concept; rather, it has proven to be a crucial endeavor for the majority of community-based laboratories in the US for over 40 years. Given this rich history, a set of laboratory outreach fundamentals or building blocks can be delineated; these elements are necessary to ensure the sustained success of a robust outreach program. Although clinical laboratory practice has adapted to significant industry changes, outreach fundamentals have tended to remain constant. From the initiation of a test order to the receipt of result, to payment, current processes range from rudimentary to sophisticated, yet at the core, the end goals are the same. That said, the most highly differentiated and successful programs are those that are able to build upon the fundamentals, play to their unique strengths, add nuances, and leverage their competitive advantage in a busy marketplace.
Success Starts with Leadership
Significant support from facility leadership is key to the success of any outreach initiative. Leadership sets the tone for engaging with the community and is the best source for acquiring necessary resources to support the program. In a health care environment that is driving toward increased integration, aligning laboratory services with organizational initiatives is increasingly important. With this in mind, outreach should be considered the business that it is, and leadership should be approached with a robust and well-written business plan. An effective business plan does not need to be overly lengthy, but it should be presented in a format that leadership is familiar with, preferably using a standard, organization-wide template. If a plan already exists, it is necessary to update it frequently in order to ensure relevance, and to demonstrate progress from prior efforts. Whether immature or advanced, ongoing administrative support for the outreach program is mandatory.
Identify Opportunity
Nearly every hospital laboratory works with some degree of excess capacity. In the hospital environment, there are peaks in workload as dictated by the needs of inpatients, outpatients, and emergency department patients. Specimen arrival patterns for traditional hospital inpatient and outpatient testing tend to follow a routine pattern, which leaves the laboratory with predictable times of low productivity (excess capacity). To better balance the shifts between low and high productivity, more hospital labs are utilizing technological advances, such as automated processing lines and results auto-verification, to reduce the need for hands-on technologist effort, and freeing staff to perform other duties. Likewise, equipment manufacturers continually expand test menus for existing analyzers and effect technological updates that allow more complex tests to be performed within a community laboratory setting. This confluence of capitalizing on known downtime and leveraging greater testing scope and capacity can be focused directly on outreach activities.
Although excess analytic capacity tends to exist on every shift, most outreach programs utilize the evening shift to perform testing that originates within local physician offices. That said, most community-based hospital laboratories have the ability to offer same-day turnaround times to outreach clients. In some cases, an outreach customer physician may receive a test result from a community hospital laboratory before the same specimen would even arrive at a large independent laboratory. These advantages must be pressed in the community hospital setting to remain competitive.
In addition to identifying opportunity in type and scope, the facility must look to expand its view of potential clients. Traditional outreach program customers include physician offices, long-term care facilities, and smaller hospitals nearby. Less traditional outreach customers include veterinary offices, industry health screening, and community health fairs. Further, a new outreach customer is emerging in states where Direct Access Testing is permitted, as patients are able to order their own laboratory tests.
Ultimately, the ability to clearly estimate opportunity begins with an understanding of workload capacity and its alignment with customer needs within a specific target market segment. Given regional differences in physicians' use of laboratory testing, an opportunity estimate can be made by identifying current ordering trends among local providers and extrapolating accordingly. In an existing outreach program the LIS may be able to identify test orders per physician or facility, and by using local data as a benchmark, it is possible to predict outreach volumes and market opportunity. Do not be afraid to talk to trusted providers about their laboratory outreach testing needs, as their feedback is valuable to enhancing existing services.
Establish Outreach Building Blocks
All outreach begins by creating awareness in the local health care community that the hospital laboratory can provide valuable services, and this requires a concerted effort directed toward establishing and maintaining relationships with providers. Depending upon organizational affiliations and alignment, this may require a sales focus, but regardless, local providers must be informed that the laboratory outreach program exists and is seeking to serve the needs of the physician practice and its patients. To this end, marketing and communication tools are necessary to inform providers on the scope of services available. Effective use of the organization or outreach program brand will help to create a professional image and the laboratory must have a current and comprehensive directory of services, including test menu and expected turnaround times. For provider and patient convenience, publish Patient Service Center locations and hours on the facility website and any promotional materials. Given the potential for and prevalence of program updates and changes, many outreach programs build comprehensive websites to host relevant and current information.
Outside of creating and sustaining community awareness of the program, the following is a simplified version of laboratory outreach workflow:
Test Order >> Collect and Transport Specimen >> Perform and Report Test >> Bill and Collect
Each of these steps entail numerous functions, which comprise the infrastructure for a successful la outreach program.
Test Ordering
Order entry and receipt mechanisms are either manual or electronically integrated in a range of sophistication. This range includes everything from hand-written orders on a prescription pad, to dedicated hard-copy requisition forms, to Web-based portals, interfaced electronic health record systems (EHR), and enterprise-wide integrated systems that encompass the continuum of care. At a basic level, manual systems tend to be inexpensive, but are resource-intense and prone to multiple error points. Conversely, automated systems tend to be more expensive, yet offer more dynamic functions, generate fewer errors, and are more efficient for staff.
Specimen Collection and Transportation
Specimen collection for outreach clients can occur at the physician's office, a patient service center, or in a long-term care facility or patient home. Often, the patient's opinion is influenced by wait times and interaction with staff, and the lab is an extension of those services. As patients adopt a consumer mentality, the laboratory must be able to offer convenience and personalized service. Busy patients may prefer very early or late hours of availability or may ask to schedule an appointment in order to avoid a lengthy wait, and lab outreach must be able to accommodate these preferences.
Depending on the physical scope of the program, specimens may be transported across long distances. Regardless of distance, specimens must be safely contained in a temperature-controlled environment, and transported in accordance with applicable regulations. For all courier staff, it is important to perform annual training to ensure competency in handling potentially sensitive or dangerous materials. Laboratory outreach programs use a variety of logistic solutions, including laboratory-employed couriers, outsourced courier companies, a corporate courier, or a combination of these. The most effective outreach programs employ couriers with established customer relationships and who provide reliable service. Tracking systems introduce accountability into the logistics process by logging courier activities including pickup and delivery times at client sites, and many have the capability to also track specific specimens. Tracking data allows for more effective management of the outreach courier activity.
Establish Test Workflow
Performing the actual testing on outreach samples is the least complicated aspect of the relationship. Once outreach client specimens are received in the laboratory, they must enter an efficient workflow that is well integrated into the routine workflow. Pre-analytic registration and order entry, labeling, and processing may require different actions than inpatient specimens; thus, it is important to create a separate process for outreach specimens, staffed with individuals proficient in the use of all necessary systems.
Another internal laboratory function that requires specific focus is telephone-based customer support. Customer service is key to an outreach program's ongoing success, and the laboratory must be able to field telephone calls in a customer-focused manner. Providing dedicated staff trained in telephone call customer service will ensure a higher level of customer satisfaction. Performing the actual testing on outreach samples is the least complicated aspect of the relationship.
Ensure Proper Reporting
As with inpatient testing, the outreach client service cycle is complete when the ordered test results are relayed to the client. Similar to test ordering, test reporting mechanisms range from rudimentary and manual to highly automated. Since the majority of providers now employ EHR systems in their offices, electronic laboratory test reporting has become an expectation. Given the complexity and scope of managing multiple interfaces, the hospital laboratory outreach program is often challenged to meet customer needs, and many programs invest in middleware systems that enable a more efficient interface process. When a health system is fully integrated with its providers via an enterprise-wide EHR, test results automatically flow from the laboratory to the patient medical records.
Mind the Money
Ultimately, the laboratory outreach program is a business operating within the hospital; thus, it is essential that business strategies be applied to the entire program. These strategies include issuing clean claims to payors and collecting all revenue that is due to the laboratory. Laboratory outreach billing is unlike other hospital billing functions, and is often not given priority beyond the laboratory department itself. To facilitate effective outreach billing and collection processes, many programs use an external billing company or purchase dedicated outreach billing software and manage their own billing processes. Regardless of the mechanism used to bill and collect, it is important to accurately account for outreach net revenue so that the laboratory can demonstrate the financial contribution of the program.
Conclusion
A successful laboratory outreach program cannot begin and grow, nor thrive without adequate support from facility administration. In order to continue to maintain support for this strategic initiative, organizational leadership requires continual communication from the laboratory regarding the status—and success—of the outreach program. The laboratory must routinely monitor (and report) financial and key performance indicators, and demonstrate outreach value and impact to the organization. Every outreach program must be built upon this set of building blocks, and the program that expands upon the fundamentals, exceeds customer expectations, and continually demonstrates its value to its organization will be the one that realizes a higher level of success.
---

Jane M. Hermansen, MBA, MT(ASCP), is network manager at Mayo Clinic Medical Laboratories in Rochester, Minnesota. She received a BA in medical technology from Concordia College in Moorhead, Minnesota, and an MBA from the New York Institute of Technology. Jane's 25+ years of clinical laboratory experience spans clinical research; process engineering; project management; and laboratory outreach consulting, training, and facilitation.
Like what you've read? Please log in or create a free account to enjoy more of what www.medlabmag.com has to offer.
Current Issue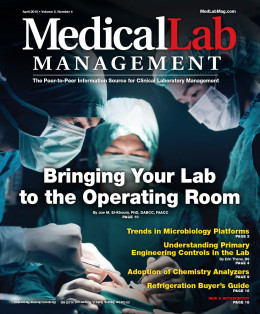 Subscribe to our Email Newsletters!
In The Loop!
Digital Edition
Special Announcements