Tips for Hematology Test Utilization
June 2017 - Vol. 6 No. 5
- Page #10
Article Category:
Today's clinical hematology laboratory offers a large array of blood product tests contributing to a full service laboratory profile that also includes chemistry, immunology, microbiology, molecular diagnostics, and immunohematology tests. These practice areas comprise more than 4000 different laboratory tests for clinical use, of which, approximately 500 are ordered on a daily basis. An estimated 7 to 10 billion laboratory tests are performed each year in the United States.
Accordingly, test utilization is an ongoing and essential aspect of clinical stewardship. The hematology lab benefits greatly from advanced diagnostic automation, but as with any specialization in the lab, measures must be taken to maximize the utility of laboratory staff and analyzers.
To read the full article, please log in or register.
Current Issue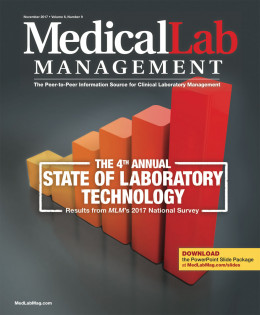 Subscribe to our Email Newsletters!
In The Loop!
Digital Edition
Special Announcements