Study Results: Effect of Burnout on Clinical Lab Turnover Intention
June 2017 - Vol. 6 No. 5
- Page #14
Background
Despite the vital role clinical laboratory practice plays in patient care, the field is experiencing a shortage of qualified professionals. Many laboratories are experiencing an increase in voluntary staff turnover (ie, when employees choose to leave versus being asked to leave), yet research on factors affecting the turnover intentions of clinical laboratory employees is limited. The study described herein aims to examine the effect of burnout on the turnover intention of clinical laboratory employees in Florida.
Methods: For this quantitative study, data were collected using a cross-sectional, online survey comprising the Maslach Burnout Inventory – General Survey (MBI-GS) and a demographic questionnaire. The data were analyzed using linear regression and analysis of variance (ANOVA) in statistical package for the social sciences (SPSS) software.
To read the full article, please log in or register.
Current Issue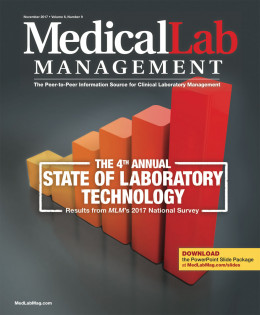 Subscribe to our Email Newsletters!
In The Loop!
Digital Edition
Special Announcements