ESR Analyzer Buyer's Guide
June 2017 - Vol. 6 No. 5
- Page #20
Article Category:
The most common application of erythrocyte sedimentation rate (ESR) testing is its use in determining the scope and degree of inflammatory activity in the body. Physicians frequently utilize ESR testing in the inpatient, outpatient, and ED settings as part of infection workup and other workups for autoimmune disorders, neurology disorders, and ophthalmology issues.
As with many manual procedures, ESR determinations using the modified Westergren method of collecting venous blood and measuring the plasma with a level plate after one hour is cumbersome, time consuming, and overly work intensive. Introducing automated ESR technology into the lab can greatly benefit testing accuracy and reliability of the testing process, as well as the associated TAT. Given its value to the one part of an overall testing procedure for various disease states, it is important to adopt a device that is easy to use and maintain, but also is cost efficient.
To read the full article, please log in or register.
Current Issue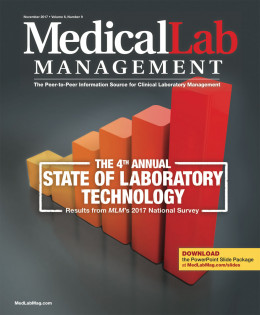 Subscribe to our Email Newsletters!
In The Loop!
Digital Edition
Special Announcements