Flow Cytometry Data
December 2017 - Vol. 6 No. 10
- Page #6
Article Category:
Although flow cytometry remains concentrated in larger hospital laboratories, its use in smaller labs attests to the development of more accessible instruments, as well as an expansion in the number of clinical applications for which flow cytometry is beneficial. This qualitative and quantitative technique is used for DNA content analysis, immunologic monitoring of HIV-infected patients, leukemia and lymphoma phenotyping, and assessment of the structural and functional properties of erythrocytes, leukocytes, and platelets, among other applications. Strong satisfaction ratings also bolster the continued implementation of this technology.
To read the full article, please log in or register.
Current Issue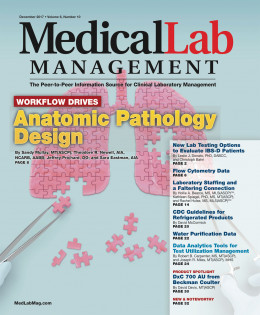 Subscribe to our Email Newsletters!
In The Loop!
Digital Edition
Special Announcements