Evolving Workflow Drives Anatomic Pathology Design
December 2017 - Vol. 6 No. 10
- Page #8
Article Category:
Anatomic pathology (AP) has a profound impact on patient treatment strategies. Advances in both science and technology are revolutionizing AP practice and therefore, the planning and design of the anatomic pathology suite. Anatomic pathology workflow continues to evolve from a highly manual process to more automated processes involving the preparation of microscopic slides for pathologist examination and interpretation. The ongoing march of AP automation is incorporating molecular diagnostic technology and bioinformatics, as well as whole-slide digital microscopy for instantaneous delivery throughout a health care network for computer aided image analysis. As greater value is placed on clinical information gained from digital and molecular pathology testing, unique workflow challenges are created, reflecting the merger of traditional tissue diagnosis with the latest technologies and techniques.
Effective planning of the spatial design for facilities conducting both traditional manual AP and molecular diagnostic investigations requires an informed incorporation of the laboratory's multiple workflows with appropriate technology in line with a vision and understanding of the AP lab's future direction. We begin by examining traditional AP workflows driving design followed by potential modifications brought forward by changes in technology and science.
Traditional AP Workflows
Surgical pathology workflows largely include standard surgical specimen grossing lab work, standard routine histology, histochemical special stains (SS), and immunohistochemistry (IHC) processes. By way of example, we will focus on the standard routine histology workflow, although other specialties can be managed with similar principles.
Standard Routine Histology Workflow:
Tissue specimens are received in Surgical Pathology for accessioning and grossing
Tissues are transferred into labeled blocks and sent to the tissue processor room
Tissue blocks are placed into tissue processors programmed for various protocols
Upon completion of processing, tissue blocks are sent to the embedding station
Following embedding, blocks go to the microtomy station
Prepared slides go from the microtomy station onto the stainer/coverslipper for routine H&E staining
Stained H&E slides then go to slide assembly
Assembled cases are then delivered to pathology offices or to the courier room for delivery to pathologists located off-site
These 8 tasks can be organized into a workflow chart (see FIGURE 1) to help identify the relationships between tasks and the direction of flow between them. The workflow includes specimen, tissue material, and slides (or other forms of data as we look to the future).
Primary AP Work Areas
From an architect's perspective of AP lab workflow, there are three major components, which can be broken down into specific work areas:
Specimen Prep (Area A), including specific Receiving, Accessioning, Grossing, Frozen Section, and Tissue Processing areas.
Production (Area B), where specimens are embedded, cut, and stained
Analytical/Review (Area C), including specific Analytical, Reporting, Collaborative, and Review areas
Area A includes specimen receiving, frequently initiated at a central laboratory receiving area, where the specimen is routed to the AP Receiving area, where it is directed to either Histology or Cytology Accessioning workstations. Histology specimens are directed to Grossing workstations for specimen preparation. The pathologist analyzes and dissects the specimen, places pieces into labeled plastic cassettes (blocks), and places those into tissue fixatives for preservation. The cassettes are then moved to the Tissue Processing area and loaded on instruments that remove the lipid water and replace it with paraffin wax. This processing produces odors and requires special ventilation, and therefore is either located in a separate room with exhaust or under a canopy hood that provides sufficient exhaust.
Area B is the production area and includes Embedding, Sectioning, Staining, and Slide Case Assembly areas. The material from the processors is passed to the Embedding Center where the specimen is embedded into paraffin wax to make tissue blocks for sectioning. The blocks are moved to the microtomes used to cut and mount the blocks of thin tissue sections onto glass microscopic slides. The slides are then moved to the staining area where they are stained to highlight features, after which they are sealed onto the slides with coverslip cases for use at the microscope.
Area C begins with gathering slides and information generated by technologist and computer analysis to be reviewed and synthesized into diagnostic reports by pathologists. These reports are then shared with the clinical core team for developing patient treatment strategies. The sharing of information is frequently accomplished electronically from individual offices or workstations, but in many new labs, collaborative spaces are being created to allow direct consultation among other pathologists, and frequently, clinicians. This creates the opportunity for pathologists to join the team in assessing and developing treatment strategies for patients. FIGURE 2 illustrates the general workflow process with examples of commonly used instrumentation.
Spatial Arrangement and Features
When designing a laboratory, architects usually organize and arrange spaces to follow the flow indicated in FIGURE 2. Working with Geisinger Medical Center in Danville, Pennsylvania, we developed Area A as a specimen preparation area that incorporates specimen receiving with the separation of histology and cytology specimens. Histology specimens are passed to Accessioning and then to Grossing, where dictation and dissection takes place at individual workstations, and unused sections are held in short-term storage. The intention of this design is to help create a sense of privacy for dictation and a quiet, disruption-free environment to allow for the best decisions on dissection. The Grossing area flows to the Frozen Section area, which has a direct path to Surgery. Physically bridging the surgeons to the pathologists allows for consultation while decisions are made on how to proceed with surgeries.
A pass-through window is provided between Grossing and Processing to facilitate movement of specimens. Special ventilation is required in the Processing area to exhaust odors and prevent contamination of the rest of the lab. FIGURE 3 illustrates a global concept of the flow among Areas A, B, and C. Production Area B has been designed to align and facilitate embedding, cutting, and specimen staining activities in a steady stream to Slide Making and case assembly for slide review at the microscope. It is an open area with airflow hoods and devices at the perimeter, keeping the center open and free for reorganization to accommodate future changes in both technology and methodology. The benchwork is movable and flexible with utilities at the perimeter. Specialized functions, including histochemical SS and IHC, are contained, but can be opened to the main production area to form a continuous path connecting production and special functions (eg, H&E, FISH, IHC, SS), and in the future, expanded molecular diagnostics and digital pathology.
The workflow from production Area B streams to Area C, the Information Center, for gathering data and generating reports for pathologists, fellows, and residents to review within their own work space, in a collaborative work space with other pathologists, or with clinicians to consult and participate in developing patient treatment strategies.
Click here to see FIGURES 3 and 4.
Create a Block Plan
Once the global concept is settled upon, a block plan can be developed. Using the global concept as a road map, the block plan indicates the correct scale and size of each space and function. The organization of spaces based on the global concept should be based upon a high-level understanding of the relationships between instruments and proper workflow before detailed plans are developed.
The Block Plan (see FIGURE 4) indicates the workflow from Receiving and Accessioning to Grossing and Processing. Area A functions flow to Area B functions and the Production area offers a Lean-principled layout using a manufacturing concept and is followed by the special functions of H&E, FISH, IHC, and SS. Just above the Production area is space reserved for future molecular diagnostic operations, as well as space dedicated to bioinformatics.
Following the Production area is the Whole Slide Image Analysis area for gathering information and data from slides and other sources such as digital analysis and, potentially, molecular diagnostics and bioinformatics. Combined information from all sources then flows to the Report Generation area and is made available to pathologists, residents, fellows, and other clinicians.
For a broader view, FIGURE 5 is a partial floor plan that shows the histology layout, including Receiving and Accessioning, Grossing, Frozen Section and Processing, and the flow to the Production area, and the Analysis, Review, and Collaborative areas.
Design to Accommodate Future Technology
As we are witnessing, the ongoing development of robotic technology is driving AP workflow from manual to automated specimen processing. While specimen dissection and tissue section cutting activities remain largely manual processes, tissue processing and slide staining have become highly automated. Assuming the remaining steps of microscopic slide preparation will become further automated, spaces currently used for technical personnel will be retrofitted for automated machines over time.
Similarly, the progression of computer technology and digital whole slide imaging (WSI) presents a future for pathology practice similar to what we see today in radiology with its transition from viewing physical x-ray films to computerized versions. The technology behind WSI has great potential for aiding pathologists in tissue screening and diagnostics. In the coming decades, manual processes of sorting and shipping microscopic slides to pathologists will be replaced by digitization and transmission of high definition, highly detailed slide images along with image analysis data generated by the instrumentation.
Another technology destined to further transform AP workflow and attendant workspaces in the near future is next generation sequencing (NGS) of genetic information in tissue samples. Used to detect genetic variation related to risk for disease and disease progression, as well as genetic information of the aggressiveness of tumors and identification of therapeutic targets for precision medicines, NGS illustrates the scale of information found in the human genome and the technological challenges of analyzing and applying that information. Certainly these methodologies will require more powerful computer processing to sort the vast amount of data and reveal the significance in genetic variants. They will also challenge information transfer and storage infrastructure capacities in ways not yet experienced.
New WSI and NGS technologies will require information processing steps to be inserted between slide preparation and pathologist evaluation, and therefore space for WSI and NGS activities will be required in the AP workflow process. At Geisinger, the AP laboratory is intentionally located proximate to the surgical suite and the emergency department in order to facilitate workflow and a collaborative environment among these integral functions.
Conclusion
Workflow-driven design enables an efficient, Lean AP department with well-connected functions and top-end staff utilization. Changes and breakthroughs in technology, science, and methodologies will lead to changes in workflow and design. Therefore, it is important that AP lab staff be involved in design changes. With an expected evolution in workflow, connectivity, and communication between the AP Lab and other clinical disciplines, pathologists will become more directly involved in the patient treatment stream and more justifiably involved in patient outcomes.
---

Sandy Mullay, BS, MT(ASCP), is operations director of anatomic pathology at Geisinger Medical Center in Danville, Pennsylvania. After earning a BS in medical technology at Bloomsburg University, she attended Geisinger School of Medical Technology and was hired onto the Geisinger team as a medical technologist. Sandy has held various leadership roles for Geisinger Laboratory in her 25 years there, including her contributions to the design and implementation of the Geisinger Anatomic Pathology core laboratory.

Theodore Newell, AIA, NCARB, AABB, is an Architect and Principal at EwingCole, Architects and Planners in Philadelphia. He is a laboratory design innovator with over 30 years of experience and leadership in the programming, planning, and design of complex facilities for clinical and anatomic pathology facilities. Investing time to understand the business of laboratories, Ted interacts extensively with each client and key project stakeholders to build laboratory spaces and places.

Jeffrey Prichard, DO, FCAP, is the director of surgical pathology and anatomic pathology informatics at Geisinger Medical Center. With 25 years' experience in laboratory operations, Dr. Prichard publishes and lectures nationally on the development and implementation of laboratory quality management systems. He was heavily involved in the multi-year process of designing and implementing the Geisinger Anatomic Pathology core laboratory.

Sara Eastman, AIA, is an Architect and Principal at EwingCole. Sara has diverse experience in programming, planning, and managing major projects through all phases of design and construction. With a broad background in interior architecture, her specialty is the detailed planning and programming of specialized laboratory spaces. She is recognized for proactive problem solving and expediting contract schedules.
Like what you've read? Please log in or create a free account to enjoy more of what www.medlabmag.com has to offer.
Recent Popular Articles
Current Issue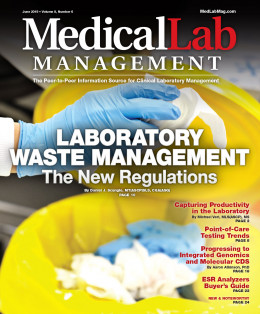 Subscribe to our Email Newsletters!
In The Loop!
Digital Edition
Special Announcements